Vernon Philander the most talked about bowler in last 12 months, not very skillful or natural fast bowler, but very accurate & lethal striker. His strength is not the pace but his ability to attack stump for the longer duration with  both way movement of the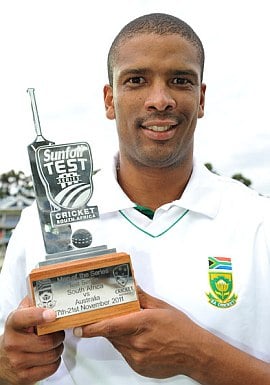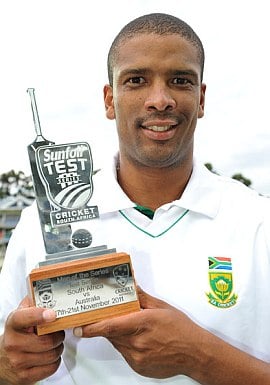 ball. He is the quickest among the bowlers in last century to reach 50 wickets. He achieved this feat in only 7 test matches. He is an all-rounder averaging 22.75 playing at no 8 & no 9.
He has taken 89 test wickets in 39 innings till now with 9 five wicket hauls. He is very accurate in terms of pitching the delivery at right spot. And his success is greatly admired by all because he shares bowling with the likes of Dale Steyn & Morne Morkel who is as lethal as any best bowling pair can be in world Cricket at the moment. And I think he will or may be have a great test Career as he isn't something different or a very genuine fast bowler. He is simple fast bowler who love to attack on corridor of uncertainty without doing much efforts like Mc Grath, Shaun Pollock & Chaminda Vaas, we know with their patience & accuracy they can bring wickets to their name always now & then. As I said he isn't some one who bowls at 145+ kmph with Vertical Seam position nor he extract from pitch the movement he does with ball makes the big difference for him creating doubt in batsman mind whether to leave or to defend. Yet he does move a ball very little He simply has superb control and the patience to examine batsman. With South Africa having strike bowlers already who can move bowl initially, Philander came handy with old ball too, he bowled quite well in second innings of the game taking wickets.
According to me Vernon's 5 for 30 is the best bowling figure by him which he procured at Lord's against England. He is also responsible for Kiwis batting disaster (45 run all out) where he claimed 5 wicket conceding just 7 runs. Will all due respect, South Africa's legend Shaun Pollock has already claimed Vernon to be a Future Great but he is yet to be tested at Sub Continent tracks, but credit cannot be taken away from Philander for his great success at international Level. He is just 27 now & I am sure he will get his chance across different countries & he won't disappoint his team & captain. Vernon Philander is surely the next best thing in cricket.