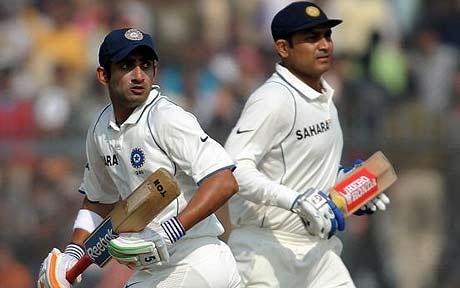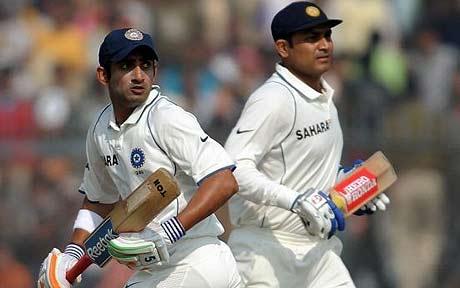 How did the likes of Sir Don Bradman,Sunil Gavaskar,Kapil Dev,Brian Charles Lara,The Little Master(or The Record Master)Sachin Tendulkar,Sir Garfield Sobers,Clive Lloyd,Steve Waugh and many more made their mark in Cricket's biggest challenging format? Was it that they preferred the IPL or Champions League more or they preferred to work hard in the nets and in the 4 and 5 day practice games to make their presence felt in the game? The answer to the query is very clear and understandably Virender Sehwag and Gautam Gambhir must take it seriously that the 4 and 5 day practice games are much beneficial than the IPL and Champions League.
India is due for a tough home season ahead when they face England and Australia in a 4-Match Test Series in November-December 2012 and February-March 2013 respectively. The Men in Blue will battle the same two sides who had razed them completely in all the eight matches that were played during both the tours almost an year ago.The series will be a point to prove for both Sehwag and Gambhir who have been struggling to get into rhythm from such a long time and that has affected the team's morale to a greater extent. I can't understand why both Sehwag and Gambhir are preferring Champions League instead of the Duleep Trophy. If we look at the form of Gambhir in the test matches played in the past one year, it has gone from bad to worse.His technique and lack of feet movement has been found wanting in the overseas. Sehwag too, hasn't lived up to the expectations and his form in the test matches played from the past three years has been a big cause of worry for the team.Though, Sehwag's performance in the test matches played in the sub-continents is satisfactory, his form in the overseas had been very dissapointing. In the New Zealand series in 2009, Sehwag approximated 140 runs in 3 matches at an average of 28.00 with a highest score of 48. In the series against the Mighty Proteas, Sehwag managed only 144 runs in 3 matches at an average of 24.00 with a highest score of 63.The series against the England in 2011 proved to be a disaster for Viru. In the 2 matches he played, he was able to score only 41 runs at an average of 10.25 with a highest score of 33.In the 4 match test series Down Under,Sehwag scored only 198 runs at an average of 24.75 with a highest score of 67.
Some people may say that statistics don't matter much if the player is Virender Sehwag. But according to me, a player(anyone) who hasn't performed in the Test series abroad from the past 3 years should be without any reason dropped from the team and be told to go and perform at the domestic level so as to once again come in the contention for a test spot in the national team. Gautam's form in the New Zealand and South African tour's was brilliant where he amassed 445 runs in 3 matches at an average of 89.00 with a highest score of 167 and 242 runs in 2 matches at an average of 60.50 with a highest score of 93 respectively. But all went wrong for him in the series Down Under and England where he was able to score only 102 runs in 3 matches at an average of 17.00 with a highest score of 38 and 181 runs in the 4 matches at an average of 22.62 with a highest score of 83 respectively . His form in the sub-continents also wasn't up to the mark.I was very surprised that both Sehwag and Gautam were selected for recently held home series against New Zealand despite their continuous poor run in the test matches.And the result was the same old story, i.e. both weren't able to perform in the two test matches that were played.
I can't understand why the BCCI is still keeping faith in both the openers. Their form is a cause of worry for the team. And now the biggest worry that has added to the list of worries is that instead of preparing themselves for the tough season which comprises of 10 Test Matches ahead,both of them have chosen to play in the Champions League instead of playing in the Duleep Trophy. And why won't they prefer it…..there is a huge amount of money involved in the events like these. We have seen many examples of the Indian players in the past that even if the player is injured,he will continue to play in the events like this and when the time comes for a big tournament,his injury gets bigger and he is sidelined for many months or almost an year sometimes.According to me, both of them should have preferred the team first i.e. they should have played in the Duleep Trophy. By the time the Champions League will end, both of these players will have only one or two Ranji matches to gear up themselves for England series.One or two matches aren't enough for the players who are out of form for a long time to get back into rhythm. An out of form player needs at least 5 to 6 matches to get back into the groove and help his confidence reach another level. And If both of them would have played those Duleep trophy matches, the situation could have been different.
India, at this stage, needs its openers to get back into form quickly because the series against England won't be a cakewalk. England are a tough side to beat and on their day, they can demolish any opponent very badly.India needs to prepare itself very hard for the English battle and to beat them, they would want their swashbuckling openers to fire at the right time. If this doesn't happen, then they don't even deserve a place in the side and maybe both of them will have to pack their bags and go back to domestic cricket and let a chance to the likes of  Rahane, Mukund, Robin Bisht, Chand be given so as to prepare themselves for the  future tours.