Kohli's ton in vain as Kiwis pulled things off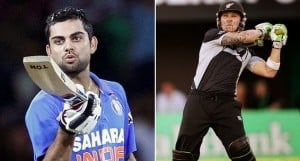 The stage was shifted to the country of islands, New Zealand as the 1st ODI of the bilateral series between India and New Zealand commenced at Napier, famous for the heroics of Gautam Gambhir in the last tour of India who is no longer a part of the team. Both the teams looked settled with India losing only two ODI series last year and New Zealand coming out victorious in the last series with West Indies.
With World Cup scheduled in the island next year, this series holds equal importance for both the teams as, if one is the defending champions then other is the home team and that showed in the first match when New Zealand registered a strong presence with a victory in the inaugural ODI of the series by 24 runs.
A New Feature on TV Screen : WASP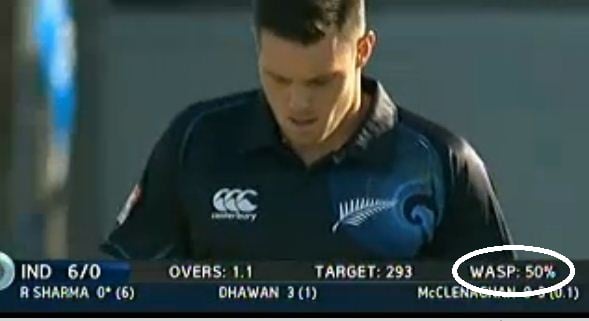 In today's match, we saw something different in the TV screen, in the form of WASP (Winning and Score Prediction). Well what is WASP? The WASP is not a forecast that could be used to set TAB betting odds. Rather they are estimates about how well the average batting team would go against the average bowling team in the conditions under which the game is being played given the current state of the game. "It is a measure of how well the teams have done to that point, rather than forecasts of how well they will do from that point on. However some critics are of the view that it is just an attempt to encourage betting in cricket. Whatever be the reason but the this new feature will surely add a dose of adrenaline to the game and a reason to visit SportsBettingDime.com to check how the different sportsbooks add the odds and lines for all the teams..
New Zealand Inning
Riding over a brilliant 71 of 88 balls by Kane Williamson while batting first after losing the toss to India, Brendon McCullum's men posed a fighting total on a windy day upon a pitch that was supporting bowlers with its fast, bouncy nature.
He was supported well by Ross Taylor who made 55 and in the deaths Corey Anderson provided a brilliant finish by scoring 68 off 40 balls. The tight bowling during the middle overs by Indian bowlers was put in vain by Anderson when he hit all the bowlers out of the park as Ishant finished with a bowling figure of 72-1 in 9 overs.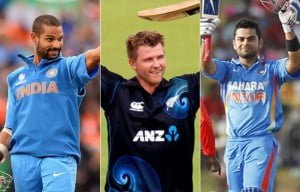 Mohammad Shami was the pick of the bowlers with 4 wickets for 55 runs and Bhuvaneshwar Kumar made things difficult for the Kiwis with an economical display of bowling in which he conceded 38 runs off 10 overs with an important wicket of the captain Brendon McCullum.
Indian Inning
Indians started with a cautious approach but opener Rohit Sharma's poor run with the bat continued as he once again failed to touch two-digit mark. After his fall, came man-in-form Virat Kohli for whom scoring centuries has been in his hobbies and he once again proved that with his 18th ODI hundred when he made a blistering 123 off 111 balls with the help of 11 boundaries and two huge sixes. His inning was an example of how cautious approach can be complemented with fierce stroke plays. Out of those 18 hundreds ,12 have been scored while chasing and team has come out victorious on 11 occasions and this was the first time when India lost a match when Kohli scored a century.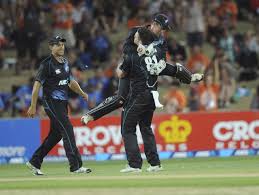 In the middle over captain Dhoni partnered well with Kohli to provide India some edge over the Kiwis but once Dhoni fell, the downslide of mighty Indian batting-order started as rest were packed easily with the help of 4-68 by Mitchell McClenaghan who made it worse for Indian batsmen in deaths.
Things can be summed up by this fact that in the first 40 overs New Zealand made 202/4 while India were ahead with 210/4. It was the last 10 overs that decided he game and Indians failed miserably as New Zealand scored 90/3 in the last 10 overs while Indians could put up just 58/6. Indians were bowled out on 268 in the reply of 292/7 by New Zealand.
M S Dhoni reached another milestone as he became the first Indian to reach 300 dismissals as a wicketkeeper.
Next match will be played on January 22, 2014 at Hamilton.