India and Pakistan have been arch rivals for over decades now and cricket aficionados have seen some riveting and tensed contest between the two fierce neighbours. The field was set for yet another match up between the arch rivals India and Pakistan in the ICC Champions Trophy 2017 Group B match.
Prior to this match, both the teams met for the last time in the ICC Cricket World Cup 2015 which was held in Australia. India were victorious in the crucial encounter and once again proving why India has been dominant over Pakistan in the ICC events. As usual there were tension all around, having heard the news of the London attack the day before the game. There was a little cloud of the teams pulling out from the tournament. But as cricket enthusiasts would fondly say Cricket is the ultimate winner. The teams practiced under tight security and obviously amongst the rains.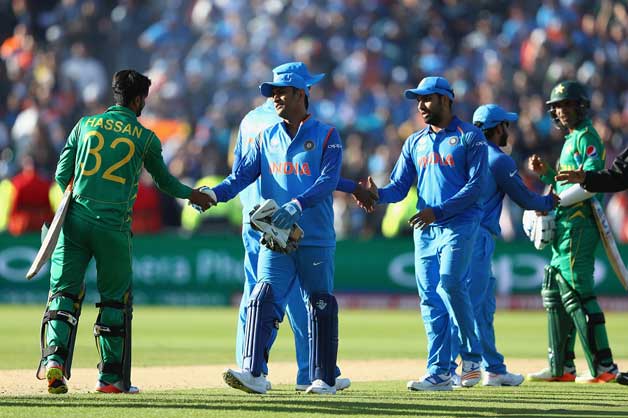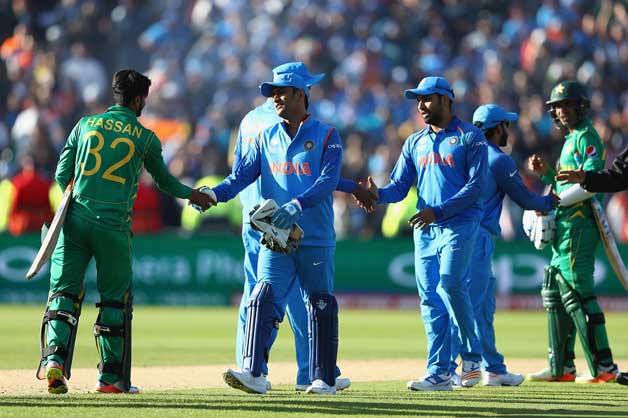 When the day came on June 4th, both the teams were upbeat about this classic on show. Like the earlier games in Edgebaston the rain gods were not backing out and caused some real panic. It was toss time and both the captains approached against each other. Pakistan won the toss and chose to field under overcast conditions. Pakistan interestingly had left out Junaid Khan, who has had the better of Kohli before and was relishing the challenge. One would also would have been thinking that Pakistan should have included Fakhar Zaman. Pakistan batting haven't had a hard hitting batsman since Shahid Afridi retired and he ticked all the boxes. It was not to be. Junaid and Fakhar left out. Every captain when he wins a toss, the decision would be based mostly on the conditions. I would have to say I was surprised when Pakistan took the decision to bowl first, because Pakistan aren't known for chasing in big tournaments. Previous encounters with India have further proved it. But I thought maybe Sarfraz wanted to exploit the overcast conditions with Wahab, Amir, Riaz and Hasan Ali. Surprised me there as well. He gave the second over to  Imad Wasim!
India went on to bat with some good confidence gained from the warm-ups. Dhawan and Rohit were taking their time, since it was overcast conditions. Once you get in and set yourself you can accelerate. But there is one thing they did well – rotating the strike. They did that very well. When they set themselves in, Dhawan started to accelerate and made a well constructed half century. His good times with the bat in ICC events and Champions Trophy continued. But he fell prey to Shadab Khan. Dhawan would have felt that he missed an opportunity. In came the captain, the best in the world – Virat "King" Kohli. There was a stage in the innings when Rohit was struggling for runs, but thank god the rain gods interference in frequent intervals meant that the overs would be reduced to 48 overs a side as well as Rohit would get some time off the field to rejuvenate. It looked good for India when the match resumed and Rohit started hitting some fierce blows. Kohli as good as he has been over the years, was just happy getting himself there and dabbing the ball to third man and seemed content with the singles. Then came the crucial moment when Rohit was run out by Babar Azam. There was a huge round of applause when Yuvraj Singh came in to bat. There have been contrasting talks about Yuvraj's form and if he can be his old self at this age. Yuvraj Singh has got a liking for Pakistan. He averaged 42.83 against Pakistan in One day internationals prior to the match. Yuvraj didn't make his fans wait much, he was looking in fine touch with middling each ball and playing with a straight bat. Yuvraj took the charge against Pakistan as Kohli was made to look a mere spectator. Yuvraj would go on to score a well made 53 off 32 balls before giving his wicket to Hasan Ali. In the meanwhile, Kohli began to cut loose and started dismissing the Pakistan bowlers with disdain. He stayed not out at 81 off 68 balls and thanks to some destructive show of sheer power when Pandya came in ahead of Dhoni and Kedar. Masterstroke from the thinktank to send Hardik and it did work well. He scored 20 off 6 and showed Imad Wasim & Co how dangerous he can be. India posted 319/3 from 48 overs amidst all the rains. During the course of the game, Pakistan bowlers getting injured as early as the 9th over. Were they really fit enough for this match ?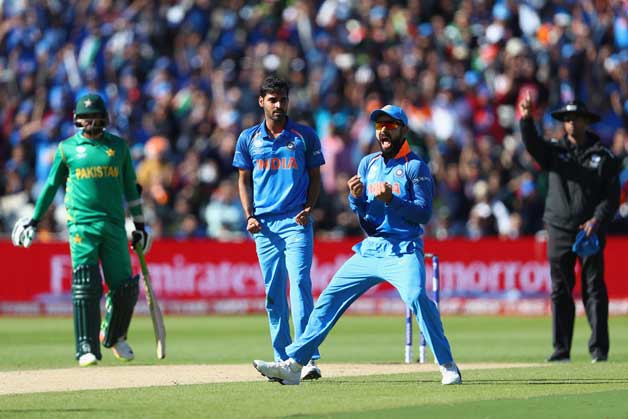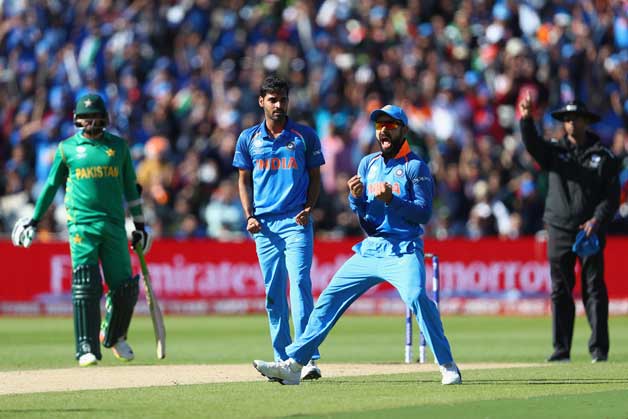 Pakistan started their batting with a revised target of  324 to get off 48 overs. The rain interfered again and it was further cut short to 288 to get from 41 overs. However this time around, there was sunshine as well. The Pakistan batting didn't look good from the start. There was no intent whatsoever, got out to some pretty average shots and was no competition to the rampant Indian attack. The only batsman who offered atleast some resistance was Azhar Ali but he couldn't do anything with little support from the other end. Pakistan early on in the field dropped catches, mis-fields made sure India would score in excess of 300. Now their shambolic batting ensured they won't give competition to India. Umesh Yadav who has been the leader of the pack in India's home season was at display gain as he picked 3 wickets. Jadeja and Pandya chipped in with three. Pandya is proving to be the utility player that India badly wanted in big tournaments. Pakistan ended at 164 for the loss of 9 wickets with Riaz not able to bat owing to injury. India won by 124 runs. Go on top of the table owing to better NRR. Yuvraj Singh was adjudged "Man of the Match".
Indo-Pakistan rivalries used to be intense, competitive and a matter of pride. Not anymore. It looked like a cakewalk for the Indians and were never at the backseat, not even for one moment. Pakistan team used to be a supreme power when they had the likes of Imran Khan, Javed Miandad, Ramiz Raja. After their era it became more intense with cricketers like Shahid Afridi, Inzamam ul Haq, Mohammed Yousuf, Saeed Anwar, Wasim Akram, Waqar Younis turning the heat. The current crop of players have did a lot of damage to the legacy of these players and should be sorry for what they have done. A disgraceful performance Pakistan, but as for India they have been the better team and is dominating cricket at the moment. Virat & Co has started off well, now it is important for them to end it with the trophy in their hands.
Statistical Highlights
124 – India won by 124 runs. This is India's biggest win in Champions Trophy history.
319 –  Highest Total vs Pakistan by any team in Champions Trophy history.
1649  – Most runs in India vs Pakistan matches in One day internationals among current        batsmen.The next highest  in the list is Yuvraj Singh with 1338 runs and Mahendra Singh Dhoni with 1226 runs.
341 – Most runs for Pakistan in the Champions Trophy is by Shoaib Malik.
431 – Most runs for India in the Champions Trophy is by Shikhar Dhawan. He is followed by Indian captain Virat Kohli at 352 runs.
17 – India have won 17 off their last 18 encounters in ICC tournaments. The only loss came against Australia in the 2015 World Cup
 7 – Most successive wins in the Champions Trophy. India shares this record with West Indies.