Winning Like Virat, Think & Succeed like Kohli: The book (Available online at Amazon) has a different take on the modern day great and batting sensation Virat Kohli. The book talks about an angle, which most of us have never talked about before. This book is not focused on his greatness, it is rather focused on the reason why he became great and the kind of qualities he possessed and nurtured. The book has just one character contemplated in it, and that is Virat Kohli. The book takes you through a journey with the kind of shackles he had to overcome and how he overcame it.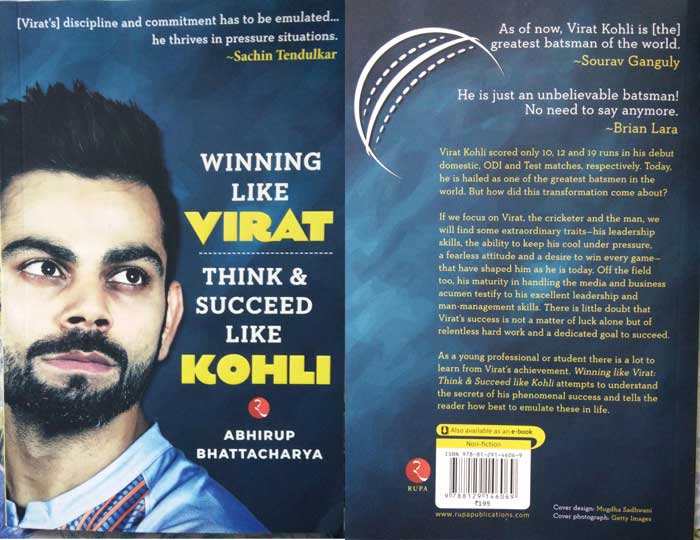 The book written by Abhirup Bhattacharya has decoded the genius behind the Virat Kohli that he is today. There is a proverb, "Rome was not built in a day". This book emphasizes on the proverb and further proves with well cited examples it was sheer hardwork that has brought greatness and success. The favourite part from the book as an avid reader would be the connection the author has made with some very important life principles at the work place and in our day to day lives. This book is not a work of fiction, it's based on the real life events of someone who has achieved exceptional success in his career. The words in the book uses simple English words, which helps even the average readers to get a gist of what the author tries to convey by this work. The author has taken some extra care to not mention too much jargons as possible, which needs to be applauded. I have come across books by writers where the message is not conveyed to the reader due to use of jargons or words which are not ordinarily used. The book is truly an inspirational read, it is sure to move you and some valuable life lessons for your corporate and personal life. The learning tips at each chapter in the book adds value to the book.
This book calls for an enterprising read for the avid sports fan and you will be inspired enough to think and succeed like Kohli. Every quality that Kohli possessed is a learning curve for the reader, and helps the reader to understand his mistakes and move ahead as a better individual. This is not like the usual book which talks on the cricketer's story, but it talks on the reasons why the cricketer is successful and a proven winner.
*Available online at Amazon