The 1992 World Cup witnessed many cricketing changes in International cricket; The 1992 Benson & Hedges World Cup was the first to feature colored cloths of player with white cricket ball used against black sight-screens for better vision & a number of matches played under floodlights.  It also witnessed some of the great cricket moments, which include the host nation captain Martin Crowe to use Spin bowler to open a bowling attack. However, it is quite frequent now a day. In addition, the famous Jonty Rhodes run out of Inzamam happened in 1992 World Cup. Australia was defending champion from 1987. South Africa playing his first world cup reached until Semi Final along with England, Pakistan & top of the table New Zealand who won their first seven games. Australia & England was the favourites to win this world cup.
Sunday, 22nd March 1992 and under open Sydney skies witnessed a black day for Cricket & South African fans. 1992 world cup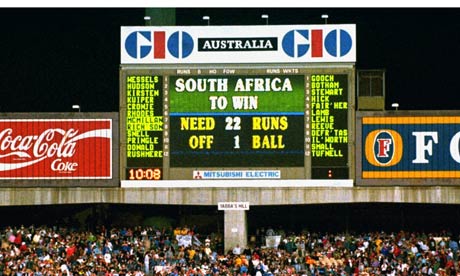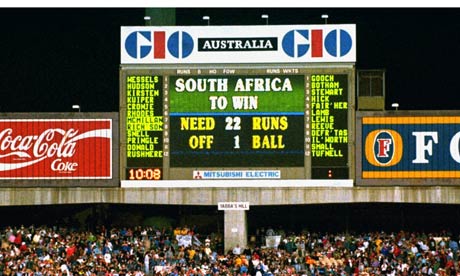 semi final played between hot favourite England & spirited South Africa. This was the second encounter of the World Cup. The first game was won by England in last ball finish. During second encounter, Rain forecasted before match itself. Wessler Keppler was leading African site consist of Young Cronje & Donald with experience of Peter Kirsten & Hudson, Rhodes had set an example of extraordinary fielding in earlier match against Pakistan by running their prime batsman Inzamam out. On other hand, England team was led by aggressive Graham Gooch with Ian Botham, Allan Lamb, PAJ DeFreitas, and young Alec Stewart & Graeme Hick. South Africa's Wessel won the toss & took the calculated risk of batting first (which later turned out to be his worst nightmare in cricket). Graham Gooch & Ian Botham opened attack for England and went on scoring 18 runs in first two over bowled by Allan Donald & P Fringle. However, South African got opposition captain in third over of match & second over from Donald. Donald was at his peak & he was quick too, an incoming delivery had Gooch nicked it to Richardson standing behind the wicket in 3rd over of the match with score of 20, leaving England 1 down at 20. Botham on other end kept the momentum & scored a quick 21 of 23 balls before playing down to Fringle. England were 38 with loss of both opener in 8th over of match. In come the Inexperienced Graeme Hick which anchor inning with Alec Stewart. Both made 71 runs between them before Stewart departs for slow & steady 33 runs in 54 balls. Graeme Hick played good knock under pressure & added 73 runs for 4th wicket with Fairbrother. Soon Graeme Hick departs following Fairbrother for 83 runs in 90 balls leaving Allan Lamb with Tail Enders. D Reeve in the end of the inning scored quick 25 runs in 14 balls with Levis 18 in 16 balls to end England inning with 252 for 6 in 45 overs. Game was reduced to 45 overs due to slow over rate of South Africa. They were fined for slow over rate by officials but their punishment came much early in the same day through 12 minutes rain.
South Africa started there chase quite well. Opener Hudson & Captain Wessel were looking good till Wessel played a foul shout on a wide delivery only to get caught on point. Africa loss their captain at score of 26 runs. Hudson drove inning with Kirsten for another 35 runs when DeFreitas broke partnership. England never let South Africa build a partnership throughout the inning. Africa was 4 down at total of 131 when Rhodes came to bat. Jonty Rhodes seems to be in different mood, he attacked England batsman & bought Africa back into game. Rhodes scored quick 43 in 38 balls before falling to Small while trying to hit a six. South Africa was 206 for 6 in 40th over. Allan Lamb quoted from match "Jonty Rhodes kept running two to me at deep mid-off and the ball was getting wetter and wetter. I remember Ian Botham shouting, "for God's sake stop letting him have two runs", and so I said: "Why don't you come field here, because I tell you what, they'll run three to you if you do." It was a special effort from Jonty Rhodes which kept hope for South Africa in their first ever World Cup. McMillan with Wicket Keeper Richards kept South Africa in final's race. Scorecard read as 24 runs off 14 balls before rain started to pour heavily. Before Allan Lamb complaint about Ball wetness to Captain Gooch Africa needed 22 runs off 13 balls & umpire declared condition unfit to carry on. Game was paused merely for 12 minutes. Those 12 minutes destroyed every hope of South African team to reach into final. Although reserve day was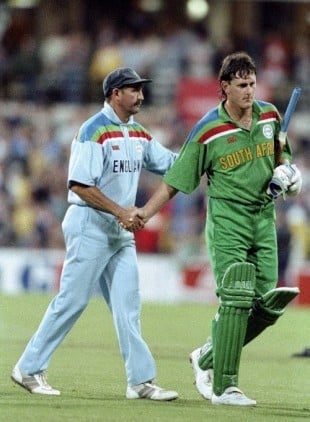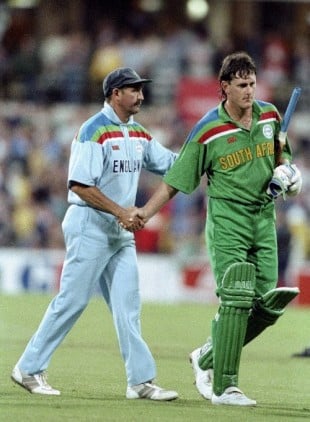 kept but due to TV channels & broadcasters insisted to finish the game on same day as scheduled. The method was to deduct lowest-scoring overs of the side batting first. It didn't go well for South Africa & the revised target was 22 runs off 1 ball for them, which was impossible to score (in 1 legal delivery). Though Actual total was 21 runs in 1 balls, anyhow it won't make a difference in 1992 world cup semi final .
Match ended with audience getting angry with revised target & started to throw bottles & garbage on field, booed to England players & captain Gooch who walked off from the field due to rain. However, both captain dwell well with each other after the match & Keppler accepted to their credit. South African came onto the outfield to shake hands with the England side. Both captain understood each other's situation & there was no rift between both team. In one interview later Wessel seems quoting "It's unfortunate the England players got booed because it was no fault of theirs. It's just the rules." Gooch also accepted the clever decision of him He said "I'd be lying if I didn't think that maybe we should stay on," he said. "The South Africans must feel very dejected to lose like that and my heart goes out to them."
1992 world cup semi final , Exactly 22 years ago on same day same month (22- March- 1992) this incident happened, which will go down into cricket history as a dark Shadow.