MS DHONI – A Perfect synonym for batting in ODI's
He might not have the class in batting as Sachin Tendulkar , not as Elegant as Rahul Dravid, neither  as stylish as VVS Laxman nor an aggressive player like Sourav Ganguly. But when it comes to keeping cool under pressure, one can't find a better person in the present era to manage it like this guy. Started off as an aggressive player who brutally trashed Pakistan for 148 runs off 123 balls in only his fifth ODI which was also a record for highest individual score by an Indian Wicket-Keeper at that time, the people would have thought he would be a one-time wonder like Dinesh Mongia. It was the time when India were left handicapped without a regular Wicket-Keeper and part-time Keeper Rahul Dravid was not upto the mark behind the stumps. Parthiv Patel and Dinesh Karthick were given a handful of chances but neither of them can make it to the regular playing XI of the Indian ODI side. Former Bengal captain PC Podar found a promising talent playing for Jharkhand with a long hair and a power of a Beast and sent a report to National Cricket Academy (NCA). Soon the lad from Ranchi made it to the India A side which toured Zimbabwe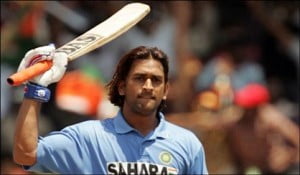 and Kenya where he impressed with his Keeping skills and some useful contributions down the order. Those performances received some serious attention from the then Indian Cricket team captain Sourav Ganguly and Ravi Shastri amongst others. Backed by the skipper, he got his maiden International call up for the tour of Bangladesh late in the year 2004. He was retained for the high-voltage home series against Pakistan where the World witnessed a hapless Pakistan bowling lineup which hasn't witnessed such dominance against them in the past decade were going for covers in Visakhapatnam during his blistering knock of 148. It was like a Sun Rising from the dawn. India got a good wicket-keeper batsman and the stage was set for this Rockstar to entertain the cricketing Fraternity. The cricketing world has seen the birth of MS DHONI ( MSD ).
Since then it was no turning back for Dhoni as he continued to play his natural game and won many games for India with his ability to slog in the end of an innings. His Wicket-Keeping too was good. Dhoni didn't have the skills of Adam Gilchrist but had a safe pair of hands and impressed everyone with his Flashy Stumpings.
Turning Point of the career of MS Dhoni
The turning point of his career came in November 2005 against Sri Lanka in Sawai ManSingh Stadium in Jaipur where he sent the Lankan bowlers which included the likes of Chaminda Vass, Nuwan Zoysa, legendary Muttiah Muralitharan for a leather hunt with an astonishing 183 off just 145 balls after he was sent into bat at no. 3. During this marathon innings, he came across many records that include the highest score made by a wicket keeper. He was picked up for the subsequent test series against Sri Lanka and was handed his first Test cap at Chennai. He remained consistent in all forms of game. After receiving the man of the match against Pakistan in Rawalpindi, he got some praising from Ex Pakistan President Pervez Musharraf for his game and his hairstyle. He soon became the no.1 in ICC ODI players' rankings for batsmen. After a disastrous 2007 WC in the Caribbean and the tour to England in 2007, the Indians were supposed to be in South Africa to take part in the inaugural edition of Twenty20 world cup. Seniors Dravid,Sachin,Dada withdrew themselves from playing T20's.
And then came the T20 WC victory under the captaincy of Dhoni
It was a bold decision taken by then selector Dilip Vengsarkar to pick MS Dhoni as the skipper for the extravaganza ahead of seniors like Sehwag,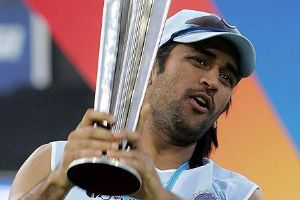 Yuvraj. The decision paid off as Dhoni led India to a famous triumph in his first assignment as captain. His decision to give Jogindher Sharma the ball ahead of Harbhajan Singh to bowl the final over with anything less than 11 runs or a wicket needed for India to win the WC proved to be the masterstroke. Dhoni kept calm under pressure situations which earned him the name CAPTAIN COOL among the cricket fans. Soon Dhoni was made the ODI captain and went to Australia for the CB series sans the seniors and India went on to win the win the triangular tournament that also included Sri Lanka. Captain Cool transformed into CAPTAIN MARVEL.
The Captaincy role brought the best in him as the aggressor in him calmed down and his responsibilities grew up. The demolisher in him was missing and he became more mature. Dhoni started to build an innings in the middle overs and unleashes his brutal power in the last 5-7 overs which yields nearly 60-70 runs in that duration.  Strike rate of more than 100 came down to less than 90. The Indian middle order started to revolve around him as he used himself as a floater in the batting line up. But one thing remained unchanged in him – his calmness. One of his major weapon in his batting is his running between the wickets. The ability to convert one's into two's and two's into three's gave some extra runs for the team. His slash down the ground which makes the umpire and the bowler to go for cover is a treat to watch. The important thing in that shot is his Power which makes the ball go to the boundary in a flash like a Tracer Bullet being fired from a gun. Dhoni was also the inventor of The Famous Helicopter Shot where the bat swing completes a 180 degree rotation. Dhoni didn't have the technique to be a good batsman but had all kind of unorthodox shots and power to be a good batsman. MS Dhoni also won the ICC ODI Player of the Year Award in 2008 and 2009. Dhoni was also successful in IPL where he will lead Chennai SuperKings for the sixth consecutive time in the 2013 edition which is just 2 months away. And with a born leader like Dhoni in their ranks, no doubt that CSK are the most consistent team in IPL history.
Billions of hopes were pinned on him as India are getting ready for the Ultimate Showdown on earth, The ICC Cricket World Cup 2011 which is slated to take part in his own backyard. Dhoni was confident that his team would give their best to win the World Cup. India were comfortably through to the quarters where they will be facing 3 time Defending champion Australia. India's best gambler gambled by adding rookie spinner R.Ashwin in the playing XI and he didn't disappoint either. With half centuries from Sachin, Gambhir, Yuvraj and a late flourish from Raina saw the defending champions being knocked out in the quarters. Then came the mother of all battle India facing Pakistan in the semifinals where Pakistan were beaten comfortably. April 2,2011, All roads led to Mumbai where the finals between India and Sri Lanka was to take place. Ashish Nehra was injured and he was replaced by temperamental bowler S.Sreesanth who was going for runs since the start of the tournament. After a strong finish by Lanka, India were given a target of 275 to win in 50 overs. Indians were confident about the chase but Lasith Malinga had some other ideas. He removed Sehwag and Sachin in the first 10 overs and Virat followed them too after a gritty 35. To everyone's surprise, Dhoni who had a rough patch in the tournament promoted himself up the order ahead of Yuvraj and scored 91. It helped India to win their first World Cup in 28 years. This is what he had to say about his controversial decisions in the finals during the presentation ceremony.
"I took a quite few decisions tonight, if we hadn't won I would have been asked quite a few questions: Why no Ashwin, Why sreesanth. Why no Yuvraj, Why did I bat ahead?! That pushed me and motivated to do well. The pressure had got to me in the previous games. In this game, I wanted to bat up the order and Gary backed me and by the senior players. I had a point to prove to myself." – MS DHONI, after India won the WC2011.
Then came the forgettable tour of England in which the Indians were whitewashed by Strauss and co. Even they didn't win a single game in that tour. But Dhoni and Raina performed well in the ODI's. In the return leg in India, Dhoni was dismissed only once in 5 ODI's and 1 T20 which lead India to avenge their series loss in England. The world cricket has started to witness a great Finsher in ODI's since the retirement of Micheal Bevan. The tour of Australia arrived and much was expected of the Indian team in those tests and ODI's. But again they were White-washed in tests and knocked out in ODI's without making it to the finals. The bright spot was Dhoni's batting in ODI's especially in Adelaide where he launched Clint McKay for a monstrous 112 meters Six that helped India to win the match against the Aussies. Again in 2012, England toured India for a tour which consisted of only tests. It was slated to be the Revenge series. Dhoni asked the curators to prepare rank turners which brought the downfall of his team. The revenge series changed into Recap series as India lost the series 2-1. Even though Dhoni is a good finisher in ODI's, he lacks Temperament in Tests. But in ODI's, Dhoni was in great form as he lead India to a 3-2 series win. The knock of 113* in Chennai against Pakistan was simply Unbelievable. Dhoni came into bat when India were reeling at 29-5 and stayed till the 50th over to set Pakistan a respectable total of 228. The innings was LEGENDARY, even his haters will respect that knock. He was also a member of the ICC World XI for four consecutive years from 2009-2012. His ODI batting average of 51.85 and an average of over 105 in ODI's while chasing successfully shows how good a ODI batsman Dhoni is.
With Australia series round the corner, Can Dhoni discover his touch in captaincy and lead India to a much-needed series win?