Australia India 2013 – It's that time of the year when the two biggies of the game will go head to head. While India will be looking forward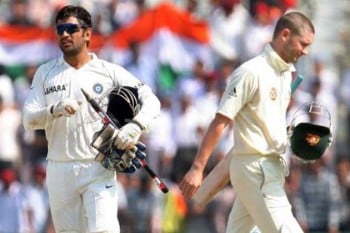 to avenge the humiliating series loss down under, Australia will try to continue their outstanding form against India. We take a look at the schedule, prospects and other details for this hell-raising series.
The series begins on Feb 22, 2013 at 09:30 local time at MA Chidambaram Stadium – Chepauk, Chennai. Australia India 2013 series will consist of four test matches. The Australia India 2013 bilateral series will come to end on Mar 26, 2013. Below is the schedule for the same.
Australia India 2013 – Schedule
1st Test | MA Chidambaram Stadium, Chepauk, Chennai
Friday, Feb 22- Tuesday Feb 26
9.30 local| 04.00 GMT
2nd Test| Rajiv Gandhi International Stadium, Hyderabad
Saturday, Mar 2- Wednesday, 6
9.30 local| 4.00 GMT
3rd Test | Punjab CA Stadium, Mohali
Thursday, Mar 14- Monday, Mar 18
9.30 local| 04.00 GMT
4th Test | Feroz Shah Kotla, Delhi
Friday, Mar 22- Tuesday, Mar 26
09.30 local| 04.00 GMT
In about one month, the two teams will travel to four different cities playing four exalting test matches during the Australia India 2013 series. The Australia India 2013 series will start with some sweat oozing hot weather conditions in Chennai and the weather will continue to haunt the visitor's as the summer season approaches the country.
Australia India 2013 – Aussie Squad
The selectors announced a 17 member squad for the four-test series against India. The squad included five pace men  two expert spinners, uncapped all-rounder and IPL's million dollar boy Glenn Maxwell and medium pace all-rounder Moises Henriques.
The pace attack includes James Pattinson, Mitchell Johnson, Peter Siddle, Mitchell Starc and Jackson Bird. Legendary pace bowler Dennis Lillee was called for providing guidance and coaching advice to the Aussie pace attack. The 63 year old was heading the MRF Pace Foundation in Chennai for 25 years. Recently, pace-bowler Peter Siddle came out with a statement saying that the Aussie pace attack will play a very crucial role in the Australia India 2013 series.
Siddle also showed faith in batsman Philip Hughes who he believes will be an asset if he is able to continue his good form in Indian conditions as well. This will ensure big totals for the Aussie side in the four match test series during the Australia India 2013 series.
Australia have spelled out a strong attack both in terms of bowling and batting for the Australia India 2013 series. While the likes of Clarke, Watson, Warder and Hughes will provide a strong batting line up, the all-rounders will ensure that the team has a lot of options once on the field at the Australia India 2013 series.
Maxwell is being considered as a spin specialist and will have to deliver if he is selected in the playing eleven. With England making India struggle at home, it is now a known fact that India is no more unbeatable at home. Australia India 2013 will be a tough one for both the teams.
THE SQUAD
Michael Clarke (captain), Ed Cowan, David Warner, Phil Hughes, Shane Watson, Usman Khawaja, Steve Smith, Matthew Wade, Glenn Maxwell, Moises Henriques, Mitchell Johnson, Peter Siddle, James Pattinson, Mitchell Starc, Nathan Lyon, Xavier Doherty, Jackson Bird.
The Indian Squad is yet to be announced but the likes of Pujara, Yuvraj and Rahane have a good chance of making it to the team for Australia India 2013. Question remains whether India will play Sehwag and Harbhajan. Also, a lot of questions are being raised about the continuous faith that has been shown in Gambhir who has failed to deliver over and over again.
MS Dhoni will be heading the side under the guidance of Sachin Tendulkar. The pace attack might see Zaheer and even RP Singh making a comeback. The young guns Bhuvneshwar Kumar, Ashok Dinda and Shami Ahmed will also fancy their chances. Ashwin is an automatic choice as he has got the temperament for Test cricket. But even he can be ineffective at times. Lastly, Ojha and Jadeja are also some good options where Ojha will surely make it to the side.
Australia India 2013 – Review and Analysis

The two captains have a lot on their plate and both the teams are in the process of rebuilding their squad. Although Australia surely do have a head start of about 12-18 months, but even then India scores much better on the paper with the likes of Kohli, Dhoni and Sachin on their list.
The series will see a lot of new talent and hence a lot of surprises as well. One of the major issues for the Aussie players will be to get accustomed to the weather conditions here in India. Also, the at times baffling spin friendly tracks can cause a lot of problems to the Australian batsmen.
One should not be surprised if Australia are restricted to a total of 180-230 in the first Test of the Australia India 2013 series. It will not be easy for the visitors as they will have to bend their back and feel the rush of sweat in order to dominate the Indian test side which is flying high after the English tour.
The Australia India 2013 series is an important one as it is nothing less than a 'payback' series where India will try and set the record straight by returning a whitewash to the Aussies. More importantly, for the Indian fans, this whitewash will have to be a humiliating one for the Aussies and will act as a payback for the 4-0 whitewash that India were handed down under. The Australia India 2013 test series is way too important for the fans and hence there will be a lot of pressure on Dhoni and his men.
Australia India 2013 promises a lot of excitement and loads of surprises. True test cricket will be unpacked as the two giants of the game will go head to head. All fingers crossed for the biggest encounter of the summer- Australia India 2013.