Not Sure Whether it is Spot Fixing or Spo(r)t Fixing
All of you (I mean the three people who ACTUALLY read my article) are aware of the spot fixing scandal in the IPL. A lot has been said in the media, name dropping has become rampant and politicians (yes – politicians!!) have asked for strict punishment..A politician asking for punishment against crime is like the proverbial pot calling the kettle black!
However, the BCCI has done some thinking and has actually come out with some creative ideas – like setting up a fact finding committee (for BCCI – that's innovative!). Our intrepid reporter Bhagwaan managed to get a sneak preview of the report after talking to some of the committee members.Here is an excerpt from the conversation.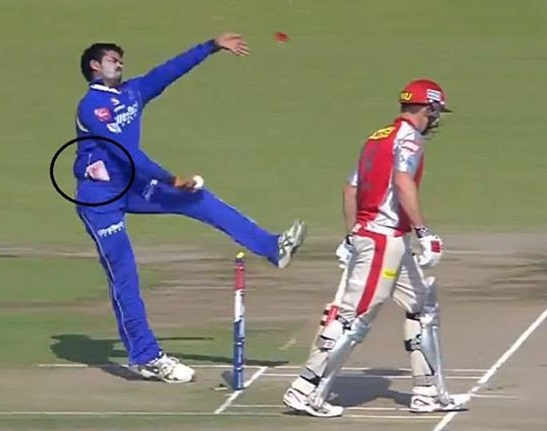 Bhagwaan: I heard you have come out with some great ideas on how to cleanse the sport..Can you give our reader some details?
Member: Of course. We did some in depth studies and came out with some definitive steps. The first one which we will carry out immediately for all games, domestic or international , TOWELS will be banned on the ground.
B: What? How will that help?
M: The towel started it all and hence its important to get to the root of it..If only Sreesanth had not put the towel, all this would not have happened.
B: But then how will players dry the ball when there is dew?
M: We have thought of that too..we will give them paper towels which will be thrown away after wiping the dew. All the towels will be given by BCCI and will have the sponsor's name printed on it. Of course, we will make money out of it!! Mountain Dew has already agreed to sponsor the towels (chuckles to himself at the pun)
B: That is ridiculous but are there any more actions being planned…
M: Of course!! Going forward, bowlers cannot do stretching for more than 2 seconds. We saw that bowlers used to waste time for the bookies to place bets hence we will cut down the time.
B: Wouldn't that increase injuries to the bowlers?
M: That is not OUR problem..we are here to fix the fixing problem – got it? (chuckles again)
B: Anything else?
M: Of course..we also looked at ensuring that our sponsors are protected..going forward, all sponsor ads will have to be shot separately for each player and then joined together..This way, if any player is involved, we just need to cut him out..Look at Kent RO – poor chaps had to drop the ad altogether…Adobe has agreed to sponsor the joining of the pictures..this way we also make money..we will use their photodukan software..
B:Photoshop?
M: Wahi! Wahi!
B: I am scared to ask – but any more actions?
M: To make some money, we decided that bookies will need to accredited to the BCCI going forward..otherwise they can't bet..
B: That sounds impractical!! But was there a reason for it?
M: Of course!! We thought – if you can't beat them, BET them!!! (again chuckles at his humor)
B: Any more?
M: To make it difficult for betting, we will announce the name of the venue at the last minute. Now no one will know in advance and hence no fixing will happen.
B: That is ludicrous…how will the spectators know then?
M(giving a sheepish grin): We will have a separate committee to figure that out…We also have decided to give the  most stringent punishment to the players who indulge in match fixing.
B: That is great!! Take away all the benefit money?
M: No – stronger than that…
B: Will you ban them for life?
M: No, no!! Stronger..
B: Put them in jail?
M: No Baba!! These are also simple punishments…we will give them worse – they will have to listen to the commentary by Ravi Shastri AND Laxman Sivaramakrishnan at the SAME time…we all know how grating their commentary can be….once they know this, we believe no cricketer will try to fix matches!!
B(now exasperated): Any more?
M: Yes..even after all this, if any player gets arrested by the police, we have banned the use of using politicians names..we understand Sreesanth mentioned the names of two CMs..this will not be allowed…going forward, the player can use only one name…
B: Of?
M: Our BCCI President of course! He is more powerful than any CM..Even CMs resign during a scandal but our President does not – so it is better to use his name….
Now Bhagwaan had reached the end of his tether and asked the question which all of you have in YOUR mind "Will this help in ANY way to resolve the issue?"
At this point, one member kept his hand on his mouth, one closed his eyes as if in meditation and one kept his cell phone to the ear so that he could not listen..and that image of "not seeing,not hearing and not speaking" describes aptly how the BCCI functions…!!!
*This is a work of fiction but then you know sometimes fiction is close to the truth.