Arsenal's main striker was hurt in innocuous circumstances during 2-2 draw with Everton at this weekend. Oliver Giroud has been ruled out for 'three to four' months, however Arsene Wenger(manager) said Arsenal would sign "nobody" despite the set back. Arsene said Giroud had a surgery from a broken tibia and he will be out for 3-4 months.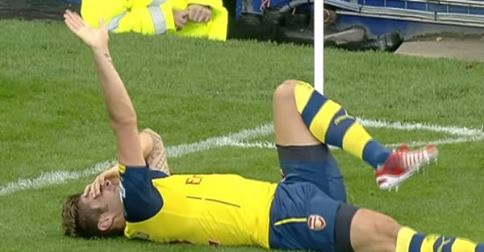 Giroud will be capable of playing again in the Premiere League end of the December but it may be the beginning of the January before he is competitive at the top level. At the moment Wenger is plannung not to sign anyone. Arsenal needs to score to progress but must do so without Giroud and Aaron Ramsey who is suspended.
Arsene would not confirm that he is out shopping for a striker, saying he is confident about the new signing Alexis Sanchez, Yaya Sanogo and Lukas Podolski, they have enough resources at the club already. Wenger believes his attack is strong enough without further additions. A timely first goal for the club from Alexis Sánchez, a £30m summer recruit from Barcelona, secured Champions League football for the 17th year in succession, at Besiktas's expense.
Arsene used Sanchez as a striker in the championship league play off tie against Besiktas on Wednesday. Wenger reiterated that the Chilean had been bought as a no 9 and can thrive in the role in the frenchman's absence. Hence, Wenger rejected suggestions of potential recruit and says that he does not expect to sign a new striker before the transfer window closes on Monday.