Sohag Gazi reported for suspected action
Sohag Gazi, the Bangladesh offspinner, has been reported for a suspect bowling action following the second ODI against West Indies in St George's. This is the second time Gazi has been reported for a suspect action, the other time being in a tournament in Bangalore two years ago while he was playing for Bangaldesh 'A' but was let off without testing after the match referee hadn't mentioned the details of the problem in his report.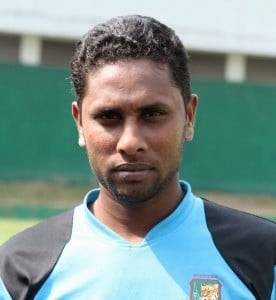 "Sohag will be going to Cardiff and the ICC has said that the first available date would be September 19" a BCB official told ESPN cricinfo. The results are likely to be known around two weeks after the test. The match officials' report, according to an ICC release, had "cited concerns regarding Gazi's bowling action for all deliveries". He will need to undergo testing within 21 days, as per ICC regulations.
Sohag Gazi: Off Spinners under scanner
The news comes just two days after Zimbabwean offspinner Prosper Utseya (arm ball and fast delivery) too was reported for a suspect bowling action, and just two weeks after Pakistan's premier bowler Saeed Ajmal (various deliveries) too was reported over the same concern. Gazi is the the seventh bowler in the past one year to be have been reported over a suspect action – The others, apart from Utseya and Ajmal, were New Zealand's Kane Williamson, Sri Lanka's Sachitra Senanayake and West Indies' Shane Shillingford and Marlon Samuels – All offspinners. The latter four were banned from bowling after their actions were found to be illegal, either being ruled out till they corrected their action or banned from bowling one or two particular deliveries.
The news also means that the likes of Ravinchandran Ashwin from India, Sunil Narine from West Indies, Nathan Lyon from Australia, James Tredwell from England and Suraj Randiv from Sri Lanka –  All offspinners who are due to play for their respective teams over the next few weeks, will come under scrutiny and will most likely be closely monitored.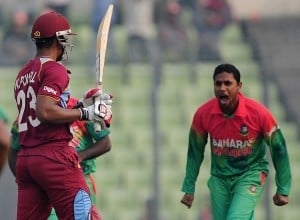 Part-time offspinners like Glenn Maxwell (Australia), Tilekeratne Dilshan (Sri Lanka), Chris Gayle (West Indies), Moenn Ali (England), Suresh Raina and Rohit Sharma (India) and JP Duminy (South Africa) are also likely to come under the radar as the ICC is leaving no stones unturned in trying to rid the game off illegal bowling actions.
Sohag Gazi: ICC concerned
Earlier, bowlers with suspect actions were let off quite easily. In June this year, at an ICC meeting, the cricket committee expressed concerns about the identifying, reporting and testing of suspect actions. At the same meeting, the committee recommended changes to specifically "encourage umpires and referees" to identify suspect actions. That was followed by the words of the ICC's general manager, cricket, Geoff Allardice at the annual general meeting at the end of June. "There's enough bowlers with suspect actions that should be being scrutinized, that probably haven't been."

For those who don't exactly know what the criteria for considering a bowling action as illegal is, it is the degree that the bowling elbow straightens when the ball is released. That should not exceed 15 degrees.
While Gazi will be available for the rest of the ODI series, Ajmal and Utseya are bound to miss a few of their own matches, but can continue bowling until the results of their tests are known.