Quotes on Dhoni is a compilation of some amazing quotes on MS Dhoni by some of the greatest in the game. MS Dhoni has a fan following all across the world. Fans of the game are fans of the man MSD. After achieving almost everything that can be achieved in the game of cricket, MSD continues to explore. The thirst for victory and the passion for the game, it seems, will never die. We take a look at some quotes on Dhoni, from one of the greatest in the game.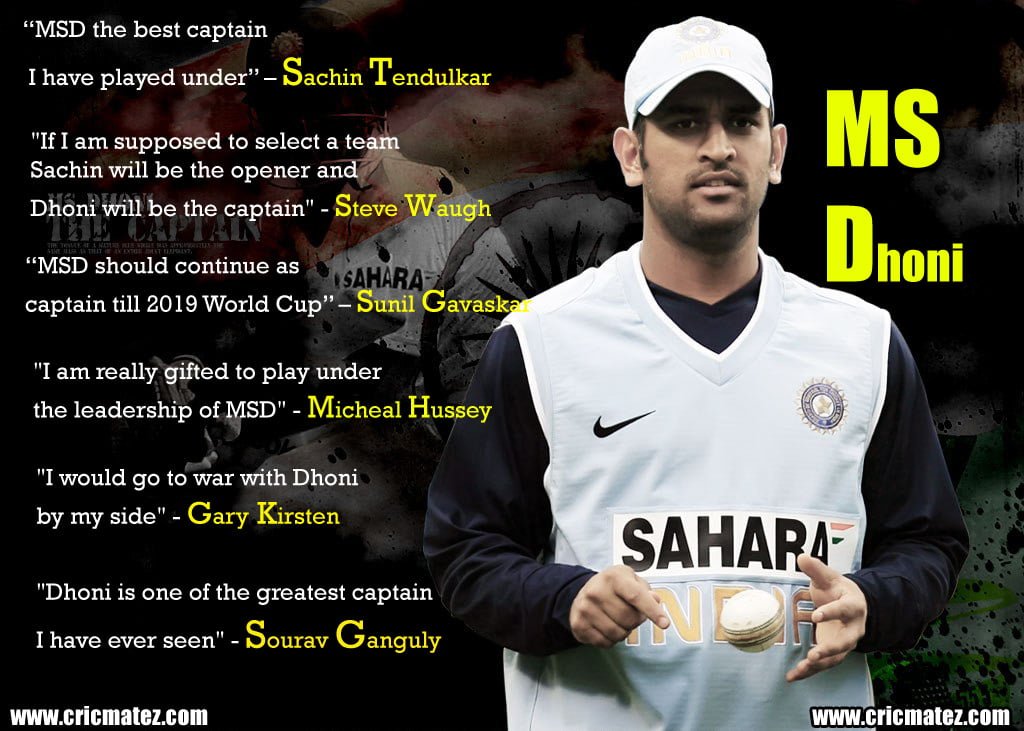 QUOTES ON DHONI – THE LEGENDS SPEAK
"I am really gifted to play under the leadership of MSD" – Micheal Hussey
"If i am supposed to select a team sachin will be the opener and Dhoni will be the captain" – Steve Waugh
"I would go to war with Dhoni by my side" – Gary Kirsten
"Dhoni is one of the greatest captain I have ever seen" – Sourav Ganguly
"MSD should continue as captain till 2019 World Cup" – Sunil Gavaskar
"Dhoni's not the the type to play for records" – Kapil Dev
"MSD the best captain I have played under" – Sachin Tendulkar
"Dhoni can take India forward" – Rahul Dravid
"Dhoni is a great captain" – Anil Kumble
"Dhoni empowers his players" – Stephen Fleming
"I am learning the ropes of captaincy from MS Dhoni" – DJ Bravo
QUOTES ON DHONI – MANY MORE
The above listed quotes on Dhoni are perhaps few of the most famous Quotes on Dhoni. There are several other Quotes on Dhoni which can be added to this humble list of Quotes on Dhoni. Also, as time passes by, much more will be said about this great cricketer and hence this particular list is actually an ever expanding list of quotes on Dhoni.