We all know Rahul Dravid deserves as many awards as one can give. But it was joy and celebration all across the Indian cricket fraternity when Rahul Dravid was presented with the prestigious Padma Bhushan here in Delhi. The Wall has finally been recognized, let's take a look at what else went down at the Presidential Palace.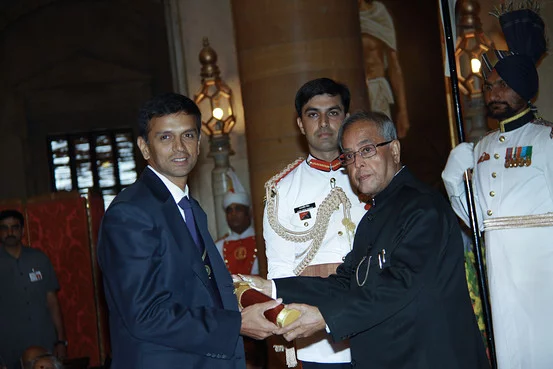 PADMA BHUSHAN and Dravid – The Ceremony
Rahul Dravid, the legendary Indian cricketer, has been awarded with one of the highest civilian awards – the Padma Bhushan. He was presented the Padma Bhushan by the President of India Pranab Mukherjee in a ceremony at the Presidential Palace in New Delhi, the capital of India.
Other receipents were Rajesh Khanna, Mary Kom, Sharmila Tagore etc. Also, four Padma Vibhushan and eighty Padma Shri awards were presented by Pranab Mukherjee.
PADMA BHUSHAN and DRAVID
Dravid, who has been the pillar of Indian cricket for around two decades, deserved the award more than anyone else. The man has single handedly saved the team on a number of occasions and has made sure that the country's flag flies high and with pride. Dravid's exploits, if numbered, might even cross infinity as the 'Man of Steel' has been there for billions of fans whenever they needed him. 
Rahul Dravid received the award with 23 other people including Rajesh Khanna who was awarded posthumously. Dravid with a record 13,288 runs to his name is a living legend of the cricketing world and has earned respect all over the world not just because of his supernatural batting skills but even as a person. The man's personality precedes him and his character and temperament is something players and fans across the world worship. Dravid and Padma Bhushan is just an icing on the cake of Dravid's success and list of achievements and awards.
PADMA BHUSHAN – WHO ELSE?
Nine other cricketers (including Sunny Gavaskar and Kapil Dev) have been awarded the Padma Bhushan as Dravid now makes his way into this list of achievers. Dravid's career ended in 2012 when he retired from cricket after two back to back whitewashes against England and Australia. The man took responsibility for the poor performance of the team when Dravid was the only batsman scoring a hundred one after another during such a bad phase. Dravid and Padma Bhushan is something we all were waiting for.
Rahul Dravid's achievements are enough for us to say that it is not Dravid who has received the Padma Bhushan, but actually it is the Padma Bhushan which has received Rahul Dravid finally. Although, a man who always put his country ahead of himself will surely disagree with us. So long Dravid, congratulations and GOD knows we all miss you. Dravid and Padma Bhushan,what a couple!