Sunrisers bowlers show how it's done
Sunrisers Hyderabad have start their debut season with a bang  by defeating Pune Warriors India. The pitch was a difficult track to bat on, runs not coming into the bat easily as batsmen would want to. Sunrisers began well, with openers Parthiv Patel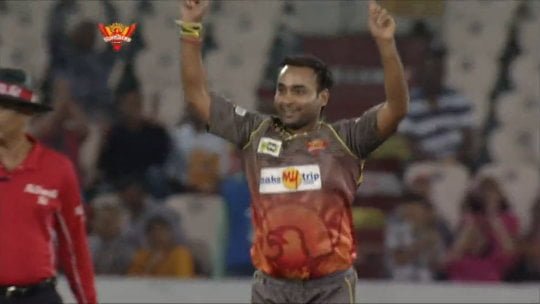 and Akshath Reddy giving good starts until Parthiv departed in the 6th over. Sunrisers new signing turned the tables with a quickfire 30(18) and scalping 2 crucial wickets. Dale Steyn and Amit Mishra bowled really well to guide Sunrisers to their first victory.
Dale Steyn once again proved why he is among the world's best bowlers at present getting 3 wickets in 4 balls and Amit Mishra bowled well with his legbreaks on a pitch conducive for spinners. After getting a mediocre score of 126,no one would have predicted a turnover as shocking as this!
Steyn and Ishant was accurate and testing the batsmen in the beginning,but it was Thisara Perera who got 2 crucial wickets and gave some hope for the Sunrisers.After that,it was Mishra-Steyn show all-round. Perera had Mitchell Marsh run – out too.
Target of 126 wasn't challenging,and Uthappa-Pandey pair started well. Uthappa was caught behind of Perera after a good start to his innings. Pune,then lost Samuels and Yuvraj in a matter of 2 overs. Pandey was loosing his cool,went for the big one and nailed out to White off Mishra. Pune Warriors were in a spot of bother by now. Ross Taylor and Abhishek Nayar stabilised the innings and made sure they no longer lost any wickets. Just when this pair was going good Mishra came and picked up Nayar and Ashish Reddy picking up Taylor. The run rate was soaring higher as the wickets fell,and Steyn gun came back to bowl his final spell. He wrapped up the innings by picking 3 wickets in 4 balls to see Sunrisers home.
Pune Warriors have been disappointing for their first 2 seasons,and they needed to start well. Under new captain,many thought things would change but it was not to be. The comeback man Yuvraj Singh failed to impress go out to Mishra. Warriors were panicky against Steyn & co and nailed out in the end. He once again showed his class as the best bowler in world cricket today. Sunrisers didn't find any momentum with their batting and that was why they were not able to post a big total. They,however got the win and thats all it matters in this format of the game.If the Sunrisers show the same determination with the bat as they showed in the field they will go a long way in this tournament.