Worshiped by billions across the world, Sachin Tendulkar is known as God of Cricket… but what if he is not God of Cricket? A mind boggling revelation has shook fans across the world as the man who gave birth to a new religion in India, has been stripped off the title of being God Of Cricket. Let's find out how exactly did this happen, and who is responsible for this.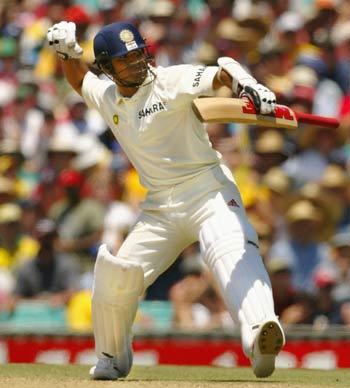 SACHIN TENDULKAR – GOD OF CRICKET
Outpouring runs without any hiccups and mastering the art of cricket like no one else, Sachin Tendulkar walks on every cricket ground on Earth to an ear-deafening yet somehow soothing and reassuring noise of the crowd. Not to forget, the man is always welcomed by a respectful standing ovation no matter where he plays. Even the crowds of Australia which are famous for being 'rude' and 'harsh' on the opposition, put their beer mugs down or raise them together as they stand and applaud for the little master when he steps out.
How well are we aware of the consequences of a boundary from the God of Cricket, or a massive six shelled out from the heavy and terrorizing blade that the little man carries. A half century invites dinner parties whereas a century becomes the reason for those all night long parties and celebrations which go on for weeks and even years. We know the double hundred he slammed with the class of a perfectionist kicked some much needed dirt in the eyes and face of those who had sinned by saying that God should retire from limited overs cricket. Brainstorming and headbanging over his style, technique, composure, temperament, abilities and element of surprise has only given cricket experts across the world new reasons to worship the heavenly figure operating on the cricket pitch which looks humbled and honored when the little man is standing on it.
SACHIN TENDULKAR – NOT A GOD?
So many reasons and many more keep coming, yet someone believes that Sachin is NOT God of Cricket. All of us will get emotional and start raining abuses and what not on the person who has said this. But before we reach that stage, let me introduce you to the person himself- Sachin Ramesh Tendulkar!
Yes dear friends, it is Sachin himself who said,  "Sachin Tendulkar is not God of Cricket". For what would be the first time ever, the man has spoken openly about his deification.
"I am not God of cricket. I make mistakes, God doesn't," Tendulkar said at a promotional event in Bangalore on Wednesday.
Sachin also said that while growing up he wanted to be an amalgamation of Sunny Gavaskar as well as Sir Vivian Richards. Sachin also talked about his journey to the national side saying that he remembers being pushed around in trains and buses and how he struggled to reach practice on time but always made it. Sachin also talked about his love for the game which ensured that he chose cricket before studies. Although, he did ask kids all over the world to try and maintain a good balance between the two as it is very important.
Sachin considers the opportunity to play for the national side as his biggest achievement and reward. His love for the game and the country are at such extreme levels that one can only imagine what the little man can do for his country and his countrymen. The records keep piling up for the Mumbaikar as he humbly denies the tag of being God of Cricket and says that Sachin is Not God Of Cricket.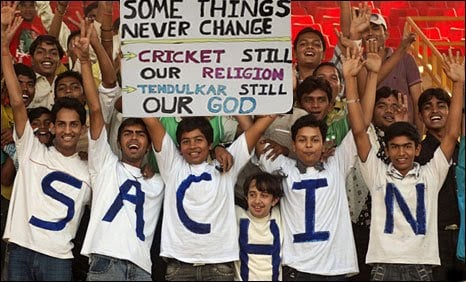 SACHIN REMAINS GOD OF CRICKET
How easy it was for Sachin Tendulkar to say that he is not God of Cricket. The God of Cricket can think whatever he likes to and say whatever he wants to. But we, the fans of cricket and the worshipers of this divine figure, very well know what Sachin Tendulkar is to cricket. One can imagine the rush of emotions and the avalanche of love when people relate religion with cricket and that too in India where each and everyone follows a religion of their own. Yet, under the umbrella of cricket, be it a bright sunny day or a thundering cloudy rain, we all unite under this umbrella and cheer, shout and sing and dance together.
Every now and then some of us look back to see who's holding the umbrella, and we all see our God- Sachin Ramesh Tendulkar, holding the umbrella and we continue to enjoy as we know that he will never let go…. no matter what, Sachin will never let go. Sachin Tendular is God Of Cricket , and that's that people!