Even though the batsmen started with a flurry of boundaries, the Rajasthan Royals looked charged during the first 10 overs of Mumbai Indians innings, when they got 3 wickets for only 45 runs. With Aaron Finch retired hurt, Parthiv Patel went back soon too. Unmukt Chand and Rohit Sharma tried to build a partnership, but Sharma edged one to slip and was shown the way back to pavilion, again on duck. Soon Unmukt was bowled by Tambe. After the top order was dismantled, the boundaries dried up. Importantly the singles dried up.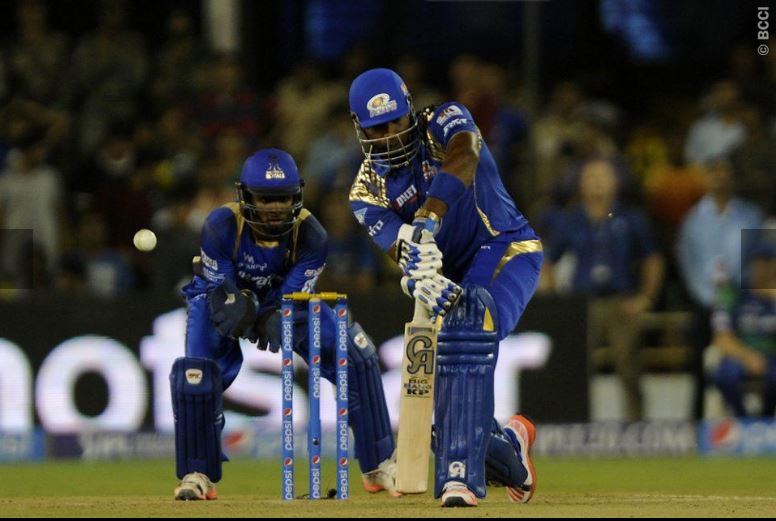 Batsmen in charge, Kieron Pollard and Corey Anderson, now had a task. They had to steer the team through rough waters, see them safe to shore, for once. They started with playing safe, scoring only 38 runs in the succeeding 5 overs. This period saw, Morris troubling Anderson with his line and length. Pollard was geting into the groove.  Corey Anderson had already been given a chance by Dhawal Kulkarni iin the 15th over. When Anderson was caught, on a front foot no ball, at mid off. But replays showed that it was a noo ball, and the decision was over turned and so were the fortunes of Mumbai Indians.
The next 5 overs was 'RAMPAGE TIME'. 81 runs with the loss of 2 wickets. Those 2 batsmen had already caused much damage to Royals. They had torn apart the bowling attack of Morris, Tambe, Southee. Pollard scored 70 runs off 34 deliveries and Anderson, had already got a life saver, which helped him to score a half-century. Now it was time for change of sides and maybe fortunes too!
A confident Rajasthan Royals started steadily with loss of only 1 wicket in first 10 overs. Sanju Samson, who rose to fame last year in IPL 7, was held out at mid-off and failed to make an impact. But Ajinkya Rahane along with Steve Smith made a concentrated effort to hold the team together.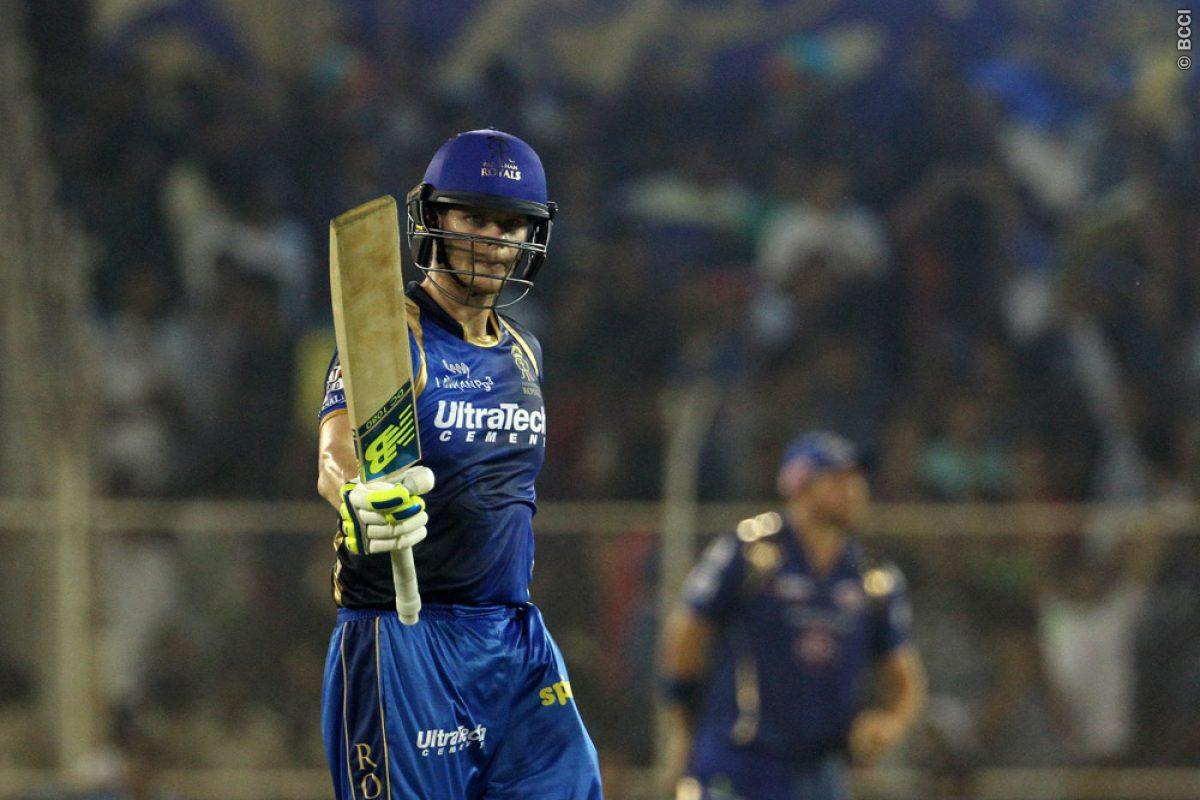 Coming into IPL, Smith has carried his exceptional form which he displayed in the World Cup. His stroke making seemed elegant, caressing and effortless. The runs came, but none noticed. There were minimal risks taken and maximum runs scored. Their run rate was consistent throughout the innings.
The bowlers failed miserably and even Lasith Malinga was ineffective. The only moment when the Mumbai Indians had a chance to get the 2nd wicket was when, Steve Smith was crossing over for the last run there was a run out opportunity. Though, a tough one to give the Third Umpire announced on the screen as Not Out, and cheers were heard all around the ground. Rajasthan Royals secured a  comfortable victory over Mumbai Indians.