The Rooney transfer saga has been going  viral in the transfer market since the transfer season started. Rooney wants out of United, preferably Chelsea and Manchester United doesn't want to sell him. Jose Mourinho is adamant to sign him. Mourinho has put signing Rooney as one of his top priorities. Sometimes these rumours add spice to the transfer window, but now the season has begun and with Chelsea to meet Manchester United late today this saga needs to end. The spotlight shifts from Jose Mourinho to Wayne Rooney, when these too war horses lock horns for the Battle of Thrones.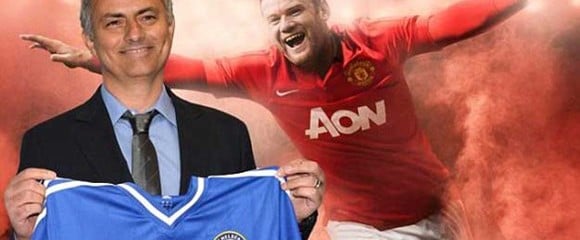 Mourinho is the 'special one' and one of the premier tacticians in the football world today. He has proved it time and again he gets what he wants and not what the ownership or the fans want. Mourinho's latest tactic in his attempt to sign Wayne Rooney is, he has resorted to name calling. Mourinho has off late, accused Manchester United boss David Moyes of the main reason why Wayne Rooney wants to exit Old Trafford. The battle for Rooney has gone public with these two fierce warriors. It's all about supremacy and these two teams will surely give thrilling encounters for the fans.
Why does Rooney exactly want to leave Old Trafford?
The best person to answer this question is the player himself. When Rooney made his intention to leave Old Trafford without doubt the fans around the world would have got shocked. The blame is made on Moyes because of his sour relations with Rooney. But Moyes, inspite of all these accusations sees Rooney as final piece in the jigsaw to go with Manchester United's title aspirations. Another rumour which has risen is towards the end of last season, relationship between Rooney and Sir Alex got tainted. And after that, Rooney has been wanting to leave. Rooney also fears that, even if Sir Alex has retired as the manager of Manchester United, he will be highly influential when it comes to the internal affairs of the team. There are also concerns that Rooney will be the second choice and Van Persie will be the first choice ahead of Rooney.
Now, all rumours apart this transfer saga will not affect Chelsea much, but it will have an adverse effect on Manchester United. The longer Rooney stays at Old Trafford, he will earn more haters. Rooney skipping the pre-season friendlies was a way Rooney showed his retaliation and it clearly states he was pushing for the transfer to happen. This also reduces focus on the ground and the team will be too concerned about the transfer. David Moyes wouldn't want this to happen, so he is better of selling the player than to keep him as a liability at the club. The fans are also getting restless and the more he stays here, the fans who had chanted "Wazza" each time he scores will come up with hate chants, which is quiet indecent and in many ways rude to the player.
Manchester United have to sell their premiere striker as fast as  possible for sure, but there is a question of thought whether to sell him to Chelsea or not ? They wouldn't want that to happen, so they are better off selling him to any club outside England. There is no bigger crime than selling one of your top scorers to your main rivals.
These days will be crucial and hope to put an end to this saga involving Rooney. Chelsea are set to offer a final bid of 40 million pounds in their last attempt to sign the England international.