Sachin Tendulkar's Bat is a mean machine
Outpouring runs, scoring a century of centuries, humiliating oppositions all across the world and the making of a legend who rules not just cricket grounds but also the hearts of all the people who have ever watched him play. Sachin Ramesh Tendulkar steps out to wreck havoc but even this godly figure needs some help from a dear friend when he's out there spreading the magic. The weapon of mass destruction that Tendulkar uses is a piece of willow which looks like a grenade launching machine in his hands. We take a look at the Little Master's choice of weapon- Sachin Tendulkar's Bat.

The world's oldest bat was not much different from a hockey stick. It was not even close to modern day cricket bats. The evolution of the magic stick of the gentlemen's game has been amazing. As of now, Law 6 of the Laws of Cricket state that the length of the bat may be no more than 38 in (965 mm) and the width no more than 4.25 in (108 mm). Bats normally weigh from 2 lb 7 oz to 3 lb (1.1 to 1.4 kg) though there is no standard. This brings us to Sachin Tendulkar's bat.
We concentrate on cricket's favourite son and the bat that he uses. The man and the machine behind him. We bring you Sachin Tendulkar's bat. The roaring sixes and the dissing penetrating boundaries are all a product of this deadly combination.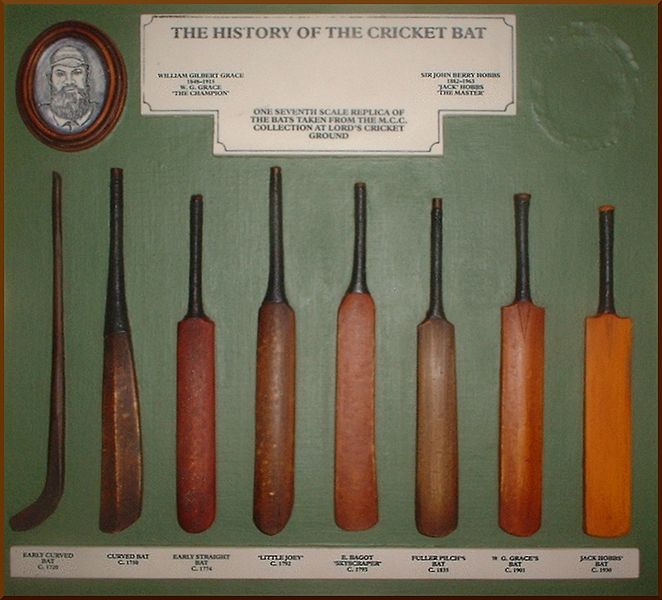 Following are a few notable features of Sachin Tendulkar's bat, something every fan should know about.
1. Sachin's bats are English willow, with a thick profile, massive edges which he likes, and he also likes his bats to be heavily arced.
2. They are also heavy, a result of having to share a full-sized bat with his brother when he was a kid.
3. A lot of manufacturers give Tendulkar handmade bats, because it looks good for them to say they made a bat for Tendulkar. Tendulkar gives them away to poor kids.'
4. It is now believed that the SG factory in India makes Sachin's bats. The bats are available in Australia, known as the Sachin Tendulkar Master Blaster Elite and retail for about 650 dollars.
5. In May, 2012 – British Prime Minister David Cameron, who considered a bat signed by Indian cricket icon Sachin Tendulkar as one of his 'most valuable possessions', has donated Sachin Tendulkar's bat to raise money for a cricket stadium in Rwanda.
Sachin Tendulkar's bat fetched 3,400 pounds (approx Rs 3 Lakh) at an auction at the Lord's to raise funds for the stadium project, the Daily Telegraph reported.
6. In October, 2010- Sachin Tendulkar's bat fetched the highest bid of a whooping Rs. 42 Lakh at a glittering sports auction that saw personal items donated by 25 top sportspersons from the country and overseas go under the hammer.
7. Only South Africa's Lance Klusener is said to have used a heavier bat than Sachin Tendulkar's bat in world cricket.
8. English fast bowler Allan Mulally playing in his debut Test against India complained that Sachin Tendulkar's bat was broader than the normal willow. That's how much Tendulkar had psyched the bowler with his brilliant batting. Once again, Sachin Tendulkar's bat scared the opposition.
9. Sachin Tendulkar's bat was without a bat contract until the start of the 1996 Cricket World Cup. At the end of the tournament a famous tyre manufacturer (MRF) sponsored his willow.
There are several other facts and figures associated with this personality and it is simply impossible to put them down together and make it easy for the reader. We can only offer you a glimpse of some of the facts linked to Sachin Tendulkar. This a article is all about Sachin Tendulkar's bat.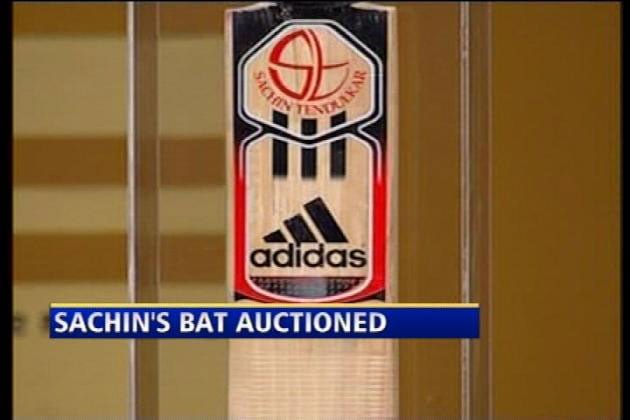 Sachin Tendulkar's bat is his partner in crime
Well the runs keep coming and the Little Master keeps scoring both on the pitch as well as in the hearts of his faithful followers who are more like worshipers. The blade is thick and heavy, and the one who holds it and swings it around is not just human. He is the GOD of cricket. Sachin Tendulkar's bat is his partner in crime indeed.