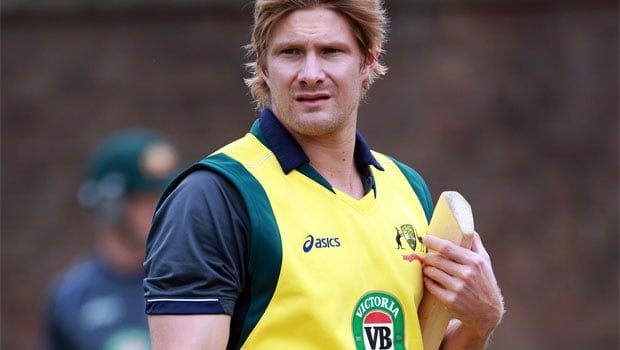 Shane Watson has a lot to thank the cash-rich Indian Premier League (IPL) for his rejuvenation and resurrection. While many people believe the existence of the league as a bad omen in the gentleman's game, here was someone who used the league for constructing himself into a force to be reckoned with. What made Watson special was his unique clean striking at the top with elegance and grace. He had class written all over his shots. He was one of the best pullers of the game, and it was an absolute treat to watch Watson pull the ball, sometimes he would pull the ball over the fence and make it so easy and he would stand there in the middle as cool as a cucumber! His six hitting was so famous and absolute delight to watch, only Adam Gilchrist and Ricky Ponting has more sixes when it comes to Australia. But when it comes to hitting the most sixes in an innings, Watson is easily the best over any other Aussie and the 4th in the world.
Most 6s in an innings by a player (ODIs)
| | | | |
| --- | --- | --- | --- |
| Player | Versus | Runs | 6s |
| Rohit Sharma | Australia | 209 | 16 |
| Ab Devilliers | West Indies | 149 | 16 |
| Chris Gayle | Zimbabwe | 215 | 16 |
| Shane Watson | Bangladesh | 185* | 15 |
| Corey Anderson | West Indies | 131* | 14 |
| Xavier Marshall | Canada | 157* | 12 |
| Sanath Jayasuriya | Pakistan | 134 | 11 |
| Shahid Afridi | Sri Lanka | 102 | 11 |
Shane Watson was always a bits and pieces cricketer, or at the most a poor man's Keith Miller. Australia didn't have too much genuine all-rounders in the cricket history which included Keith Miller, Richie Benaud, George Giffen, Monty Noble and Alan Davison. Had Watson played in the time of these great all-rounders he would have ended his times bracing himself playing first class cricket, but it was not to be. He came and conquered among the new generation superstars. Shane Watson looked like a warrior rather than he was one. When South Africa gave them Jacques Kallis, Watson was a respite for Australia. He had no pressure or weight of expectation whatsoever. But Watson was not to blame, for the selectors kept picking him up with the retirement of the legends and they hoped to fill in a number of test positions. He was allowed special privileges, and quite often pampered very well by even the coaches.
Players scoring 50 runs and 3 wickets in same match(T20s)
| | | | |
| --- | --- | --- | --- |
| Players | Country | Runs | Wickets |
| Mohammad Hafeez | Pakistan | 86 | 3/25 |
| Rohan Mustafa | UAE | 77 | 3/19 |
| Shane Watson | Australia | 72 | 3/34 |
| Mohammad Hafeez | Pakistan | 71 | 4/10 |
| Dwayne Bravo | West Indies | 66* | 4/38 |
| Trent Johnston | Ireland | 62 | 3/34 |
| Samiullah Shenwari | Afghanistan | 61 | 4/14 |
| Yuvraj Singh | India | 60* | 3/23 |
| Shane Watson | Australia | 59 | 4/15 |
As seen in the stats given above, Shane Watson was too effective for any team he played with, let it be for Australia or for any domestic side. With the bat he was blistering, classy and nothing short of a powerhouse! With the ball, he was extremely effective and you could sense something was happening every ball. Cricket Aficionados are divided in their views about Watson – a section of people believe that his 'potential' was under utilized and the other school of thought is that, Watson's potential was misjudged. I would stand with the second set of people. He was nothing more than a containing bowler, but there are times where people saw him as a strike bowler. It was the problem of judging him, ain't it ?
Talking about Watson's characteristics as a batsman, his greatest strength was the ability to come forward and play his trademark shots. But then he would also often fall prey to dubious number of leg before wicket appeals and the ball which deviated away from him would be a catch to the slips. Bowlers often knew he didn't have the ability to play the ball late, for he always played forward. For someone who played 59 odd test matches, an average of 35 did justice to whatever talent that he had. That's the main reason why I feel his potential was overstated and over-rated but not his performance. The simple mistake Cricket Australia and the fans made was to compare him with a stalwart like Jacques Kallis. Kallis was more like an orthodox batsman and much much better bowler than Shane Watson. What Shane Watson brought to the longer format of the game was attractiveness, more drama(not to forget the spat with Gautham Gambhir) and the element of aggression. When it came to the shorter formats, Shane Watson was nothing less than legendary!
Adios Watto. Thank you for the wonderful memories of batsmanship in international cricket and keep smiling for the years to come!