The ashes is one of sport's most historic prizes and the pinnacle of Test cricket for both Australian and English cricketers. In this article I will talk to you about 6 of the best moments in Ashes history and the reasoning behind each.
2005 – Glenn McGrath reaches 500
Affectionately known as "Pigeon", Glenn McGrath began the first test at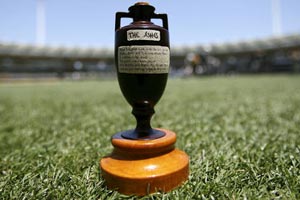 Lord's in 2005 requiring just the one wicket to reach an impressive 500 test wicket milestone. After claiming a great scalp in Trescothik earlier in the test, McGrath then slipped into a pair of gold boots to celebrate his achievement, much to the disapproval of his opposition and fellow team mates. The boots seemed to do the trick though, as either they were magic boots, or Glenn just simply rose to the occasion as he stormed on to amazing statistics of 9 for 82, playing an integral part in the Aussies victory.
1981 – Ian Bothams heroics
It is very rare that in a game of cricket which is played over 5 days, involving 22 high quality players that you can say one single player won the game on their own. Ian Botham did this at headingly in 1981, in what was quite possibly the most impressive individual performance in Ashes history. Having already notched up six first innings wickets, and a half century in England's poor opening total of 174, he walked on to the cricket field with odds stacked 500-1 in favor of the Australians. Botham proceeded to smash 149 with both countries glued to the match, inspiring England to an unlikely series win.
1993 – Shane Warne's ball of the century
Shane Warne is without doubt one of crickets finest ever spin bowlers. He will be forever remembered for how he got the better of Australian batsman Mike Gatting with a sensational leg break dismissal during the 1993 Ashes test series at Manchester's Old Trafford. Ironically, this was the first ball that Pietersen had ever bowled in a test match on English soil; this moment has been dubbed "Ball of the Century" and rightly so!
2006 – Adam Gilchrist's second fastest test century ever
Under any type of circumstances, this would have been an exceptional feat, but the fact that he stormed to England's second fastest test century, in front of his home crowd, against arch rivals England, sewing up a third straight victory and retaining the ashes for the Australians, made it even more impressive. Scoring an impressive 97 runs from just 54 balls, all he needed was three runs from his next delivery to beat the 1986 record Set by England's Viv Richards, but the English purposely delivered the ball wide to prevent Gilchrist scoring from it.
1948 – Don Bradman's final test
An emotional moment for Don Bradman and many English fans, Don Bradman's final test match, a standing ovation from the oval crowd that would warm the hearts of anyone, a fitting tribute to a brilliant career. When Don Bradman stepped out at The Oval for his final test innings, the English fielders greet him with three cheers and applauded him on his walk to the wicket. This set the stage for a breath-taking and emotional last chapter to Bradman's career.
Unfortunately, the fairy tale ending wasn't to be, he was bowled for a duck with the second ball, and exited the field to an eerie silence, followed by a string of awkward applause.  If Bradman had got the four runs that day he would finished on an extremely impressive test match average of 100, but he will forever remain on 99.94, an outstanding record none the less.
2005 – England victorious at Edgbaston
For the Aussies, any loss to England is difficult to accept, no matter by how many wickets, but losing to the English when all that is required to win is three more runs, is like gulping a pint of gone off milk. This is exactly what the Australians had to suffer in the second test at Edgbaston. Both Australian and English fans had their hearts in their mouths as Michael and Brett Lee fought intensely on the ninth wicket for the 62 runs that were required to seal the win. With Australia just three runs shy of a win, Kasprowicz gloved it behind and literally hand the game on a plate to the English. A memorable moment in this test was when Flintoff walked over to console the dejected Brett Lee, showing excellent sportsmanship.
About The Author

This guest post was written by David at Venatour Cricket Tours, Venatour are a travel company that specialize in cricket and offer numerous ashes tour packages to cricket fans throughout the UK.