With what should have been an easy win for  the defending champions, it wasn't quite the sight any Sri Lankan fan would have cherished.  It was played on the same ground as the India Bangladesh match, but 3 pitches  away. But still it was a green top with less green, though the bounce remained the same.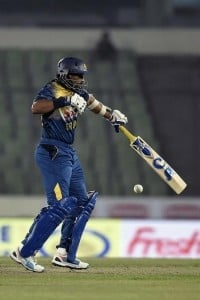 UAE won the toss and opted to field first owing to the pitch conditions, and their recent performance with the  ball was perfect. But remember their last game was with Oman, a qualifier, and they were good then. The skipper, Amjad Javed said that he hoped that his bowlers could restrict the reigning champions till 130. It was like god had granted wish! What we were about to witness, was something exceptional.
When the Lankans toured India, many of their big players were nursing injuries. They made a comeback here. Dilshan never looked comfortable batting in the middle. Surprising high bounce every now and then kept him on toes. He managed to hit a few balls for boundaries, but never found his form. Often it is Dilshan who is the aggressor, but without form he wasn't much of help. Dinesh Chandimal was sent to open along with Dilshan. He seemed determined to tear apart the UAE bowlers. Till the 8th over, the minnows hadn't yet started to hit the lengths and bowl troubling lines. 10th over saw a diwindling Dilshan go down to Amjad Javed. This started a procession of wickets which went on till the last over. Wicket fell almost in every second over.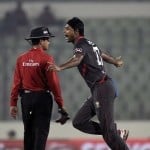 Chandimal was the only batsman to score a 50, on a track which offered less help to the batsman. In his 39-ball 50 he managed to hit seven 4's and one 6, most convincingly.  Siriwardana, Shanaka and Mathews, scored 6, 5 and 8 runs respectively. Jayasuria and Kapugedera  managed to get into double figures touching the 10 run mark. By the end of the 17th over, it seemed like Lankan batsmen were throwing away their wicket as if they were on fire. After 10 overs, all along it seemed like the UAE bowlers were setting targets for their batsmen!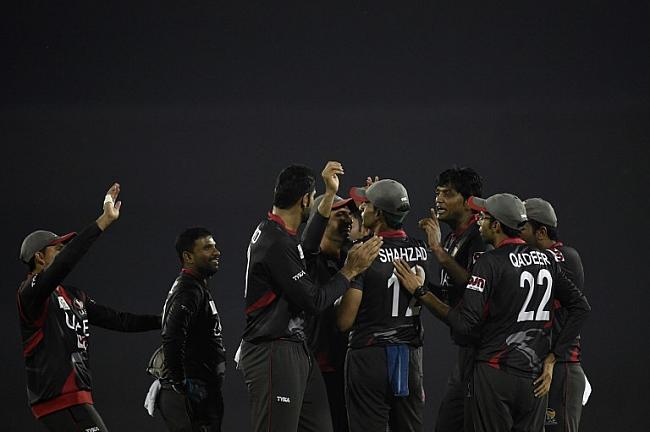 UAE Innings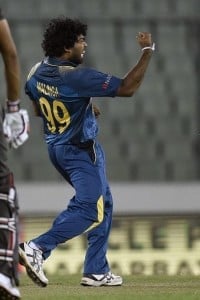 Malinga, Kulasekara and Herath were all making a come back post injury. But well, they did not seem to have recovered from any injury. It seemed as if they were practising hard under the impression of injury time! One cannot take away due credit of the Sri Lankan bowlers who, ought to be and were more mature and on target. Oh, Malinga was such a pleasure to watch. The first ball of the first over, and he sent back Rohan Mustafa and on the last delivery of the same over he sent Shahzad packing back. The Lankan bowlers exposed UAE's top order. It was revenge time. It seemed as if the they had come to field preparing for a full blown assault, and the UAE batsmen assisted them completely. Three overs later, Kulasekara showed the way out to Kaleem and Usman on 2nd and 5th delivery respectively. Anwar and Patil looked to stitch the innings, with 22-run stand, which saw Patil putting the ball into stands over long leg and Anwar hit two 4's to get UAE back on track. But Anwar fell to Herath and handed Chandimal a comfortable catch behind the stumps. But Patil continued to play his game and one over later he handed Herath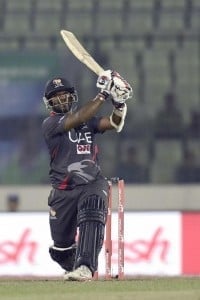 a good lofted six over long on. Though Haider tried to play to the situation, but lost  his head and top edged one to Chandimal. He played nine deliveries but  ailed to make any impact In came Javed, who tried to steady the ship with Patil, but due to lack of rotation of strike they failed to achieve the target.
Though Patil was putting the nall behind the boundary every now and then, it became increasingly hard for them to chase down the target. Then Patil, in an attempt to nail Malinga over long on, mistimed his slower ball and handed Malinga a high catch. Javed and Naveed tried to take their team home, but atlast, they were inexperienced and that's what led to their demise. One could only wish that the UAE batsmen would have shown more maturity and rotated strike and not just wasted deliveries.
In the end, it is only fair to say that Sri Lankans could have been more mature than what they had displayed in the match, after all they are the defending champions of the Asia Cup 2016. To the UAE players, well played boys. On another day you could've staged an upset and made headlines like "UAE humbles Sri Lanka in a stunner" in the next day's newspaper.