India traditionally known as the land of snake charmers and spiritual gurus has been lately identified with the pedigree of batting talents at her disposal. It's no secret that everyone in India, be it the Pappu pan wala or the high ranked officer of Police once had a dream of hitting sixes as a world class batsman for India. It also explains why India always had the Tendulkars, Dravids but not the McGrath, Marshalls. One such Indian batting star who is quickly ascending the stairs of greatness is Virat Kohli.
Virat Kohli as the world knows today, is the leader of the exciting group of young batsmen coming from India. He is the world leader in ODIs with hardly anyone close to him at his age. While his performance in the Test matches have been a little upside down, he surely has made the ODI format his own. His amazing rate of scoring Centuries in ODIs has put an exciting few years ahead of us making us wonder if he is going to break Sachin Tendulkar's most ODI century records or not. He is already a masterful chaser having scored most hundreds in chasing, next only to Mr. Tendulkar.
Cricmatez takes a look at the Top 10 ODI innings by Virat Kohli
10. 107(114) Vs Sri Lanka, Kolkata, 24th December 2009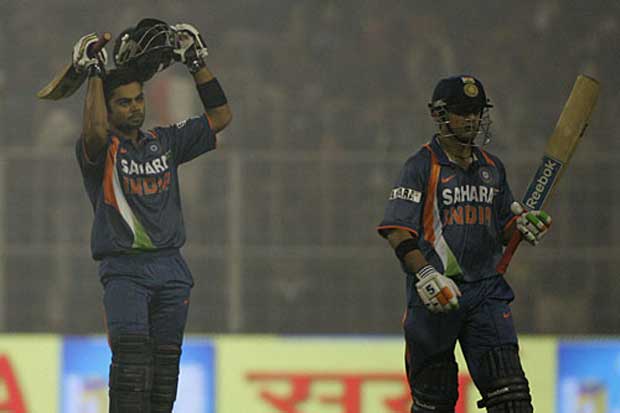 It was the maiden International century by Virat Kohli and without this therefore, the list seems incomplete. With the duo of Sachin and Sehwag back in the pavilion pretty early , The Delhi boys Gambhir and Kohli did their best to calmly chase the huge target of 316. Kohli was particularly severe on the back foot hitting powerful punches and his wristy flicks. The jubilation of scoring the maiden hundred was clearly visible on the face of the young Kohli, leaping in air , a now traditional Kohli celebration. That his maiden century was in a 300 plus chase was just a sign of how efficient a run chaser will this batsman become.