Since the advent of cricket in the late 19th Century to times such as today, a Saying which has never gotten old, rather more obvious than anytime before is – "Bat first, get runs on the board, put the opposition under pressure". Batting first has its own charm. It allows the team to set the tone of the game, take control of the match situation. It has been considered the attacking way of playing cricket & rightly so.
Indian Cricket team, the envy of the world around , has for long been  a team which looks to bat out an opposition & move towards the win in that order. India has always been a golden mine of batting prodigies & talents like Tendulkar, Dravid, Azharuddin who were blooded early, so there is nothing wrong with this approach. Runs on the board allows The Bowlers that extra cushion which makes his job much easier. Many of the famous wins of India have come when India has batted first.
Cricmatez looks at Top 10 India Wins in An ODI when Batting first.
10. India vs West Indies, Jan 31, 2007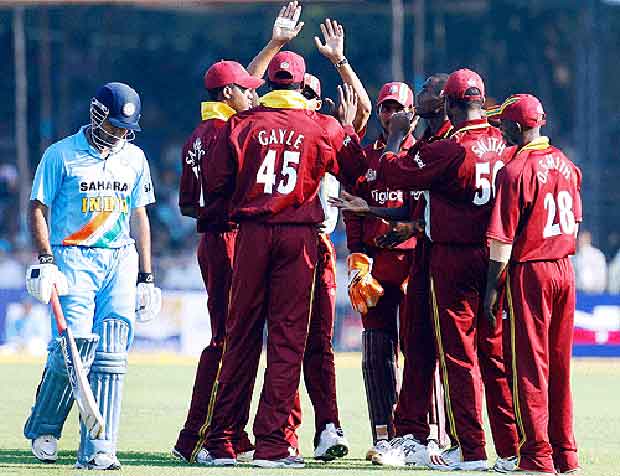 In his new role at no. 4 very close to the World cup, Sachin played one of his best innings till date. With able support from His old mates dada & Dravid, Sachin reached his hundred of just 76 balls in the dying moments of the match. Dhoni was at his finishing best blasting the West Indians away for a 20 ball 40 setting a target of 342 for West Indies. With such a huge score to chase, West Indies all the luck & the bravado to even think of winning the game. They quickly realised that they had none of that today, their Most prolific scorer of the series Shivnarine Chanderpaul falling for 14. And luck evaded them when Brian Lara was run out by a throw from Irfan Pathan. With Kumble further choking the opponents, the match ended with West Indies all out at 181 in 42 overs losing the match by 160 runs and the series as well.