21st century saw cricket evolve as a batsman's game with shorter formats and changed rules. More impetus is laid now on the batsman with the advent of T20 cricket. Many batsmen have come and gone over this period of time. Batsmen of the modern days have also evolved from being conservative to being moderate and aggressive. We have been lucky enough to have watched some of the gifted batsmen like Sachin Tendulkar, Ricky Ponting and Brian Charles Lara who have enthralled the fans over their career. They have long gone and retired now, and the new guns have come in to fill their void.
Cricmatez takes a look at the Top 10 extra-ordinary batsmen of current times who have shown some early promise in their careers and with determination, passion and a little bit of luck should write their scripts in the annals of history :
10. Ajinkya Rahane (India)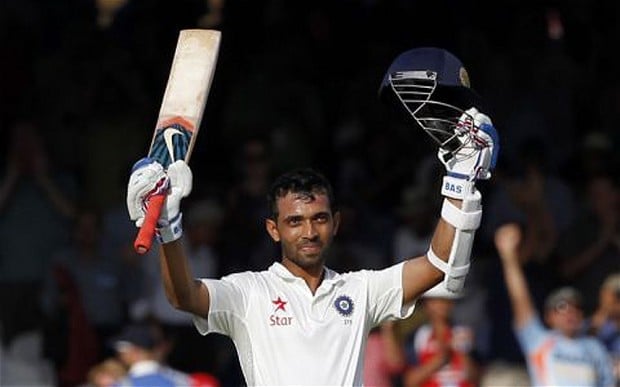 Ajinkya Rahane burst into the scenes with an aggregate of 1089 runs in just his second Ranji season. Only 11 players have aggregated more than 1000 runs before, so that highlighted he was not an ordinary talent and he was here to stay. Every young player, aspiring to play for the nation would dream to have a career like Rahane. It was well planned and not a forced one- for he had represented Mumbai at all levels, and when the time came he just took off. Ajinkya Rahane has a sound batting technique, which is highly rated by some of the greats in Indian cricket like Ajit Wadekar. Rahane was always a calm persona, be it on the field and off it. He has a Dravidesque element as regards his conduct and behaviour. From what he has played so far, he has a lot to offer to India in the future. There are critics who blame the IPL for their poor performance internationally. But this young Mumbaikar, has used each IPL to add an extra feather in his cap. The class and elegance of Ajinkya Rahane makes him stand out from the lot. He is a treat to watch when in full flow. Rahane has been seen more often to excel more in the longer format, and that is more evident by his first class average of 57.93. There is no doubt on the talent that this man possesses, so it should be just a matter of time before he makes it big in international cricket. The key will be not to be complacent and lose the grip.
| | | | | | |
| --- | --- | --- | --- | --- | --- |
| | Mat | Runs | HS | Avg | 100/50 |
| Tests | 14 | 1077 | 147 | 44.87 | 3/6 |
| ODIs | 54 | 1584 | 111 | 31.05 | 2/9 |
| T20s | 11 | 236 | 61 | 21.45 | 0/1 |