"ASHES" sounds great, doesn't it ? If not, then you probably aren't a Cricket fan. Ashes trend started in 1882 and is still continued with same enthusiasm & dedication. Ashes isn't just a normal test series played between two opponents, its their pride and glory.
Top 10 memorable Ashes moments over the last two decades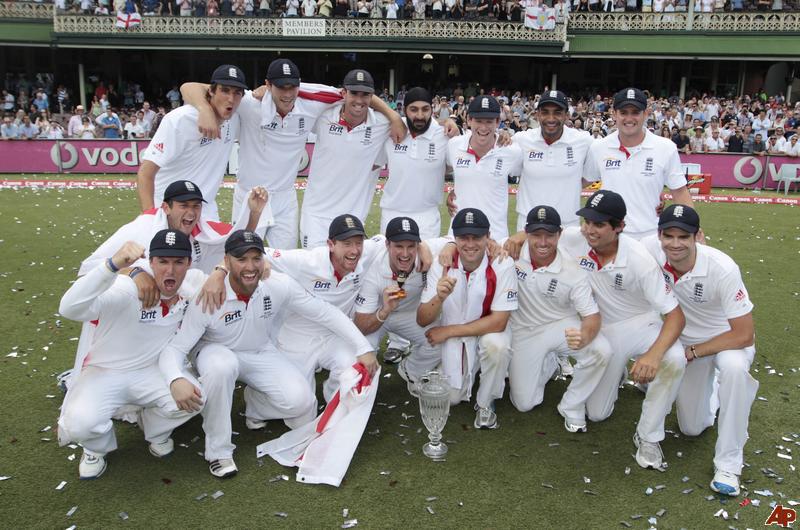 The oldest rivalry in the History of Cricket. No other test contest come close to Ashes played between England & Australia. Currently England holds the Ashes cup with 3-1 win over Australia in 2010-11. All these were innings defeat to Aussies which is a record. Ashes 2013 will be held in England. They will be defending the cup in their own yard and not to forget they will start as a favorite too which will give them a chance to level overall Ashes series win with Australia, which is as of now 31 and 30 for Australia and England respectively. This close contest answers why to watch Ashes…
Here are few moments of last 2 decades which gives the proper explanation for, "why to watch Ashes & why it's the most watched test series in world"
1. The Ball of The Century, you heard it right, the ball of the century was bowled at Ashes 1993 by none other than greatest leg spinner of cricket Shane Warne. Warne making his debut in Ashes send an absolute leg break to Mike Gatting, which pitched on leg stump & turned furiously towards off stumps kissing Bells. "If it had been a cheese roll, it would never have got past him," quoted Graham Gooch.
2. Steve Waugh : The Injured Hundred by the Captain & the most elegant batsman of his era Steve Waugh. In 2001 Aussies visited England & after trent bridge test Waugh ripped his calf muscle. Spending three weeks under treatment Waugh came back to play final test of the series half fit. Waugh scored 157* justifying his dedication, commitment & passion for Cricket.
Some of the memorable Ashes moments
3. Hollywood and 700 : yes it's again a heroic Shane Warne in 2006-07 Ashes. Warne on 699 test wickets announced his retirement after Ashes series got over. In front of his home crowd and on boxing day, Warne took his 700th test wicket. After a morning clinch in 47th over Warne got his 700th scalp disturbing Strauss's middle stump in pleasure.
4. Gary Pratt : Does it sound like a Hall of fame? Or a legend's name? No. but perhaps he is known for his fantastic and famous Run out to ruin a party of Ricky Thomas Ponting who was heading to his second hundred of the series. He wasn't even in playing XI, came as a substitute standing at cover region. Damien Martyn tipped a ball towards Garry & then ran hard, but Garry decided to hit the stumps directly with Ponting well short of his crease.
5. Warne dropped Pietersen : England were 68/3 with McGrath taking back to back wickets. Pietersen was playing at 15 and was looking in good touch, and suddenly he edged to Warne at second slip and he dropped. And then Pietersen hit Warne for two consecutive sixes in the next over.
6. The Gilly storm : A 57 ball hundred in WACA in 2006 by Adam Gilchrist. Gilchrist smashed 24 runs in an over of Monty Panesar. It was second fastest test ton by Gilly. It's the last century of Gilchrist on WACA too.
7. Thrill of 2006-07 :  A thrilling typical Ashes match. On Day 5 England were 59-1, the test was heading towards a draw. But then came a thriller with Australian bowling line up coming hard on English batsman. Warne took 4 wickets to stumble England on 129, forcing them to gain a lead of 167 run only. What next? Mike Hussey came and scored a ripping 66 runs for Australia and that sealed the victory comfortably.
8. Twin Century by Steve Waugh in 1997 : With the series perfectly poised at 1-1, Australia were reeling at 113-5 in the first innings of the third Test at Old Trafford. Waugh again leading from front scored 108 out of 235 made by Australia. In the next inning it got even better with 116 runs, an inning played with tail-ender on the other end. The hundred is recorded as one of the greatest as it came under pressure with tail-enders and the result was in favor of Aussies.
9. Mark Butcher : Gilchrist as the standing captain, declared after setting 314 for England. Initially it looked a great decision till Mark Butcher decided to turn it into arrogant and stupid. His unbeaten 173, containing 23 fours and one six, was one of the finest innings ever played against Waugh's dominant side.
The Edgbaston Test of 2005- one of the Top Ashes Moments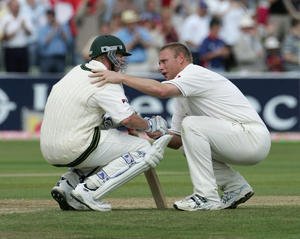 10. The Most Exciting Ashes 2005 : For the entry of Kevin Pietersen, for the heroics of Andrew Flintoff and for 600th Test wicket for Warne. The epic commentary by Richie Benaud in final over. Lee and Kasprowicz, the last pair for Australia, needing 62 more, taking blows from Flintoff & Harmison. But they stood against the bowling line up of England and scored 60 more runs with just 2 more to win for Australia. Then came the climax, Harmison bowled a bouncer which raised from a length and Kasprowicz edged it to the keeper, Geraint Jones. England won by 2 runs.
These are the Ten Ashes moments or can say proud moments to be remembered by most of the cricket fans,  if you got few more mention it in comments.