Top 5 Fast Bowlers in the last decade

Living in India and watching the Indian fast bowlers has never pleased me. I have been pleading for the last couple of years for one genuine fast bowler to be produced by India, but no hope so far. When I was a kid I used to enjoy Waqar – Wasim working in tandem with their Yorkers and reverse swing at breath taking speed.  Although Cricket is known as a batsman's game but a good Fast bowler can knock down any batsman and can give him nightmare throughout his life. A Fast bowler can be as elegant as McGrath or Unorthodox like Malinga. A Fast bowler at his peak is a treat to watch in test cricket. Eight out of ten fast bowlers are prone to injuries. A fit fast bowler can rattle any batsman on his day. Cricmatez.com brings you the top 5 fast bowlers in the last decade.
5.James Anderson, no. 5 in our list of top 5 fast bowlers in the last decade
James Anderson occupies the fifth spot in our list of top 5 fast bowlers in the last decade. He made his Debut at the age of 20, a prime time for a fast bowler. A lot was  expected from him but couldn't meet the expectation and later dropped from squad. Till 2006, he was in and out of the England team and became injury's favourite in the English dressing room. But he made a strong come back at international level and now he is the leading pacer for England. His Ability to swing the ball at around 140 kmph with and to bowl some devastating inswinging yorkers make the batsmen around the world to crumble when he has the ball in his hands. He also rejected offers to play in the IPL due to his commitment towards English cricket. Right now along with Dale Steyn, he is the best new ball bowler in the world. If he continues the way he bowls, he can emulate Sir Ian Botham's feet to become the leading wicket taker in the history of English cricket.  At 30 years, he has contributed to English cricket in rich veins and a lot can be expect from "Jimmy" Anderson in the future.
4. Shane Bond, no. 4 in our list of top 5 fast bowlers in the last decade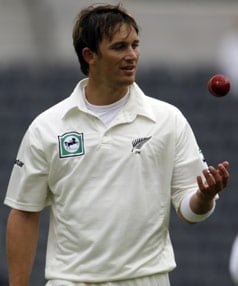 Number 4 in our list of top 5 fast bowlers in the last decade goes to Shane Bond. He is easily the best fast bowler New Zealand has produced after the retirement of Sir Richard Hadlee. In his debut series  he made a mark for himself and pundits started comparing with Legendary Hadlee. Bond combines pace with control and accuracy which gave success in all forms of the game. His  strength was not only to bowl at 140+ kmph consistently but also to swing the ball prolifically. His lethal weapon was to bowl Yorker at 145kmph with a late swing which made the batsmen to guard their toes rather than scoring runs. He was a star performer for Kiwis in 2003 world cup scalping 17 wickets in just 8 Matches. His career was ruined by injuries because of which he missed most of the matches between 2003-2007. He was also banned from playing International cricket because of his participation in the Rebel league ie. Indian Cricket League. Bond currently has the second best bowling strike rate of all time in Test cricket amongst bowlers who have bowled a minimum of 2500 deliveries.
3. Brett Lee, no. 3 in our list of top 5 fast bowlers in the last decade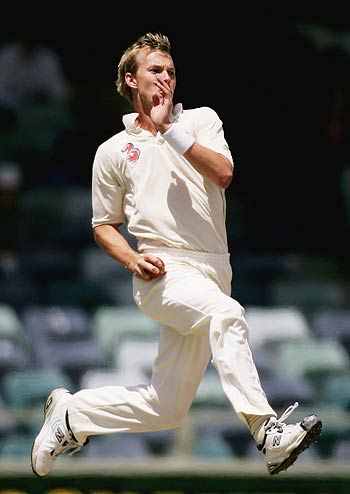 Brett Lee was the most loved fast bowler of his time. He was consistent in bowling fast and taking wickets at regular intervals. He had bouncers and Yorkers as his deadly weapons. He used to bowl at an average speed of  around 145kmph throughout a match. Lee had the temperament in test cricket which helped him to attain success at the top level. He was also considered as one of the fastest bowler in the history of cricket. His courage, determination and the will power to win matches for his country makes Lee a respected cricketer across the globe. He was named wisden's cricketer of the year in 2006. He has won many matches for Australia single handedly and this makes Brett "BINGA" Lee the number 3 in our list of top 5 fast bowlers in the last decade.

2. Shoaib Akhtar, no. 2 in our list of top 5 fast bowlers in the last decade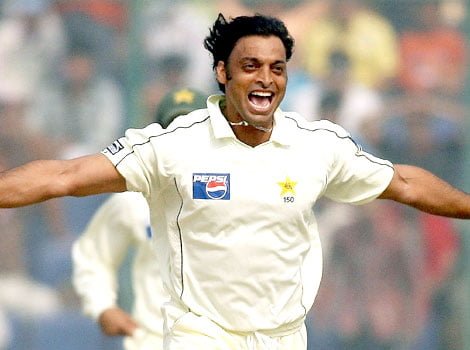 ""Controversially yours" perfect synonym for a player who was more famous for controversies related to him than his on-field performances and he correctly mentioned it in the title of his autobiography. The most arrogant but the most loved speedster of his generation. The Pakistan Airlines celebration, that wicked smile and the marathon run up, all take us to the same destination, yes none other than Shoaib Akhtar. He was fast as a lightening in the initial stage of his career and used to bowl 145+ kmph easily but as he grew old his speed decreased a bit but still he was consistent around 145kmph mark. He was ruthless and fearless. He also hold the crown for the fasted ball ever bowled by any bowler in any format of the game, clocking 161.7 on the measuring meter (Few may argue). He is regarded as one of the fastest ever bowler in history of Cricket and also fondly known as Rawalpindi Express because of the place he natively belongs to. Controversies' favourite child Shoaib Akthar  is the number 2 in our list of top 5 fast bowlers in the last decade.

1

.

Dale Steyn- The best among the top 5 fast bowlers in the last decade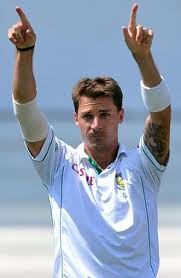 Natural Speed, Accuracy, Variations and Technique make a bowler the best in the world and Dale Steyn has got all these attributes. He is the Best and most successful fast bowler of current era and is regarded as the most dangerous and skillful bowler. He always creates chances against the batsmen by frequently bowling at a channel around the Off stump called as "corridor of uncertainty" and makes the batsman to think whether to leave or to play. Occasional bouncer and Yorker in death overs is added weapon in Steyn's arm. He is leading South Africa's pace attack for the last 5 years. Opposition batsman gets chill in their spine when this man is bowling, spectators enjoy's watching him bowl too. He is quick but the amount of control which he have on his bowling is awesome. He is just 30 years and with the amount of cricket left in him he can surely surpass the likes of Hadlee, Kapil Dev, Walsh, Wasim and become one of the best fast bowler in the history of the game. This makes Dale Steyn number one in our list of list of top 5 fast bowlers in the last decade.

"It doesnt matter where you play. It may be at the Wanderers, Chepauk or the Lords. A Yorker @ 150 kmph will be lethal everywhere"- Steyn's reply to a scribe when he was about the testing conditions for pacers in Chennai.
Dale Steyn rounds off Cricmatez.com list of top 5 fast bowlers in the last decade.