Cricket is a game which has gone innovations and transformations over these ages and the introduction of newer formats like T20 take this game to greater heights. Umpiring in cricket is that crucial for the survival of the game. A bad decision can turn the match the other way round,and may lead to agony of the other teams. Good umpiring helps in uplifting the standard of this wonderful game. When we talk of cricket,people remember the great batsmen,bowlers,fielders,but they tend to forget the integral part – The Umpires. Umpiring is not a walk in the park as many think. Umpiring errors in the past have led to controversies that has often tarnished the image of the game. Each umpiring decision is extremely crucial,such that there are possibilities that match might swing the opposite way. Imagine an umpire giving a second life to Sachin Tendulkar,and we know the after effects of such an error. Besides making decisions about legality of delivery,appeals for wickets and general conduct of the game in a legal manner,the umpire also keeps a record of the deliveries and announces the completion of an over.
Over these years,many umpires have been part of this beautiful game and left out their names in the annals of cricket history. There have been some umpires who have been extremely controversial too. Many umpires command respect from former and present cricketers and known for their extreme calmness and their popularity among people. Given below is my list of Top 5 Umpires in Cricket who I think are the best in their capacity.
Top 5 Best Umpires Of All Time
1. Dickie Bird, One of the Top 5 Umpires Of All Time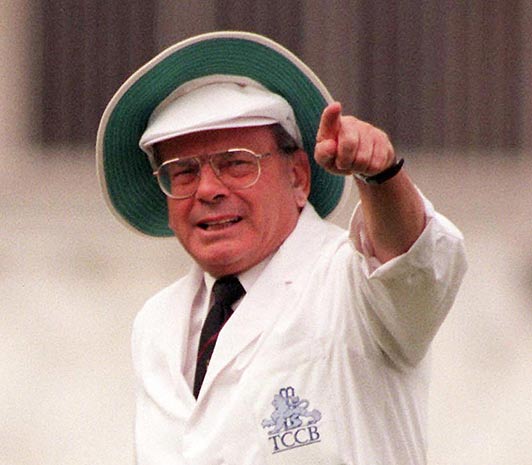 When the cricket fans hear his name,they tend to wonder how did the name 'Dickie' came to his name. His real name was Harold Dennis Bird. He earned this nickname during his schooling days. He took up his second love,that was cricket. He first officiated in a Test Match in 1973, England vs New Zealand at Headingley Stadium in Leeds. Bird's strength lies in his ability to earn the respect of some of the great players at his time. He used his humour to good effect too,at the time of controversies. He bid goodbye to international cricket in 1996,when he stood in his 66th Test match. The match was between India and England where the players gave him a 'Guard of Honour' and he went emotional. Bird was also very much dedicated person to the game,arriving 5 hours early before the game. Dickie Bird umpired in 66 Test Matches and 69 One-day internationals including 3 World cup finals. The number 1 in our list of Top 5 Umpires Of All Time goes to Dickie Bird.
2. David Shepherd, One of the Top 5 Best Umpires Of All Time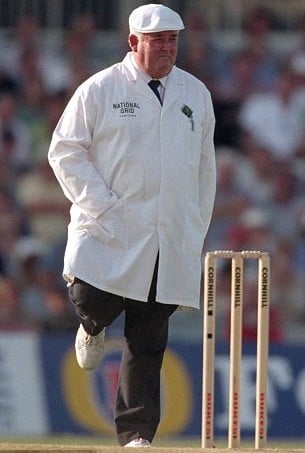 The second spot in our list of Top 5 Umpires Of All Time goes to David Shepherd. David Shepherd started his umpiring career in 1981, which gave him reputation all over the world. Shepherd was an entertaining persona,often seen jolly with cricketers and cracking jokes at them. He was liked universally by fans round the globe. David Shepherd was hilarious on the field signalling 4's and 6's  humorously. The number 111 is also known as 'Nelson' attributed to the great David Shepherd. The jolly character in Shepherd sometimes took a leave when the situation arises. An incident where Shepherd showed his decisiveness and firm approach was while giving a warning to Waqar Younis for bowling beamers against Aussie batsmen in the 2003 World Cup. After giving an initial warning,when he repeated the same mistake Waqar was taken out of the attack. Thus,he became the first umpire to do so. When the ICC introduced the neutral umpire policy in the 1990s he was part of the first panel,and remained there until his retirement in 2005. David Shepherd was presented with a bat by Brian Lara after his farewell series. Shepherd was the first umpire to officiate in at-least one match in all the test playing nations.
3. Srinivasaraghavan Venkataraghavan, One of the Top 5 Greatest Umpires Of All Time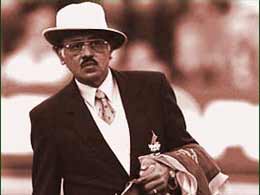 Venkataraghavan was first known as a test cricketer for India,but after retirement he became an umpire in the ICC Elite test panel. Among the many overseas umpires in world cricket,one would have to say he was the sole presence for India as far as umpiring is concerned. He was a very dedicated umpires and he was completely impartial during his umpiring days. He made his umpiring debut in 1993 in a one-day international between India and England. He along with David Shepherd was selected on a regular basis when the ICC introduced the neutral umpiring policy in the 1990s. Until his retirement in 2004 he was regularly selected in the ICC Elite panel which showcases the accuracy of decisions and his ability to stand away from controversies. He had an umpiring career with lesser errors and good judgement of the game. He had dedication for this umpiring profession as much or even more than that he had in his playing days. Since Venkataraghavan no other Indian umpire has made his presence felt in the ICC Elite Panel. Indian Umpires in the future wanting to feature in the ICC Elite Panel has lots to learn from this man. The main peaks of his umpiring career includes 6 Ashes Tests and having got the opportunity to umpire in three World Cups – 1996, 1999, 2003. The only Umpire from India who occupies the third spot in our list of Top 5 Umpires Of All Time is Srinivas Venkataraghavan.
4. Simon Taufel, One of the Top 5 Greatest Umpires Of All Time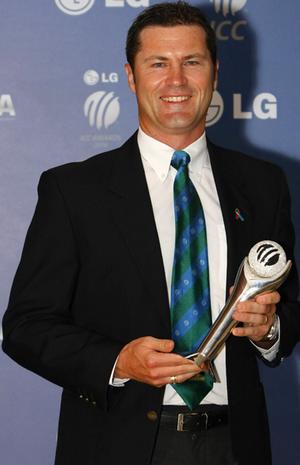 You talk about consistency in any field of sports. In cricket too,you need to be consistent to be successful over a period of time. When it comes to this umpiring job Simon Taufel is the most consistent umpire that has ever officiated the game. Even the greats mentioned above have,at times erred. Here is a man who kept on working harder towards perfection. You could even call him the Rahul Dravid of Umpiring! He was that dedicated and consistent in his job. He was an umpire who was a gentleman by all means.Simon Taufel is the proud recipient of ICC Umpire of the Year for 5 years consecutively. Now that's one hell of an achievement.Taufel is an umpire who believes in for being a good umpire you need to be a good person. He also believes that a good umpire should have good man management skills and moral values. Simon Taufel was one of the umpires who built relationships and friendships with players. There was an instance where he held his arm around Mohammed Yousuf in a Test Match at Dunedin. He was respected for this friendly attitude and for being consistently accurate in his decisions.Without doubt Simon Taufel is the best umpire in his era. And with that Simon Taufel occupies the fourth spot in our list of Top 5 Umpires Of All Time goes to Aleem Dar
5. Aleem Dar, One of the Top 5 Best Umpires Of All Time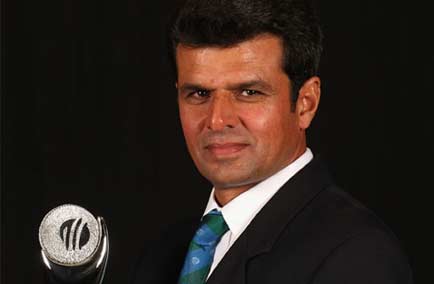 The fifth spot in our list of Top 5 Umpires Of All Time goes to Aleem Dar. He is one of the calmest and coolest umpires around. Aleem Dar was a former Pakistan first class cricketer before he took up umpiring. Another important attribute of this umpire is the neutrality in his decisions. Aleem Dar has never been impartial in his decisions of what I have seen of him. Aleem Dar was kind of over shadowed by Simon Taufel,because he was the more famous one. It is like Rahul Dravid being over shadowed by Sachin Tendulkar. He was never ever seen to be intimidated or animated by the behavior of the players,he took them all with a cool mind. He is man of high dignity and commands respect among his peers and cricketers. He won three consecutive ICC Umpire of the year respectively in 2009,2010 and 2011. Aleem Dar and Simon Taufel are the only two umpires who have received the award since it's inception until 2012. Aleem Dar was also nominated for this prestigious award in 2005 and 2006. Aleem Dar has had his share of controversies though. In 2005,he and his colleague Steve Bucknor received death threats during a test match between England and South Africa at Centurion. In 2007,there was another controversy to haunt him. Aleem Dar along with three other officials in the 2007 World Cup finals,unaware of the weather conditions made Australia bowl three overs in near darkness.The after effect was that he got suspended. Dar came back with a bang as umpire in the 2011 World Cup being highly successful in the whole tournament.
Umpiring is one of the toughest jobs to do in cricket. You gotta have incredible eyesight and accurate judgement to be a good umpire. Umpiring has led to controversies from the time cricket started to be played and even now. Steve Bucknor,seemed to be the focal point of many umpiring controversies which involved giving Sachin Tendulkar in more than one occasion when he was actually not out. He got severely criticized by fans all over the world. Who can forget the controversies surrounding Darrel Hair. He paid the price for being too orthodox and sticking to the rules way too often. Umpires have to be dynamic at times. Today,the umpires are made scapegoats way too often. The commentators don't mind criticizing the umpires today and even portray them as villains of the game. With the advancement of technology the umpires will have to be right up to the mark and with reduced errors. It is a job which requires ultimate patience as well as great temperament. Moreover,with the constant evolution of the game umpiring becomes more complex. And that rounds off our list of Top 5 Umpires Of All Time.