Wasim Jaffer speaks as the entire nation and in fact world cricket listens. The highest run-getter in Ranji Trophy came very close to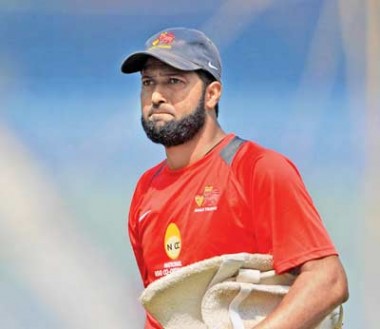 getting a Test recall for this upcoming India Australia Test Series. But yet again, he was ignored and the reasons are not known. Finally Jaffer breaks the silence and speaks up. We take a look at this magician's stats and listen as – WASIM JAFFER SPEAKS !!
Wasim Jaffer is now a brand name in Indian cricket. In some parts of the country, he is rated at par with the likes of Sachin Tendulkar, Rahul Dravid and VVS Laxman. Surpassing the batting legend Amol Mazumdar, Jaffer became the highest run-getter in Ranji Trophy last year. The man is a pure run making machine and it is strange how his vast experience has gone unnoticed yet again. Seriously, are the selectors blindfolded?
WASIM JAFFER SPEAKS – HIS OWN WORDS

The 34 year old has finally spoken about his love for the game and the nation. Even after being ignored for so many years, despite of some outstanding performances to his name, Jaffer simply said,
"I have not lost hope. My job is to score runs. The rest is up to the selectors. Iam always hopeful of opportunities."
Jaffer's words seem to bite you as they come from a player who has scored some 13,735 runs in First Class cricket and continues to impress with his Azharuddin inspired style and a careful approach and temperament for the longer format of the game.
WASIM JAFFER SPEAKS AND SO DO HIS ACHIEVEMENTS
Now who can forget the amazingly patient and productive double hundred scored by Wasim Jaffer against West Indies in June 2006?  His 212 was made in over 500 minutes (more than five hours that is) during the second innings. It was the equal second highest by an Indian batsman in the Caribbean. His character speaks louder than the man Wasim Jaffer speaks.
Having scored Test centuries against nations like Pakistan, England, West Indies and South Africa , Jaffer in his career so far has registered five centuries. Now out of these five centuries, two were double centuries. His achievements speak louder than the man Wasim Jaffer speaks.
RECENT FORM IS HOW WASIM JAFFER SPEAKS
Jaffer's recent form speaks louder than the man himself. Wasim Jaffer speaks through figures, mostly three digit figures. Jaffer scored 835 runs at 75.90 in Ranji Trophy 2012-13. He was instrumental in getting Mumbai it's 40th Ranji title. Another achievement and much more clearer Wasim Jaffer speaks.
Now a certain Murali Vijay has been selected as an opener instead of Jaffer. Let's see what Murali Vijay's record speaks:
Murali Vijay scored just 138 runs at a hapless average of 14.58 in Ranji Trophy 2012-13. Now the selectors must be joking when they decided to go with Vijay instead of the classical and vastly experienced Wasim Jaffer.
The man who says nothing at all continues to speak through his spectacular record. Wasim Jaffer speaks like legends. Wasim Jaffer speaks through his performances. Jaffer has not lost hope and is looking for an opportunity to play for India in the last two test matches against Australia. Wasim Jaffer speaks to his fans with his bat but misses out on the selctors who see nothing the 'age factor'.
Out of all the things that Wasim Jaffer speaks, I think the most important one would be-
It's strange how the sectors are looking at numbers they shouldn't be looking at (age is but a number) and should concentrate on numbers which really matter (Jaffer's immaculate record and tank size experience). We hope that the selectors finally listen as a great player, WASIM JAFFER SPEAKS!