Wicket Keepers – the rare breed of Cricket Artists
One of the most essential fielding positions in cricket is wicket keeping. To stand behind stumps for whole day with gloves and  eyes concentrated on ball for each and every second of the game needs great concentration & skills. A wicket keeper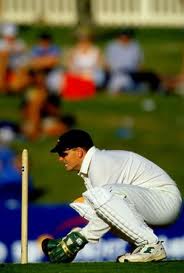 has to keep his eyes on batsman's feet, hold the balls taking nick from batsman's bat & to stop the ball beating the batsman. To stand behind the wicket against fast bowlers is always a great challenge for a wicket keeper & one player who mastered this art very well was Jeff Dujon, a key member of that non-beatable West Indian team. A wicket keeper gets more chances to dismiss a batsman than any other fielder. Though it may look easy but wicket keeping is not a cake walk. A wicketkeeper has to adapt himself to keep wickets for different kind of bowlers with different ability & style.
Gone are the days when a wicket keeper used to be a wicket keeper first then a batsman which was his secondary role. In current scenario we often get to see a wicket Keeper as good as or better than any other batsman in the team. A Wicket keeper is the busiest man on the field. Cheering bowlers & constantly changing ends after an over is least a wicket keeper has to do for his team. A wicket keeper should also possess the best fielding ability in a team. A Wicket keeper with good mental strength can make match winning impact by just standing behind the wicket. He can dismiss a batsman with his reflexes & presence of mind. Jeff Dujon, Godfrey Evans & Rod Marsh were few great wicket keepers to happen in the history of the game. These days, team prefers wicket keepers to be a batsman rather than a specialist wicket keeper & and seeing the demand of the nature of the game, they are quite right. A good fielder isn't necessarily a good wicket keeper too and the best examples are Abraham DeVilliers & T.M. Dilshan, both are outstanding on the field & can be named as best fielders in their team. But when it comes to standing behind wickets they are slow in attacking stumps, in diving & judging the ball leaving bowler's hand. On other hand slow and lazy looking Prasanna Jayawardhane outclass most of his opponents with his natural wicket keeping ability.
The Important characteristics of a Wicket keeper is that he has to remain fit all the time as well as quick & flexible too. A Test match can last up to 5 days and sometimes if curator happens to be batting lovers then wicket keepers have to stand for as long as 5-6 sessions of a cricket match without having any option for 12th player or substitution. A slight nick from the batsman's edge in last over of the day can change the course of the game with same effect as the first over, so a wicket keeper should always be agile in his nature & should have a high concentration level. Other players can relax a bit but a wicket keeper can't enjoy this liberty. Different styles of wicket keeping is being seen over the years, some love to keep it firm & some love to stand wide across the batsman. A Wicket keeper happens to be naturally gifted & they are the most beautiful artist of the game.
So with this article I leave it up to you to decide the greatest wicket keeper in the current scenario, who can make it into any team just because of their wicket keeping ability. Is there any one?