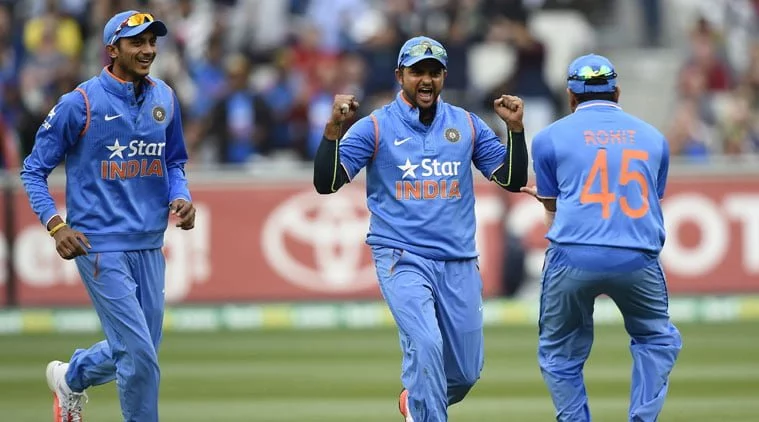 Dear Suresh Raina,
Raina comes up to my mind  whenever India gets into trouble and guess what, you always respond to my thoughts with a 'Man of Responsibility'. Expectations always leads to brilliant performances for those who been like a champion and currently you are  rising up to the occasion like a match winner who is well poised to save  my country from deep troubles.  With the willow in your hand, With the ball and with your impeccable agility in fielding you have nurtured yourself as a catalyst in the team. As you know sir, you have inspired India to be victorious in many games against all odds.
If we have to look at India's victorious matches during the past 5 years you have been quite made your presence known with your performances.
Back in 2011, in the World Cup quarter-final against Australia  at Motera  India was in a spot of bother when it  lost its 5 wickets and still we needed 75 Runs to left to knock Australia out of World Cup, you rose up  to the occasion and deliver  One of your Best performance in the most crucial of situations. You put up a good counter attacking partnership with Yuvraj and scored 38. It is not in the number of runs you scored, but about the support you gave to the well set Yuvraj and confidence you put back in the Indian camp that really impressed me.
Just like that in the  Semi Finals against our neighbours and long time arch-rivals Pakistan, where India needed to put a  competitive total on the board to put Pakistan under pressure you made the willow do the talking and helped India to a decent score. You played a good cameo which  helped India in putting up a more than decent total of 260 which India eventually defended and India would continue its dominance and win the World Cup after 28 Years.
It is not only about these 2 World Cup knocks, you have been consistently playing a  lot of crucial knocks coming in  at No.5 and No.6. You have been adored with the auminous  ability of power hitting to ease the pressure on the batsman at the other end. You have never restrained yourself from showing your brilliance with the bat everytime you went to the middle.
Since the last 2 years,  you have worked immensely harden towards countering your weakness – overcoming the short ball syndrome. Once you overcome your problem with the short balls you are playing mind games with the bowlers, which is good to see. You are  using your mind like a clever warrior with your natural ability of clearing the fielders and at times, over the ropes. It is evident that you are playing mind games with opposition, unsettling the bowlers, fielders and obviously the opposition captain.
When you played a lusty 74 against Pakistan at Adelaide Oval, you put that energy back in team India which was drab and dead from that annihilation in the hands of Aussies. In that game you continued the momentum earlier provided by Shikhar Dhawan  & Virat Kohli . Again you proved to be a game changer against Zimbabwe where you hit your 5th ODI ton under pressure to help India win all six group matches in the  Group Stages. You continue to amaze me, just when I thought  someone was needed to help Rohit to build up a patrnership you came to the rescue. Over the years, it is this belief that you put in the team that has earned you many fans like me.
Not only with batting, you can also contribute with your gifted fielding ability being a livewire in the field.  Since you came into this Indian team the slandered off fielding in this country moves up like the bullish face of the Indian Stock Market.
Your bonding with the other players also motivates this team, for when a bowler picks a wicket or fielder runs a batsman out, of the eleven men in the field you are always the first one to share the joy. You are simply motivating the team like a boss and the same has been reflected in our performances off late. Continue what you have been doing for India in the World Cup, there are two more matches to go before we get our hands at the ultimate price – The World Cup. Never stop trying. Never give up. Hopes and prayers of a million fans are with you and team India. All the best !
Yours Sincerely,
An Indian Cricket Fan