Cricket in 2013 : A Review 

This has been a great year for Cricket, wait, perhaps the more I see it the more I want to see it, yes it's Cricket. Every year something new seems to be happening in Cricket, which is the reason why this game is beauty. Year 2013 was a memorable year, for obvious both good & bad reasons. The Cricket was awesome in all form of the game. The year was remarkable for Home team & was sour grapes for touring team. Year started with Sri Lanka touring Australia, New Zealand touring South Africa & England touring India. All result went in favor of home team convincingly. Later on Pakistan went to South Africa & goes beaten 3-0; even West Indies was beaten in India.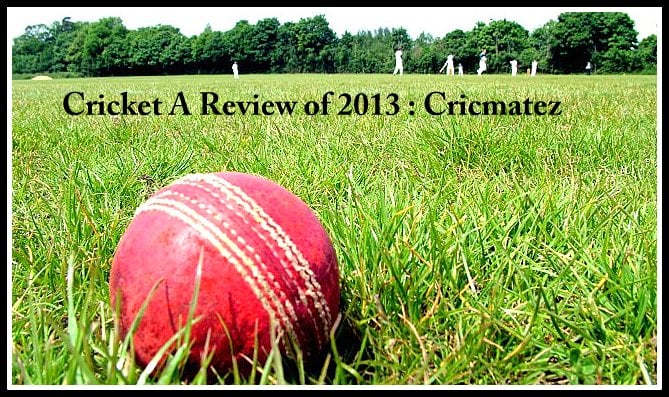 We have seen England crumble in pressure against Baggy Green in Ashes later the year. South Africa kept the number 1 status alive by dominating most of the countries. They lost only 1 test in 2013. Although India did pretty well against number 1 team when they tour them later in the year. Though India was the best team in ODI 2013 winning Inaugural Champions Trophy away from Home in England. Pakistan built a good reputation at highest level by performing well consistently & gaining the attention of world cricket once again. We saw development of associate nations such as Ireland, Nepal (who qualifies for t20 WC 2014) and Afghanistan. The year will be remembering for some sad moments & will be remembered as the era ending year for Cricket. Two of the greatest cricket titan retired from cricket in 2013, first Tendulkar & then Kallis who retired from test cricket. With the retirement of two of the best player in cricket, the era has been end. The other good cricketer also retired in 2013, list includes T Samaraweera, T Johnston, A Agarkar, Chris Martin, Steve Harmison & the England heroic spinner Graeme Swann. Also seen the Retirement of Mr. Cricket the most versatile cricketer for Australia left the team song for Nathan Lyon just month after Ponting's retirement. T.M. Dilshan has also hanged up his boots from Test Cricket.
2013 was a mix year for IPL, who was more in controversies over fixing issues & Gurunath Meiyappan's position in CSK dug out. With the end of IPL & Champions League, the last glimpse of Rahul Dravid & Ricky Ponting on field ended too. With the increase of IPL excitement & involvement of crowd one can blame to IPL for a good 9 test matches which were cancelled in 2013, Zimbabwe couldn't manage their finance to host a series against Sri Lanka, who suffered most in 2013 for test cricket. West Indies also called off 3 test matches against Sri lanka & replaced them with ODI's. We saw the fun intended Broad Walk or Broad Can't walk moments too. The Ashes was heat up with the incident of Broad not walking off after edging ball, carried with Johnson – Kevin Petersen spat, Clarke – Andersen, Warner – Trot & Stokes – Johnson sledging.  Above all this controversies & board issues regarding revenue & finance for test, Test Cricket won again, it was a fantastic year for Test Cricket producing much competitive cricket. The dominant factor is still missing in today's cricket, thanks to the sheer home dominant by each & every team. Australia regain the Urn by beating both England & India at home after getting thrash by both team in there away tours. We saw a Heroic of Zimbabwe again much fashioned Pakistan. Although Same Pakistan won against number one test team in UAE (Neutral Venue). Pakistan hold the cap of Most Unpredictable team of the decade. In contrast to 2011 & 12, 2013 came as a good year for bowlers with the wickets per run average being dropped by 3 runs to 31. We also saw 17 results with one innings victory. In contrast, it was a Batting year for ODI's with 77 centuries scored in 2013, highest in any year in mere 136 ODI's played in 2013. India came out as best ODI team in 2013 with winning 22 matches in a year. It was a great year for fast bowlers, 4 of the top wicket takers were all fast bowlers. Average wise it was a best year for fast bowler since 2000.
With this, I will try to select the Best Bowler & Batsman and also the team in different categories,
Best Bowler (ODI's):
Saeed Ajmal – The most feared spin bowler playing today, 2013 has been year of his life with 62 wickets on his name. His doosra is still most unplayable deliveries in today's cricket add to that his flight delivery & off spin does a great job too. Ajmal is simply the best spinner after Warne & Murali. He spin bowls sharply too. The tally of 62 wickets in calendar year is the highest by any Pakistani bowler in Calendar year.
The Next will be Junaid Khan. He was exceptionally well & disciplined in bowling. Junaid's average was 22 in year 2013. and third position will be MJ McClenaghan, who seems to be on verge of breaking fastest to 50 record soon, he took 40 wickets in just merely 15 matches with the strike rate of 20 best among any bowler who played 7 or more matches in 2013. (A. Mishra's SR is 19 in 6 ODI).
Best Bowler (Tests):
Dale Steyn – There is no doubt the crown will be of Dale Steyn. The South African spear head is the most consistent bowler in last 6 years in trot, having 51 wickets in just 18 innings at a breath-taking Strike rate of 42 & even better average of little over 17. He is aggressive as a fast bowler should be with the pace he possessed weapons like Yorker, bouncer & out swinger.
The runner-up is Stuart Broad with 62 wickets in 26 innings.
Best Batsman (ODI's):
Misbah ul-Haq, once most criticized & less valued Pakistani batsman made his remark in 2013 by going well over above without scoring a century & scoring 1373 runs at an average of 55. He has been a lone warrior for Pakistan in most of the matches. Rebuilding team with tails & late order players or often holding a wicket to allow other batsman to free their arm.
Virat Kohli & Kumar Sangakkara comes next to Misbah Ul haq .Kohli scored 1268 runs in just 34 matches with Strike Rate of 97.  Kohli scored 4 centuries in a year and continue his splendid form of 2012 in 2013 also. Kumar Sangakkara scored 1201 runs at an average of over 63. Sangakkara
Best Batsman (Tests):
It is a Tough call for Best Batsman of 2013 Test Cricket. It was a hard toss between consistent performer Michael Clarke & stylish Mr. 360 Ab Devilliers. Both were awesome throughout the year, But Clarke hold the edge with his two centuries under pressure one in Chennai where he scored 130 in hard battle against Humidity & weather, coming at no.5 & rescuing Australia from 153-5 to 380 runs along with Late order batsman. He is a run-getting machine for Australia in 2013 having scored the highest runs in the Calendar year with 4 centuries. He scored 187 runs earlier in year against England too which was a hallmark inning of 2013. His off drive is beauty & he is the calm player of spin too. Like all other great Australian batsman Clarke has scored a crucial runs away from Home.
The runner-up for 2013 is AB Devilliers. The consistency & the creativity both goes parallel for the most versatile cricketer (at present); he has scored 4 crucial hundreds with an average of 58. Had been a best batsman for South Africa, the next notable batsman is Cheteshwar Pujara from India whose sanity is best batting aspect having scored 829 with 75 average include the double century. Pujara is famous for his big innings against quality attack.  With 153 in Johannesburg he proved it. I would like to mention another batsman here the only fighter from England line up Ian Bell, in the fragile batting line up for later half of 2013 bell was the only positive batsman. He finishes 2013 as a second run scorer with 1005 runs.
Best Team (ODI's):
Best team is perhaps the easiest & the most tough to choose between.  India & Pakistan surely holds the edge above rest of the team in 2013 ODI cricket. India wins the Best ODI team of the year 2013 because they won the Champions Trophy in England. Moreover, Pakistan is as a runner-up for 2013 after there much improve run in calendar year.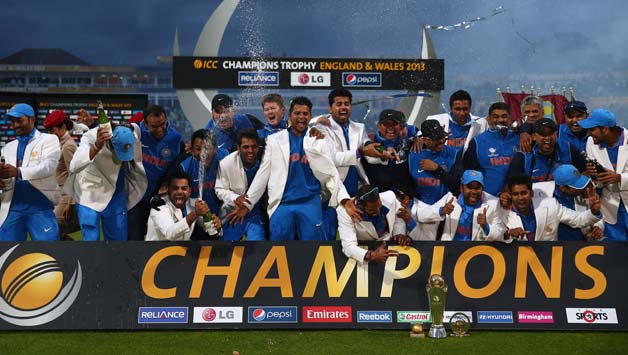 Best Team (Tests):
South Africa without a doubt, having won 7 matches & only one loss in 2013 South Africa can be termed as best Test side for 2013 too. South Africa had a great season at Home. At time in away when things seems to go out of there hand they managed pressure well & rescued them from a series lost against Pakistan. South Africa came out as a best team in 2013 retaining the number 1 status.
Best Associate Team of the Year:
A Tough fight between Afghanistan & Ireland.  Ireland seems to edge over Afghanistan. Despite loosing few talents to England, Ireland came good in each & every time tested at international level.
Emerging Cricketer of the Year:
Quinton de Kock, The Surprise package in 2013, already rated high by South African great he proved them right with his Batting and equal good Wicket Keeping with 25 catches in 16 ODI's & An average of 46, with 4 centuries.
ODI XI 2013
1.S Dhawan
2. T Dilshan
3. K Sangakkara (WK)
4. V Kohli
5. AB Devilliers (c)
6. M Ul- Haq
7. R Mclarean
8. M McClenaghan
9. J Khan
10. D Steyn
11. S Ajmal
12th Man R Jadeja
TEST XI 2013:
1. M Vijay (IND)
2. DA Warner (Aus)
3. C. PUJARA (Ind)
4. MJ Clarke (Aus)(c)
5. AB DeVilliers (SA) (WK)
6. M Ul – Haq (PAK)
7. F DuPlesis (SA)8. S AJmal (PAK)
9. S Broad (ENG)
10. VD Philander (SA)
11. DW Steyn (SA)
12th Man – V Kohli