Darren Michael Bravo a Trinidad born left handed Cricketer, famously known for his imitation of the West Indian legend Brian Charles Lara. Much like his idol Bravo is a strong off side player with a classical West Indian style reflecting from his batting style. Darren Bravo mostly plays through off side & likes to play the cover drive often with a glance textbook cricket. Darren Bravo exudes class and elegance at the crease, Jr. Bravo emulates the stance, back foot lift, drives and the celebrations of the West Indies genius Brian Lara. Just not the style but lil bravo is related with Brian Lara in a relationship, as Lara's mother is Bravo's grandfather's sister, also Brian Lara & Bravo's mother is first Cousin. He is younger half brother of current West Indies One Day Captain Dwayne Bravo. Although Darren Bravo has played very few numbers of matches but the few cricket experts has already claimed him to be next big in International cricket. He has played 25 Test Matches so far for West Indies & 68 ODI scoring 6 hundred, 5 in test & 1 in ODI. He is an occasional wicket keeper too.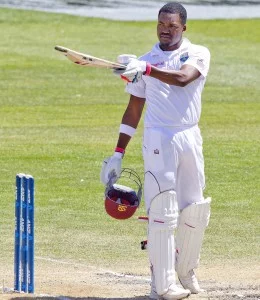 Although while Darren Bravo at crease draws a great comparison with Brian Lara, his career was equal in stats to Lara after 12 Test matches. Darren Bravo has always been compared with Lara & been praised for his style & strokes, but the much credit goes to the 24 years old young man. His strokes are elegant & his attitude is calm. He does not show his aggression but his strokes are as aggressive as it can be with classy Cover drive to lofted back foot drive. Bravo made his debut in Sub Continent conditions in 2009 against India for two match ODI series, where he made 19 from 16 balls coming at no.6. The first two shots of his career displays the ability of the young man from Trinidad, he smashed both the first two balls to the boundary line with grace of a great cricket batsman. He got his Test cap later in next year against Sri lanka. On his debut test inning he displayed the character of big inning player scoring 58 runs in 159 balls inning that was build on characteristics like temperament, elegance & class. Bravo made three fifties in a series against Sri Lanka. He ended his debut series with an average of 66 to justify the hype surrounded him. Although it took him, 45 International Matches to score his maiden test hundred he did not stop there & went on scoring 195 runs in Dhaka, just 5 short of first double century. Although the inning was against the helpless Bangladesh attack, he was no short of showing the elegance in his strokes. The mammoth inning, which Bravo left a couple of years back, was completed today by lil Bravo who scored an astonishing double hundred against Kiwis decent bowling line up. The inning was special & as it was under immense pressure. Visitors are following on after bowled out for 213 against New Zealand. It was a formidable test hundred to say the least. He was calm, not hurrying up on good balls and counting out bad ones. He is still out there not out on 210 runs with 404 balls & he is at crease for a good 9 hours that makes it the 15th longest Inning for West Indies. It is his third 150 or more score in 5-test centuries he has scored in his career. Bravo had 28 boundaries in his 210 (not out) innings over 558 minutes. He played across the ground displaying his cuts, off drives & pools. The double century was full of patience and flamboyance displaying the maturity in a young cricketer.
Unlike most of the players, Darren Bravo average varies oppositely from Home to away, having scored all of his test centuries away at home, he averages 59.64 & he averages 29.88 at home. His away average is currently the highest for all West Indies batsmen in overseas conditions who have played at least 10 Tests abroad. With his double hundred, he easily cut down the hype & proved himself once again as a big inning test match player.
Here is what his Idol had to say about him, whom he grown up watching, as soon as Lara used to get out Bravo used to switch off the TV & head to his backyard to try & imitate Lara.
"He (Darren Bravo) has the potential to go the full way. As a former cricketer you quickly accept the fact that as you get to the international level, the talent and potential that you have is a very small part of making it. He has the desire and the mental approach, which is by far more important than the ability, to do so. I believe he has the ability but speaking to him I believe that he has the mental strength and dedication needed too. I am sure he will be a world-class player."
Brian Lara on Darren Bravo…