One of the most difficult thing for a cricket fan is to pick some of the Greatest Innings of Sachin Tendulkar. It is a list which will always meet a lot of criticism from all quarters. At times a cautious 50 is more important than a 200 and picking just 10 knocks of a legendary batsman who has scored 100 International centuries in 780 innings means some of your favourite innings might be missing. I would like to apologize for not including your favourites or someone else's favourites. Cricmatez.com brings you the top 10 Greatest Innings of Sachin Tendulkar across all formats.
Greatest Innings of Sachin Tendulkar
10. 82 off 49 balls vs New Zealand, Auckland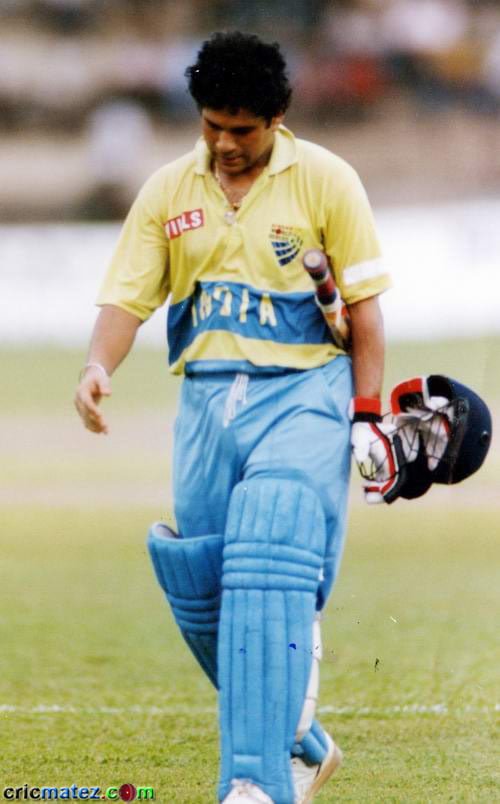 In the middle of a ODI series against New Zealand, regular opener Navjot Singh Sidhu had broken his nose and injured his neck when he went out on shopping after slipping down on the roads in New Zealand which raised few eyebrows on the opening slot. After a long discussion with the team manager, Mohammed Azharuddin promoted Sachin Tendulkar to open the innings for the first time in his short International career. The conditions were breezy and it was the ideal conditions for a fast bowler could ask for. Indian bowlers exploited the conditions well and same was expected from their Kiwi counterpart. With Series on the line, Sachin grabbed this opportunity with both hands as he defied Danny Morrison and co and took India home with a brutal knock of 82 off just 49 balls that included 15 fours and 2 sixes of pure technical brilliance which resulted in one of the great innings in ODI cricket then. Since then there was no looking back for Sachin Tendulkar as he demolished almost all the bowlers across the globe. This career changing innings occupies the tenth spot in our list of Greatest Innings of Sachin Tendulkar.
9. 136 vs Pakistan, Chennai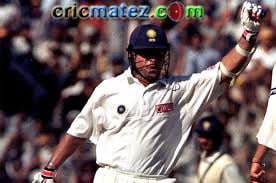 The number 9 in our list of Greatest Innings of Sachin Tendulkar is occupied by an epic knock that the Master Blaster scored with a sore back against Pakistan in Chennai in the year 1999. India chasing a target of 271 to win were reeling at 82-5 when Sachin started his assault. In the middle of his innings he suffered a back strain still he continued to smash the Pakistani bowlers around the park. The innings was a treat to watch with some majestic off drives and lusty pulls off Sachin's bat. He scored a well deserved ton and was the only batsman who looked comfortable against Saqlain Musthaq. A vigil 7 hour stay at the crease in which he faced 273 balls came to an end when Sachin threw his wicket to Wasim Akram with just 17 needed to win. The Pakistani bowlers cleaned up the tail and India lost the match by 12 runs. After Sachin's dismissal, India just managed 4 runs for the loss of 3 wickets. Sachin was disappointed and he could not stop his tears and kept blaming himself for the loss.During an interview he went on to say "I think my knock of 136 against Pakistan at Chennai was toughest. Wicket was really deteriorating and quality of bowling attack was outstanding."
8. 114 vs Australia, Perth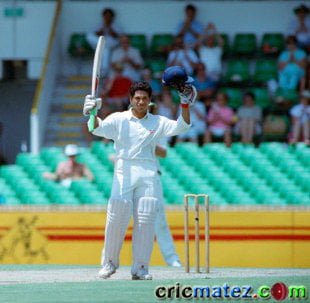 One of the toughest adjustments you've got to make as a batsman from India is to adjust to the contrasting pitches in Australia where the bounce is much higher.
And when a batsman is to play in Perth, he will be getting some worst nightmares of fast bowlers having a Blood and Thunder assault on the batsmen. For a young kid who stood only five feet, its gonna be the biggest challenge of his career. 18-year-old Sachin Tendulkar fresh from a superb 148 at Sydney stood up against the Aussie bowlers at the WACA, Perth. The knock of 114 at Perth was a better knock than the one at Sydney because a kid coming from low-bouncing pitches to the highest bouncing and the fastest pitch in the world with  totally unique conditions and made all the adjustments and scored a 114 off just 161 balls. Tendulkar's innings of 114 brought Craig McDermott and Merv Hughes to their knees and he was loved by the Australian Public ever since. Sachin's innings of 114 at WACA which is considered as a nightmare for the batsmen is given number 8 in our list of Greatest Innings of Sachin Tendulkar. "This little prick's going to get more runs than you, AB." said Merv Hughes to Allan Border who was the leading run scorer then.
Greatest Innings of Sachin Tendulkar- Number 7, 6, 5
7. 98 off 75 vs Pakistan, Centurion
The number 7 in our list of Greatest Innings of Sachin Tendulkar goes to a Special innings that he played against Pakistan in the 2003 World cup. Always a India-Pakistan rivalry remained a battle to watch out for. And in this match, there were many internal battles but the one between Sachin and Akthar was the battle everyone were looking for. Sachin openly admitted that he was not able to sleep properly for 12 days leading to the match. It was billed as the match of the tournament and it lived up to the hype. His 98 off 75 balls went down as one of the best in the tournament. Chasing a modest 273 to win, Sachin cut loose thrashing the Rawalpindi Express all over the park. A six off Akthar over the Backward Point region made the cricketing world stunned. That was one of the best innings in his career.  He played all the shots from the book and a back-foot punch off Wasim Akram was a treat to watch for. Sachin might have missed a well deserved century but he had given the Cricketing World one of the best innings in history. This tournament set the tone for India in the 2003 World Cup which they finished as the second best to the eventual Winners Australia. After that innings Wasim Akram Said "I don't know what to bowl at him. I bowled an in-swinger and he drove me through covers of the front foot. Then I bowled an out-swinger and he again punched through covers of the backfoot. He is the toughest batsmen I've bowled to. He should live long and score lots of runs, but not against Pakistan."
6. 134 off 131 balls vs Australia, Sharjah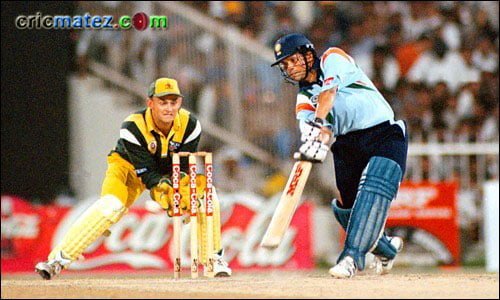 The number 6 in our list of Greatest Innings of Sachin Tendulkar goes to a Master's Birthday Special. It was April 24, Sachin's 25th birthday. He was leading India against the Mighty Australians in the finals of the 1998 edition of the Coco-Cola cup. Sachin was fresh from a splendid knock of 143 that took India into the finals. The Australians had set India a target of 273. Again all eyes were on the Pin Sized Indian Captain Sachin Tendulkar. He didn't disappoint his fans as he scored a gritty 134 off just 131 balls to guide India to a well deserved victory. His second ton against the Aussies in three days was studded with classy shots and the bowler who suffered the most was Spin Wizard Shane Warne. The Aussie Skipper Steve Waugh went on to say "It was one of the greatest innings I have ever seen. There is no shame being beaten by such a great player, Sachin is perhaps only next to the Don."
5. 140 off 101 balls vs Kenya, Bristol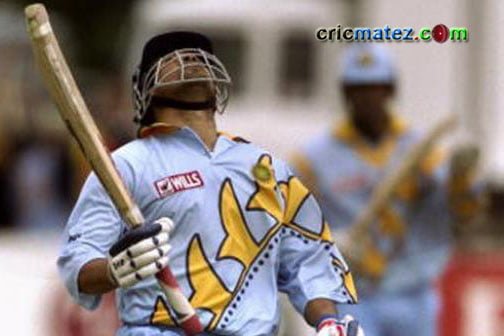 The number 5 in our list of Greatest Innings of Sachin Tendulkar goes to one of the most emotional innings he played in his career. It was in the middle of the 1999 World Cup, Sachin's father passed away and that made Sachin to return home to attend his father's funeral. After joining back the squad in England to face Kenya in a crucial match, Sachin scored a whirlwind 140 off just 101 balls that helped India to secure a place in the Super Six stage of the World Cup. After reaching his century he  just raised his head up towards the sky remembering his father. He wept after acknowledging the crowd. In this innings of sheer dominance, Sachin scored 16 fours and 3 sixes and was later declared the Man Of The Match. "This one's for you dad"- Sachin in the Post Match Presentation dedicated this emotional century to his father.
Greatest Innings of Sachin Tendulkar- Number 4, 3, 2
4. 143 off 131 balls vs Australia, Sharjah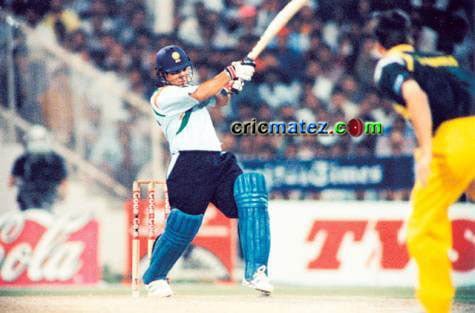 Desert Storm!!!! "The best innings he has ever played" is how commentator Ravi Shastri described Sachin's performance in an eventual Semi-Finals against Australia at Sharjah. India needed to win the match to qualify for the finals of the Coca Cola Cup or end up scoring atleast 253 runs in order to get a back door entry into the finals and pip the Kiwis. Sachin began cautiously and after surviving the initial overs, he cut loose. He dominated all the bowlers and literally owned Shane Warne in that particular innings. When Sachin got out for a well made 143 off 131 balls which included 9 fours and 5 sixes, India were in a brink of qualifying for the finals. This Priceless knock from the Legend occupies the no. 4 in our list of Greatest Innings of Sachin Tendulkar. "I'll be going to bed having nightmares of Sachin just running down the wicket and belting me back over the head for six. He was unstoppable. I don't think anyone, apart from Don Bradman, is in the same class as Sachin Tendulkar. He is just an amazing player."-  Shane Warne in an interview when he was asked about that knock
3. 241 vs Australia, Sydney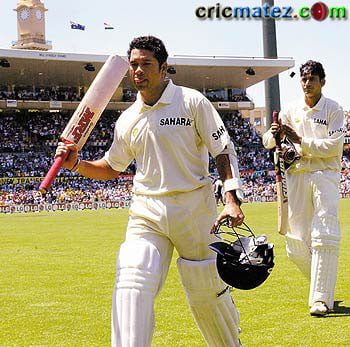 The Bronze medal in our list of Greatest Innings of Sachin Tendulkar goes to the knock he made in his favourite ground against his favourite opposition. It was a classic knock of 241 off 436 balls with the help of 33 shots to the fence. Throughout the series he got out caught by the cover fielder consistently. And the night before the fourth test at SCG, Sachin was seen practising hard at his hotel room at 3AM. When he came out to bat, he batted with a determination. In his 10 hour stay at the crease, he didn't try to hit the balls in the cover region. After successive failures, Sachin played one of the best knocks at the SCG. His knock of 241 dashed Steve Waugh's hopes of a fitting farewell to his career. "He is one of the rare few who don't boast after scoring a 241, rather comes back to pavilion just to see the replay of his dismissal and rectify it in future."- Ravi Shastri on Sachin after that knock

2. 175 off 141 balls vs Australia, Hyderabad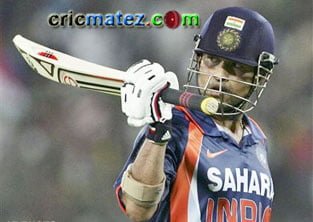 The Silver Medal in our list of Greatest Innings of Sachin Tendulkar goes to a spectacular knock of 175 off just 141 balls against the Aussies in Hyderabad. India chasing a stiff target of 351, needed Sachin to fire. Sachin started off with a bang by reaching his 17,000th ODI run. Sachin's innings reminded everyone of the Desert Storm innings and he scored his 45th ODI ton in the process. He didn't face any difficulties in this knock and got out when India needed 19 off 17. Do anyone remember what happened in the end? It was like a repeat of Sachin's 136 against Pakistan in Chennai and India went on to lose the game by 3 runs. Even though India lost the match, Sachin Tendulkar gave the fans a visual treat which could never be forgotten in life. "The last time I watched Sachin was last week when he was on his way to a spectacular 175 and once again I felt that I was watching a player who comes but once in a century. It can be said that he is the Bradman of our times and I do feel privileged to have played a lot of cricket against him"- Steve Waugh on the Knock of 175 against Sachin
Greatest Innings of Sachin Tendulkar- numero Uno
1. 200* off 147 balls vs South Africa, Gwalior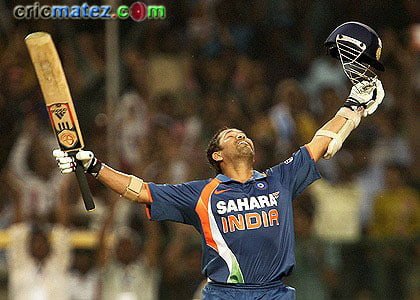 Number one in our list of Greatest Innings of Sachin Tendulkar goes to this historical innings of 200 not out in just 147 balls. None of the things can describe this innings better than what Ravi Shastri said at the commentary when the history took place.
"First man in the Planet to score a Double Hundred and its the Super Man from India Sachin Ramesh Tendulkar"
Last year, Sachin became the first man in the history to score hundred international centuries in his career which is heading towards a silver jubilee. I again apologize for not including your favourite innings from the Master in this list.
And with that its time to wind up our list of Greatest Innings of Sachin Tendulkar.