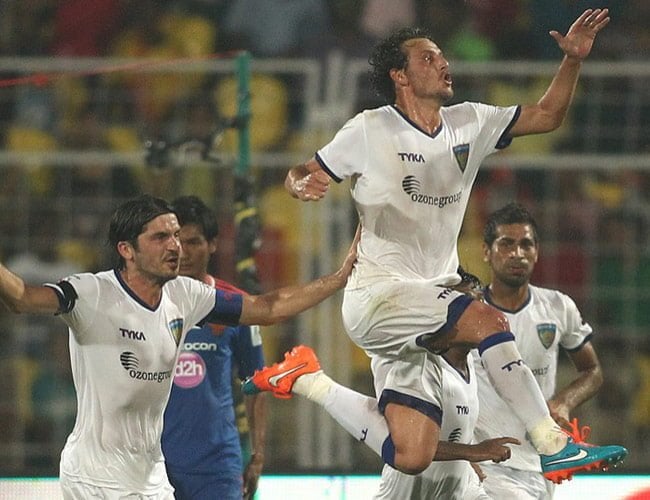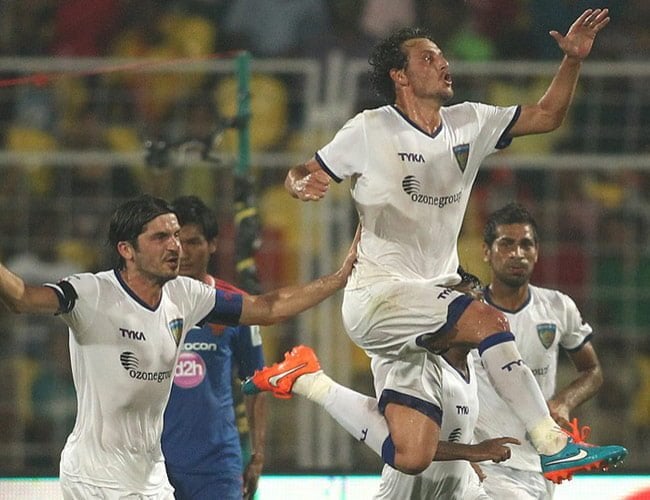 FC Goa lost their first match to Chennaiyin FC 2-1 . The match saw the away team taking advantage of chances on goal, while Goa squandered their chances. The stadium was all set for a cracker for the home team's maiden game of the season as they welcomed Chennaiyin FC for their season opener. 
Balwant scored the opening goal for Chennaiyin outfit in 32nd minute, while Elano made it 2-0 just before first half before with a freekick. Goa scored in the 65th minute, but lot of missed opportunities cost the team as well as their efforts went in vain. 
A two goal lead against the home team in the first half gave Chennaiyin FC advantage to keep their flag high. FC Goa spurred on by the magnificent support went on the attack, creating chances one after another, especially the one to Youness, whose header went just inches wide of the post. 
Goa possesed while Chennai were trying hard and played on the counter as Elano stole the ball and ran into the Goa team's defence. He was in a great position to score before being fouled by Carvalho near the edge of the box. 
Despite Chennai's attempts, Goa kept on attacking, but lacked the cutting edge, which led them to poor attacking. The central midfielders combined well for FC Goa as Marcelino played Pires in, but his shot went wide. Portuguese medio Marcelino's free kick took a deflection off Djordjic and went an inch wide. 
Making his very first attempt, Elano struck it beautifully, leaving the keeper stranded and having him commit to the wrong side to double the visitor's lead in the 42nd minute . 
Edgar and Holicharan combined well on a couple of occasions for Goa, but the Chennai defence was up for it. 
Zico didn't shy away from making changes to add new dimensions. Goa caught pace later, but Chennai were gritty as ever, which left Goa having to try something new. 
In the last 10 minutes Goa saw a couple of great chances but Chennaiyin FC keeper kept them away from the score sheet. Balwant guided his team to a win in their opening game and a first away win too.