The Lord's Triumph!: 2nd test review!
Recall the situation when India arrived in London after the Trentbridge boredom. Ravindra Jadeja and James Anderson were involved in a physical spat, which is still sub-judice. Experts had raised questions upon the captaincy of MS Dhoni once he refused to declare in the second innings. The talks had shifted to the possible transfer of authority into the hands of young Virat Kohli. Verbal counter attacks were taking galore over the British sky. But none could imagine that in the next five days, India would be going to register one of the greatest overseas victories ever by the Indian team.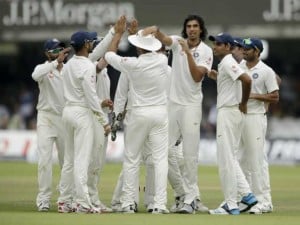 Things got worse when India lost the toss and was asked to bat first on a pitch hardly different from the outfield. The moisture content had boosted up the pace battery of England. Pitch did the talking and on day one post lunch session India found itself struggling at 145/7. Ajinkya Rahane took the charge from there and scripted one of the best innings ever played under pressure situation as he reached his second century. India ended on a respectable total of 295, keeping in mind the enormous support for the English bowlers from the pitch. Late charges from Bhuvaneshwar Kumar were enough to strengthen the belief of Indian think tank in him as a potential medium fast bowler-all rounder. And he strengthened that further with his six wickets in the English innings to hold the hosts on a small lead.
English batsmen couldn't capitalise upon the sudden assistance to batsmen once grass was shoved off the pitch in the middle of a test match, another controversial story associated with this test. Things got uglier when a ground staff was found guilty of an intentional or unintentional pitch tampering when he drew a line in the middle of the pitch with his boots when Indians came out to bat in the second innings. Meanwhile with the help of an appreciable hundred by Gary Balance and a half century by Liam Plunkett, England managed to get a moral lead of 24 runs.
But the story began with the brilliance by the Indian team in the second innings. In form Murali Vijay missed out on his century for five runs. Cheteshwar Pujara played a short but resilient inning to let India dream again for history being made at Lord's. Middle order collapsed and India found itself through another phase of heart-aches. In came Ravindra Jadeja and played a brilliant counter attack to score 68 at a strike rate of 119. Bhuvaneshwar Kumar cashed in the opportunity with his third half century in the series in four innings India has played so far.
India ended with giving England a total of 319 to achieve to register their first win in the series.
The Lord's Triumph!: The last inning
Last inning of the English team happened to be one of the best tactical game ever played by captain Mahendra Singh Dhoni. He brought Ravindra Jadeja straight in the seventh over and first ball of the young lad produced a wicket. Indians were all over the Lord's. Adrenaline level rose as at the end of Day 4 of the game, England were looking for inspirations at 105/4. Ishant Sharma had already bagged in two of them.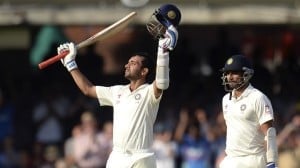 Day 5 started with a cautious approach by the heroes of last English series against Sri Lanka, Joe Root and Moeen Ali. With nothing working for him captain Dhoni played a game within his mind and gave the ball in the hands of his most experienced bowler Ishant Sharma. Instructions were clear,"Bang in short, target the body." Ishant was reluctant though he agreed to follow the captain's order.
Last over before the lunch. A short bouncer, enough to break Moeen Ali's concentration as he edged that to Cheteshwar Pujara at leg slip. The partnership was broken. Indians moved in for the lunch with a heavy stomach filled with assurance of winning the match.
Post lunch session witnessed a resplendent effort from Ishant Sharma. He was all over English batting as he pitched everything short, managed to get the cherry over the body and kept getting rewards with English batsmen showing no resistance at all. Ishant followed every wicket with a better version. He reminded of the young Ishant traveling through the defense of Rickey Ponting in Perth. He was vintage, he was ferocious. Old ball never talked better through his hands as adrenaline took the charge. What followed later was a majestic spell of 8 overs, broken by lunch that accounted for 5 wickets for 41 runs. Ishant had done it for India in style. The wicket of Joe Root explained it all. He was calm with aggression popping through his eyes. He had matured. His balls could talk at his will.
That spell of him was a gentle reminder of how destructive Indian fast bowlers could become, provided a pitch that just doesn't play against them if not in support. Cricket bowed down to the beauty of a test match at Lord's, the divine foyer of gentlemen's game.
And the last stroke was scripted in dreams. Ravindra Jadeja ran out his antagonist on his ball and then offered the hands filled with pride for a shake. Anderson accepted the offer and the spirit of the game again came out as a winner.
This game would be remembered as folklore, as Rahul Dravid mentioned. This was a team effort. A young and in-experienced team came out together and shared support to each other. Bhuwaneshwar, Vijay, Rahane, Pujara, Ishant, Jadeja, and most importantly Dhoni, all played their part at their best. There were many heroes.
The Lord's Triumph!: Captain Dhoni
Mahendra Singh Dhoni, as I mentioned in my preview, has been known for his come backs through captaincy. Indian Captain stood by his reputation and Ishant Sharma's words during post match presentation just provided the evidence. A 7 wicket haul in the 4th innings on the Mecca of cricket Lord's, nothing could get better and moist eyes of every India cricket aficionados got its tribute when Ishant said, "Credit goes to the captain".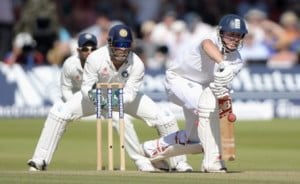 A win after 28 years in Lord's couldn't have been completed without Binny family being a part of it as both Roger and Stuart managed to get their names on the historic board with pride. This win will be forever cherished by every Indian. The holy handshakes and hugs on the field could state the same.
English side has lots of introspection to do. Captain needs to pull up his socks. Batting neds to find inspiration with its leader Ian Bell in a dire need of that. Virat Kohli and Shikhar Dhawan from the Indian side too need to look back at their performances.
Lord's paid tribute to cricket with this eternal match. Test cricket always manages to find its way back into the hearts of its worshippers.