Here we are in the mid-season of F1 racing. The next grand prix will be held in "Monza" which has a reputation of fastest circuit in the world. The track itself is in principle only made up of straights and chicanes, which is enough to give Goosebumps to the drivers. Monza will not be easy for our current leader Sebastian Vettel. Though the RB9(RED BULL 2013 CAR) is well equipped in every aspect but still, this constructor team would be having nightmares of last years grand-prix. The condition of Monza are quite favourable for Ferrari especially Alonso. The dry and fast condition suits their car in the sectors where DRS can be used, but their concerns lies  in the qualifying session. They have been ever & anon in qualifying to the pole position. They haven't proved their metal for having the fastest car on planet. Felipe Massa has also been a disappointment for them, the large difference in constructor standings proves that. The best-managed side of the game "MERCEDES" can be a side to bet upon, even though of the differences between Hamilton and management. One of the most consistent driver this season "Rosberg" can cash in some points for his team. The tricky and fast condition of Monza suits Rosberg's genre. Vijay Mallya's concern could get heightened as neither his drivers nor his technical staff are working up to their reputation. Despite of having great starts Paul di resta has not able to convert it into a podium spot, while Sutil's inconsistency continues this season too.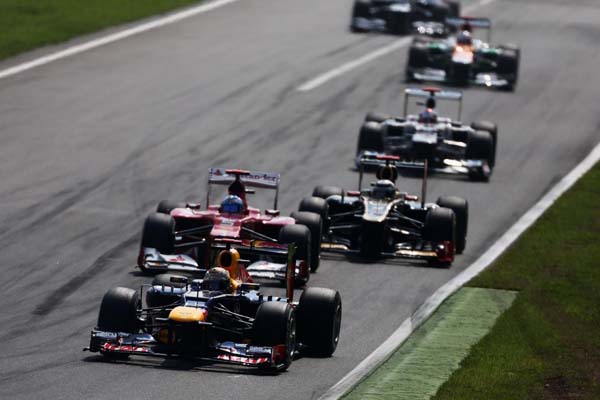 Lotus is another group with talented drivers. This team has the ablity to dominate a race on any given day from start to end, but fate hasn't rested unto their lap this season. Kimi will be a man to look upon this Sunday as he can efficiently use the DRS , provided he performs convincingly in the qualifying seesion.
On Sunday the person who can be a dark horse is Daniel Ricciardo, announced as the successor of Mark Webber, he can prove a point to the "RED BULL'S".
Italian Grand Prix can be a game changer for this season as the Ferrari being the hot favourite can cash-in against the struggling "Mercedes" & vulnerable "Red Bull's". According to me following could be the possible drivers on the podium
1.) Alonso
2.) Rosberg
3.) Webber
Last year while trailing mid-season vettel won back to back races to win the championship. This year too, the second half of the season can be action packed.