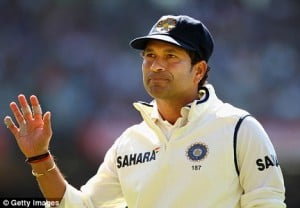 A common question that every Indian carries in his mind is –
"Should SACHIN retire ?"
I am very sure that at least 50% of the current Indian population must be nodding in approval. And yes! They are right at their place. These are those people, for whom  the country comes before Sachin. They do love the master but are hoping for a renaissance in Indian Cricket after his retirement.And if that's the reason why they are supporting  Sachin's retirement then hats off to them for letting go of Sachinism and thinking about the country. But I have a different feeling.
Sachin Tendulkar is not just a cricket player. Cricket is honored to be served by this 5'5″ common man from a country once known for its snake charmers. Someone said ambassador of cricket, someone said God! But I have a different word for him, he is the Alexander-cum-Gandhi of world cricket. And India is lucky to have produced this gem conquering world non-violently with his "a little less than a meter long sword" without shedding a single shed of blood but instead having bowlers all over the world at his feet ,shedding pseudo blood in form of sweat. That's been the impact of this man. Be it Warne, Murali, Akram, McGrath, Donald he conquered everybody and even they admitted it and acknowledged their defeat. But why am I reiterating these well known facts ? Well, hats off again to you demanding Sachin's retirement despite of knowing these facts. But now let me tell you the reasons, why we still need him!!
Lets have a look at the average age of the players playing in the Nagpur test barring Tendulkar. It comes out to be about 26 and that too because we have a Sehwag with 34 yrs of age. Now any body replacing Tendulkar should not be more than 26 I guess. So that will only cause a decrease in the above average. Now see the average no. of tests played by each player playing currently barring Tendulkar (includes tests played before Nagpur test). It comes out to be about 32. And even that too because of Sehwag who has played 100 tests. And it will decrease further with the inclusion of any new player replacing Tendulkar  Now why I am saying all these stats. The point i want to make is experience shared in the dressing room by the current cricketers. If Sachin retires imagine the loss caused to these upcoming batch of youngsters forming the team which is still under construction. They will never be able to see that 5'5″ tall giant timing the ball with the least of effort,showing the full face of the bat,driving a delivery worth 140 kph straight down the ground past the bowlers with a double velocity indirectly slapping him with the best of strength he can manage, without causing any mark on bowler's body. In India, a successful international batsman's training is completed only by watching Tendulkar bat , i.e. while standing at the non- striker's end. And a successful bowler's training with a go at Tendulkar in the nets. And this process has been going on since last two decades. Won't it hurt India when some Yuvraj will face any Ajanta Mendis, and be completely out-bowled by him ?And he won't have any Tendulkar on the nets showing him the way to tackle the variations, helping him register a splendid century in the next match? As told by Dravid "India needs Tendulkar more than ever " and the current situation of Indian cricket justifies it. If Sachin goes now, there will be a deep void in Indian Cricket which nobody will be able to fill, for a really long time at least.
Now talking about his current batting form.If Sachin is not playing well these days, none other than we Indian Cricket fans are to be blamed, not even Sachin himself. Remember, whenever Sachin used to be in bad phase earlier, critics were nowhere behind in asking him to retire talking something extraneous, going off the tangent. But we Indians were always there standing behind him,roaring for him, crying for him, praying for him. And with 1 billion hands behind him, Sachin always used to find it easier to slam his critics with a breathtaking knock full of Tendulkar-esque shots. Actually the problem with critics is that their job is to slam the cricketers finding it difficult to perform, by their logic and explanation of the lack in technique or attitude of that player.And that's important for the game. But when it comes to Sachin they don't find any obvious technical glitch or lack of attitude or passion. So for their living they need to say something about Tendulkar too and then comes the time they don't really find any problem with this man. Now they have to say something, so they come up with certain non-existent logic related to Tendulkar  But it needs to be said that you can't measure Tendulkar and others on the same scale. And how silly we Indian cricket fans are that we believe their silly logic. Yes, with age, there has come a little drop in his reflexes. But remember, he is Sachin Tendulkar  He has the answer for each and every cricketing problem and will surely find a solution for that. But one thing that he badly needs is our support, i.e. the support of billions of fans. He needs our strength. He has developed a habit of playing with these billion hands for the last 23 yrs. Then, how can you expect him to perform with even a single less hand?  And a 23 year old habit can't be and won't be changed in a day.
So, if we don't support him in the way we used to, we don't have the right to demand the same performance from him that he has been giving from years. If he has formed a habit in us for those breathtaking,sizzling performances of him then we have formed a habit in him for performing like that. And therefore we are his partner in each and every failure of him. Imagine how Sachin would have been feeling right now. He wants to perform. In fact he needs to perform. But he is finding himself weaker.  He desperately wants us to support him in the way we have been for more than two decades but the situations has changed. Isn't this enough to bring his morale down ? Wouldn't he be thinking that "the joy and the happiness I have been giving to each and every individual in this country seems to be fading away ? I have been with them in their bad times, whenever they were low, with a supreme knock of mine bringing a smile to their face,giving them a reason to dance with joy even if they had been in deep trouble a few hours ago. But when I want the same from them they have chosen the opposite path. " And are we Indians really so ungrateful to his contribution in our daily life? No, I don't think we are!! So I request each and every individual to come in the support for our childhood hero, for our teen hero, for our young age hero, or for our old age hero for the last time in his career and have a big standing ovation , a huge roar for him when he comes to bat next. We need him for at least a year more because right now our middle order comprises of zero experience and players are currently trying to find their feet in the middle. If Sachin leaves them in this situation, they will be joined by any new player who will find the biggest pressure ever upon him in his life ,of replacing Sachin and that will be no good for the Indian cricket so until the current youngsters grow in international cricket. We need Sachin to give them some technical as well as emotional support, and that will only be achieved by the presence of Tendulkar in the dressing room. After a year , maybe when Pujara, Kohli and any no. 6 will find some confidence, it will be a bit easier though not at all for any young man to fill the no.4 slot,as then he will have these men to support him, making  the job easy for him. So I am signing off with this statement of the day by Ganguly –
"Call Me Biased, But I still Believe Sachin can perform" 
And he truly can. He just need a single pray from our heart and a roar from our mouth that -"you go Sachin, here we are just behind you with the strength of a billion hearts"