Shami Ahmed and his tactics have turned around the way we perceive the Indian bowling attack. Might be way too early for a lauding but Shami Ahmed sure has sent out strong messages to batsmen around the world.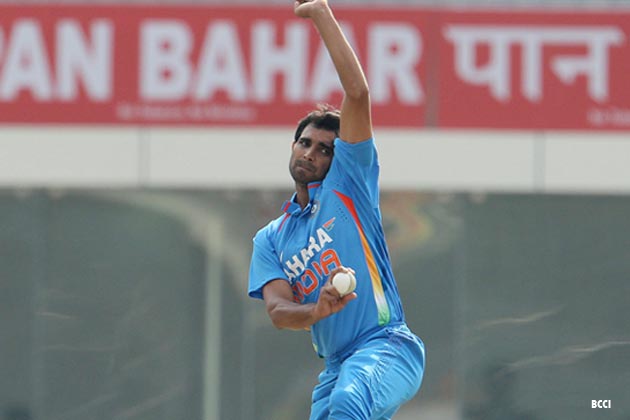 Shami Ahmed and Indian Cricket
An acute speed crisis in the bowling department has followed the Indian cricket team everywhere. Be it the cracking low bounce tracks of the sub-continent or the bouncy and pace-driven flat tracks overseas. Moreover, bringing the ball back into the batsman was always a problem as a few achieved it and that too with not such an impressive and productive mph mark. What Mohammed Shami Ahmed has done becomes more important due to the fact that we are looking at an experimental phase of Indian cricket which is also a very crucial one for any side.
Shami Ahmed has provided hopes of a reliable wicket taking bowler who can take the attack to the opposition. His ability to move the ball at any point of time in the match gives further impetus to his wicket taking ability with the speed that he brings in. I still remember the days when a certain Australia or Pakistan would push in McGrath or Akhtar to slow down the proceedings for the opposition.  A job that very few Indian bowlers have been able to do and that too on a consistent basis under unfamiliar conditions.
Now we have Ahmed who can run in and deliver and Dhoni can trust him with the new ball as well as the old ball. Shami's bowling action tells you a lot about this right arm bowler from Bengal. Right from his startup to his jump and then the landing, he packs a fierce intent which reflects on his delivery. Shami once said that he will never compromise on pace and it's nice to see him keeping his promise.
Shami Ahmed and New Age Cricket
We are looking at a phase of Indian cricket which will bring in humiliating defeats as well as convincing and at times dominating performances. This is a phase where shuffling will be followed by reshuffling. Experimentation in the bowling as well as batting department can be understood as a process. The process will bring us those 15 players who will put up more than a good fight in the ICC World Cup 2015 in Australia. We need performers, yes, but more than that we need confident and brave individuals who can row the boat even when the tides are against us.
Most would believe that the Indian team is actually giants at home and humiliated dwarves in overseas condition. But then, this is the type of cricket we have gifted ourselves today. Home conditions bring out the best in players across the world but when put in alien conditions, they end up betraying their fans. A look at the records of teams across the world and their performances both at home and away conditions will tell us how quality of world cricket is becoming more and more homogenous.
Shami Ahmed – Part Of New Indian Cricket
India too is on their way to churning out a productive set of performers. Losing is a part of the game but then mannerism sets the standards. Shami Ahmed's onslaught against all the batsmen he has bowled might have its own shortcomings, but then young Shami has proved something here. He has proved that India too can produce pace bowlers with strike ability. Shami's ability to pitch in the Yorkers right might be a bit here and there right now, but given his time, he will only perfect it. Brace yourselves, a new era dawns and demands patience from us- the fans.