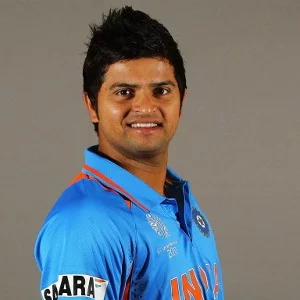 Suresh Raina (born on 27th November 1986) , a cricketer from Rainawari, Srinagar, Jammu & Kashmir now living in Ghaziabad, Utter Pradesh, India. He plays for Utter Pradesh in Domestic Cricket, Chennai Super Kings in Indian Premier League.
 Family:
His father Triloki Chand is a retired military officer. His family moved to Ghaziabad in Utter Pradesh from Rainawari, Srinagar in Jammu & Kashmir in 1908s. He has 5 elder brothers, Dinesh Raina, Rajesh Raina, Rakesh Raina, Sunil Raina and Rajeev Raina.
Cricket Career:
He started playing cricket in 2000, went to Lucknow to attend the specialist Government Sports College. He captained Utter Pradesh in an Under 16 tournament and came to prominence among Indian Selector in 2002, and he was selected for the U19 tour to England when he was just 15 and a half years old. He scored 179 runs at an Average of 44.75 in 4 Test Innings he played (3 Matches) with the help of 2 half Centuries. He later toured to Sri Lanka with U17 team.
He made his Ranji Trophy debut at the age of 16 for Utter Pradesh in February, 2003 against Assam.
In late 2003, he was selected in Indian U19 team for the U19 Asian under 19 ODI Championship.
Then, he was selected in Indian Team for the U19 World Cup 2004 and he scored 247 runs in 7 Innings at an Average of  35.28 with S/R of  90.80 with the help of 3 Fifties, Including a brutal knock of 90 runs in just 38 balls which includes 14 Fours & 2 Sixes.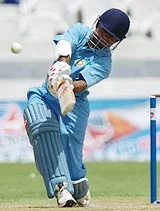 Due to Injury to Sachin Tendulkar and Suspension of Sourav Ganguly, He was selected in Indian team for the Indian Oil Cup, 2005 in Sri Lanka. Suresh Raina made his ODI debut (30th July, 2005) for India against Sri Lanka in the first Match of the Indian Oil Cup and got out to M Muralitharan in very first ball he faced.
Suresh Raina scored his First Fifty (81*) in his 8th Innings against England in Faridabad, 31st March 2006. And scored another Fifty in his very next match against same opponent in Margao, 3rd April 2006.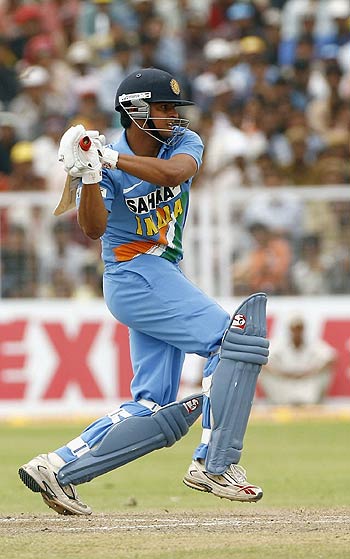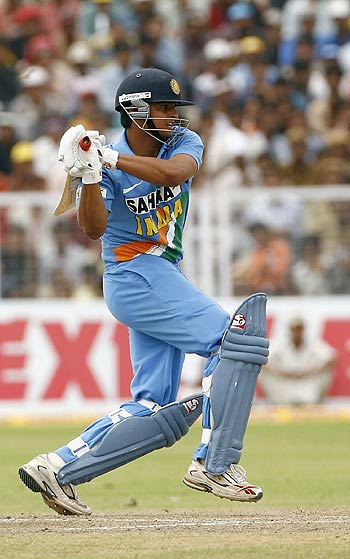 Suresh Raina Captained Indian team for the First time for the Tri-Series against Sri Lanka and Zimbabwe in Zimbabwe.
In 2010 T20 World Cup, he scored an outstanding maiden century T20I century against might South African attach  and  became first Indian to score century in T20I and also only Indian Player to Score International Century in all 3 format's of the game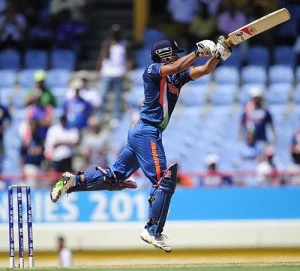 Suresh Raina was selected in the Test team for the Tour of Sri Lanka in 2010. He made his Test Debut in the 2nd match after Yuvraj Singh was Ill. Sri Lanka Scored 642 runs for the loss of 4 wickets before declaring the Innings and India were in trouble at 241 for the loss of 4 wickets when Raina came in to join Sachin Tendulkar. Raina went on to reach a century on debut as the pair put on a double century partnership.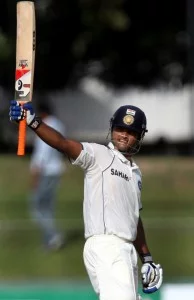 In 2011 World Cup, he was on the bench in the first half of the tournament as Captain MS Dhoni opted to play in-form batsman Yusuf Pathan.  Raina featured in playing XI against West Indies due to Injury to Sehwag and scored only 4 runs. Dhoni made a strategic change by dropping Yusuf Pathan in favor of Raina in the Quarter Final against Australia, Raina (scored unbeaten 34 runs off 28 balls) responded with a crucial partnership of 74 runs from 61 balls with Yuvraj Singh in a successful run chase through high pressure. In Semi Final against Pakistan, Raina scored crucial unbeaten 36 runs from 39 balls with tailenders and helped India to score 260 runs, in which India won by 29 runs bowling out Pakistan. He also fielded well and took a catch of Younis Khan off Yuvraj Singh.
Indian Premier League
Suresh Raina was signed by Chennai Super Kings for US$ 5 million for the first three years of the tournament. He made valuable contributions in the first edition of the tournament to compensate the losses of key players Matthew Hayden, Michael Hussey and Jacob Oram. He played a crucial knock in the last league match to give Chennai Super Kings the win they required to qualify for the Semi-Finals. Raina scored 421 runs in the tournament as Chennai Super Kings finished as Runners-Up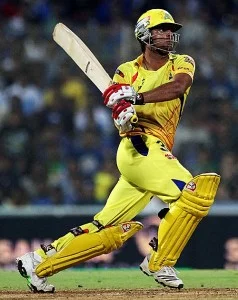 Raina found form in 2009 IPL by scoring 434 runs in 14 matches with a strike rate of 140.90. He made a magnificent 98 runs from 55 balls (missed his century due to scoring errors) against Rajasthan Royals at Centurion. He was fourth leading run scorer of the tournament and second for Chennai Super Kings behind Orange Cap holder Matthew Hayden. Raina is also fifth economical bowler of the tournament taking 7 wickets.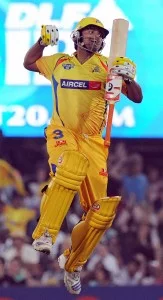 In 2010 IPL, Raina showed his consistent batting thought the tournament and became Leading run getter of the League surpassing Australian legend Adam Gilchrist halfway down the tournament. In the absence of Skipper MS Dhoni due to Injury, Raina captained the team for 3 matches. He scored 520 runs in 16 matches and took some sensational catches in the field. He was been Awarded "BEST FIELDER AWARD" by BCCI ahead of finals. He played a crucial knock in the Final which turned the game in favor of Chennai Super Kings and they were crowned as Champions beating Mumbai Indians.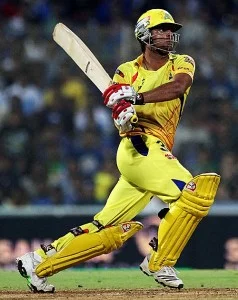 In 2011 IPL, again Raina showed his consistent batting by scoring 438 runs in the Tournament, also he was the only player to score 400+ runs in every Season.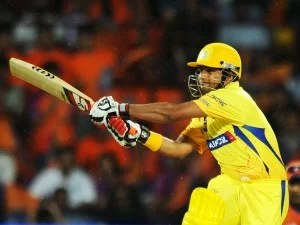 In 2012 IPL, He struggled to find form in the initial stages but he found form in the later stages of the tournament and finished as Chennai Super Kings leading Run scorer by scoring 441 runs and also became first player to score 2000 runs in IPL
In 2013 IPL, He scored 548 runs at a healthy average of 42.15 with strike rate of 150.13. Like in 2012 IPL, he was struggled in the initial stages of the tournament but regained his form in the later stages. He scored his maiden IPL Hundred against Kings XI Punjab. He also scored an astonishing unbeaten 99 from 52 balls against Sun Risers Hyderabad and helped Chennai Super Kings to score a mammoth 223 runs.