Top 10 greatest batsman of all time
Cricket, a gentle man's game was invented a long time ago. Since then there are many players who represented their respective countries and some players even managed to get their name in the history. Of the many facets presented by the game of cricket, most men will agree that batting is the one most distinctly enjoyable and  delightful. Few players have managed to etch their name in list of top 10 greatest batsman of all time in cricket. Here let's take a look at the top 10 greatest batsman of all time.
10. Sanath Jayasuriya (Sri Lanka)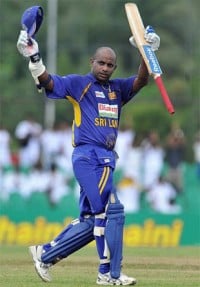 Sanath Jayasuriya is ranked 10th in our list of top 10 greatest batsman of all time. Sanath Teran Jayasuriya, revolutionized One Day International batting with his aggressive tactics , a strategy they first tried on the preceding tour of Australia. The tactic used was to take advantage of the early fielding restrictions by smashing the opening bowlers to all parts of the cricket ground, particularly by lofting their deliveries over the mandatory infielders, rather than the established tactic of building up momentum gradually. He has torn apart almost every bowler in his era and he was named the Player Of the Tournament during the 1996 World Cup which was won by Lanka. The strange fact is that he made his international debut for Sri Lanka as a Slow Left arm Orthodox bowler and a middle order batsman in the year 1989 and retired as a successful opening batsman across all formats in the year 2011. Even though his career average both in Tests and ODI's are on the lower side, he can give his team a blistering start to their innings and that gives him a place in our Top 10 Greatest Batsman of All Time. And it is quite justified to include his name in the list of top 10 greatest batsman of all time.
"It is always a massive compliment to someone to say they changed the game, and his storming innings in the 1996 World Cup changed everyone's thinking about how to start innings"– Glenn McGrath on Jayasuriya's approach during 1996 World Cup.