India has produced from time to time legendary batsmen. Starting from the likes of Nawab Pataudi and Vijay Merchant in the 1940s, there came Sunny Gavaskar, Gundappa Vishwanath in the test arena in 1980s and then once limited overs cricket became a force, Azharuddin, Sachin Tendulkar, Saurav Ganguly, MS Dhoni and Virat Kohli in the recent times have wielded their willow to assert India's growing supremacy in international cricket. There's something different about Indian batsmen. On their day, they blaze and take away the game away from the opposition from any situation. What makes them play such incredible knocks? The answer is simple, determination and passion !
So, as an ode to all these legends who've made us proud over the years, I've tried to compile a list of "Top 10 ODI innings by Indians". Since there are so many innings that deserve to be here, I've tried to take in account the impact of the innings, circumstances in which the innings was played and also the quality of the opposition so as to narrow down the list to just 10. Any opinion of the reader is most welcome in the comments section.
10. MS Dhoni 183* vs Sri Lanka, Jaipur (2005)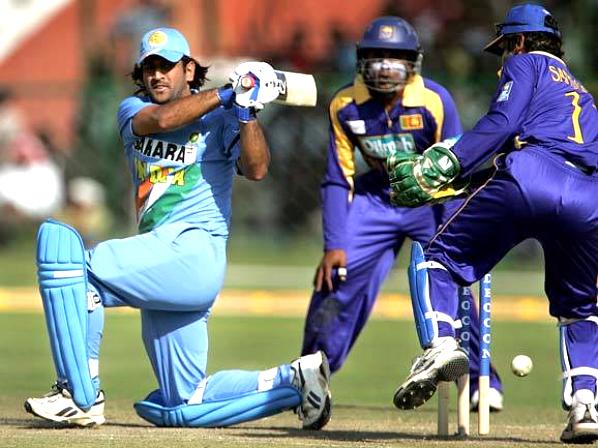 MS Dhoni is perhaps one of the best cricketers India has produced in the limited overs arena. This innings by the Ranchi boy not only helped India chase a huge target of 298, but also announced the arrival of an enigma, the player whose touch would turn everything into gold.
Kumar Sangakkara batted beautifully to help Sri Lanka set a huge target. Dhoni, young and burly with long hair, came in at three and launched a flurry of unorthodox yet effective shots against the Lankans. On a pitch lacking in pace and bounce, Dhoni's strategy was simple: hit on the up, through the line of the ball, and use the feet to advance down the pitch when it isn't pitched up. Cramps in the later part of the innings did not dent his determination and he showed his brand of street smart cricket by cleverly combining singles with powerful shots.He made sure that he stayed till the end and thus started developing his mastery in chasing. This innings made him an immediate favourite and also gave a huge boost to his confidence which was later instrumental in his leading India to umpteen victories.