1. Kapil Dev 175* v Zimbabwe, Turnbridge Wells (1983)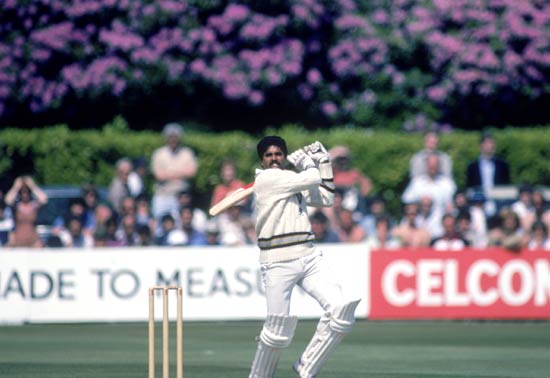 You're the skipper of team. Your team is playing a World Cup must win match. They're reduced to 4/9 and then it becomes 5/17. What do you do ? Get an eye in and somehow try to steer the innings. Not if you're Kapil Dev. On 18 June, 1983 the spectators at Turnbridge Wells saw the innings that would change the face of cricket.
Seeing the Zimbabwean bowlers with their tails up on a lively pitch, the Haryana Hurricane decided to trust his natural game and played on of the best counter attacking knocks of all time. He added 60 with Roger Binny and to stabilise the innings to some extent and then 126 for the ninth wicket with Syed Kirmani. Kapil smashed 6 sixes and 16 fours en-route to a magestic 175*(138). It took India to 266, after which, they dismissed Zimbabwe for 235( Kapil being the most economical bowler). India further went on to win the World Cup against all odds, only due to the impetus imparted by this innings.
Now, some of you might think why it is at no. 1. Well, there's a rational explanation. Most of the innings in this list are on the basis of impact they had. This specific innings inspired the Indians to a World Cup win when there was no hope. It revolutionised the sport of cricket in India, people started paying more interest to the game, kids got more involved in playing it, and the rest, is history !