The UEFA Champions League Final is round the corner and this time it will be a Battle of Two German sides fighting each other for the European Glory. Many football experts believe that this match will be a beginning of a new era in European Football. After the German teams conquered the Spanish teams in the Semi-Finals of this tournament, it was like the Domination of European Football has changed hands from Spain to Germany. Cricmatez.com brings you the complete preview of the  2013 UEFA Champions League Finals that takes place in Wembley.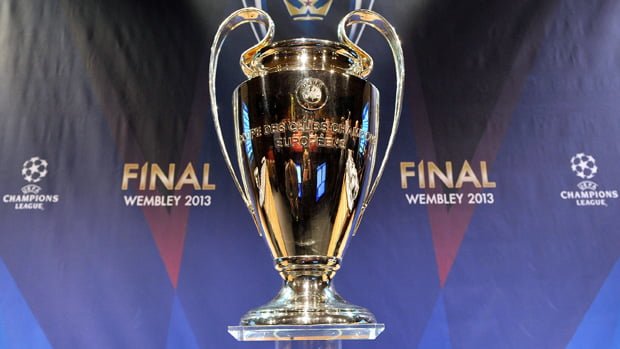 UEFA Champions League Final Wembley 2013- A Preview
The UEFA Champions League has a league cum Knockout format to determine the Best Team in Europe. The top 32 European teams are split into eight groups of four teams, who played home and away against each of their group opponents between September and December to decide which two teams from each section advance to the first knockout round. From the last 16 until the semi-finals, clubs play two matches against each other on a home and away basis. The final is decided by a single match which will be played at Wembley Stadium on Saturday 25 May 2013. When the tournament started in September 2012, Football aficionados were expecting teams like Manchester United, Real Madrid, Barcelona, Juventus to win the Title. But now, with just a week left for the UEFA Champions League Final, 30 teams were Knocked-out in the initial stages leaving a face-off Bayern Munich and Borussia Dortmund for the Summit Glory.

Bayern has been the Runner ups for the past two seasons and Dortmund are looking to win their first UEFA Champions League since 1997. Both the teams know each other well and they were on a Demolition job ever-since this tournament started. Bayern and Dortmund ousted pre-tournament favourites Barcelona and Real Madrid in the Semis.  With the German Bundesliga already won by Bayern Munich, Borussia Dortmund will look to end the season with a trophy. This clash will be an Emotional match for Dortmund's Mario Gotze who plays his last match for the men in Black and Yellow and moves to Bayern Munich at the end of the season.
Timings: 2045 local time | 0115 IST (26 May)
Route to Finals
| Bayern Munich | | Borussia Dortmund |
| --- | --- | --- |
| First among Valencia, Bate Borisov and Lille | Group Stage | First among Real Madrid, Ajax and Manchester City |
| def. Arsenal 3-3 | Round of 16 | def. Shakhtar Donetsk 5-2 |
| def. Juventus 4-0 | Quarter Finals | def. Malaga 3-2 |
| def. Barcelona 7-0 | Semi Finals | def. Real Madrid 4-3 |
| Thomas Muller- 8 Goals | Leading Goal Scorer | Robert Lewandowski- 10 Goals |
| 5 | Clean Sheets | 4 |
| 29 | Goals Scored | 23 |
| 10 | Goals Conceded | 10 |
*Bayern Munich Won against Arsenal on the Virtue of scoring 3 away goals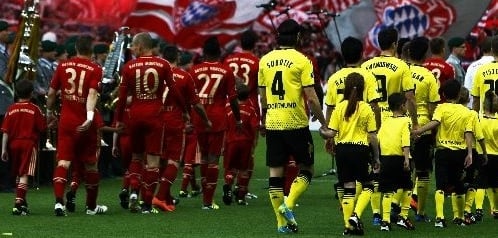 UEFA Champions League Finals Preview-

B

a

y

e

r

n

M

u

n

i

c

h
Bayern Munich has been a revelation since the start of 2012-13 season. The put aside the forgettable memories of 2012 UEFA Champions League Final in which they lost to Chelsea in the Penalties at home.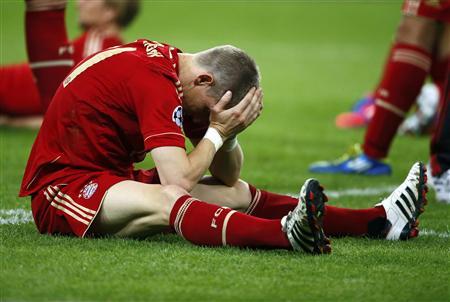 But once the New Season started, they went out all guns blazing by beating their Bundesliga opponents irrespective of the Venue. Not even a single team was spared by them as they won all their games barring their only defeat against Bayer Leverkusen. In the process, they scored 98 goals and conceded just 18 throughout the Bundesliga. Their performances in the UEFA Champions League was no different as they lost their only game against Arsenal at home. They stamped their authority on every single side be it Barcelona or Bate Borisov. They thrashed Barcelona in the Semi-Finals with a record 7-0 margin and entered the finals. Clearly they are the hot favourites to win the UEFA Champions League Final at Wembley. All Eyes are on Thomas Muller and Bastian Schweinsteiger as Bayern look to win their 5th Champions League title.
Possible Line-up:
Neuer; Lahm(c), Van Buyten, Boateng, Alaba; Schweinsteiger, Martinez; Robben, Muller, Ribery; Mandzukic.
Subs: Starke, Dante, Shaqiri, Rafinha, Luiz Gustavo, Gomez, Tymoshchuk
Formation: 4-2-3-1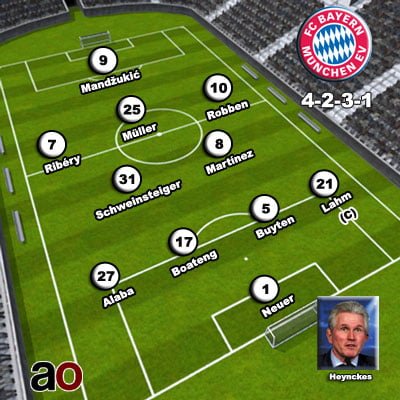 UEFA Champions League Finals Preview-

B

o

r

u

s

s

i

a

D

o

r

t

m

u

n

d
Borussia Dortmund came into the UEFA Champions League 2013 as The Bundesliga Champions and were placed in Group of Death along with Manchester City, Real Madrid and Ajax. They came into the tournament as Underdogs. But to everyone's surprise, they topped Group D and were unbeaten in the Group Stages. In the mean time they also had a decent run in the Bundesliga in which they finished second behind Bayern Munich. Their unbeaten Run in the Champions League continued until they lost the Semi-Finals second leg against Real Madrid. They were surprise finalists and can even go on to shock Bayern in the UEFA Champions League Final. Most of their success is because of their fan support who come out in Large numbers to support their Club. More than 90% of Dortmund's population has asked for  tickets for the finals at Wembley.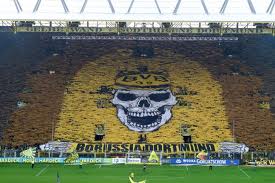 This is also the last match Mario Gotze will play for Dortmund as he moves to Bayern at the end of the season. This might also be Robert Lewandowski's last match for the Men in Black and Yellow. Reus, Gotze and Lewandowski hold key as the Dortmund players will look to add their second UEFA Champions League title in their Trophy Cabinet.
Possible Line-up:
Weidenfeller; Schmelzer, Hummels, Subotic, Piszczek(c); Bender, Gündogan; Reus,  Götze; Blaszczykowski; Lewandowski.
Subs: Langerak, Kehl, Leitner, Sahin, Grosskreutz, Schieber, Santana
Formation: 4-2-3-1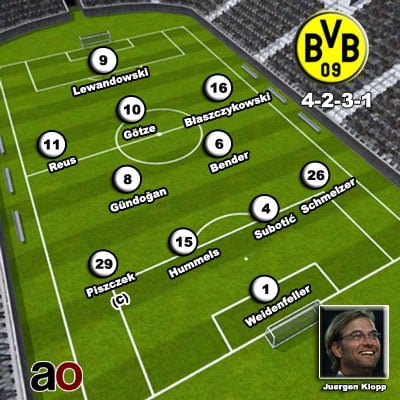 With the UEFA Champions League Final fast approaching, Will Bayern be third time lucky? or Will Dortmund surprise everyone by winning the Title after 16 years?