Sachin Tendulkar retired from IPL  right after IPL 6 was concluded. Sachin Tendulkar announced his retirement from IPL right after the Mumbai Indians lifted the trophy at Eden Gardens after defeating Chennai SuperKings in the final. The little man failed to be a part of the playing eleven due to an injury in his tendons. Sachin is currently nursing to his injured tendons and with his retirement, questions regarding his Test status have started cropping up. We take a look at the reason as to why Sachin Tendulkar retired from IPL?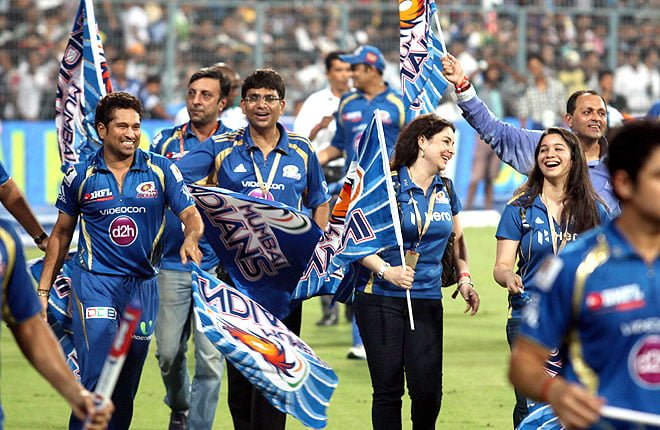 'Sach' a great record, then why Sachin Tendulkar retired from IPL?
With such a splendid record to his name, it is difficult to understand Sachin Tendulkar retired from IPL? We take a look at Sachin's record in the six editions of the IPL. Why Sachin Tendulkar retired from IPL all of a sudden will never be understood. But one should know that the man who has the maximum number of boundaries (295) in the league, surely has it all planned.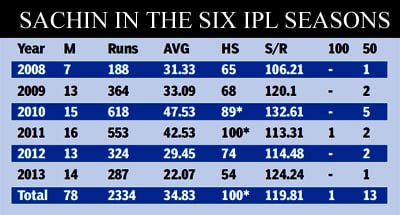 Why Sachin Retired From IPL? The Reasons
The first reason is that Sachin Tendulkar knows himself and his body. Sachin knows the limitations that age puts on a person. Age is but a number, they say. But even then, at times numbers can make all the difference in the world.
We all know that the reflexes have slowed down and the number of shots in Sachin's books have also gone down. It started with the infamous 'tennis elbow' and since then, a number of injuries have damaged the little man's batting skills every now and then. It is a miracle indeed that even then, for all these years, Sachin's body endured all the pain and his mind battled all the pressure and the master blaster continued to score, impress and surprise us.
Another important reason can be Sachin's dedication to the real form of cricket i.e. Test cricket. There is no doubt that Sachin, in his prime, wants to be fit and ready to fire in Test cricket. A young, inexperienced and often misunderstood Indian cricket team requires the experience, expertise and mother-like authority of Sachin Tendulkar. Sachin Tendulkar retired from IPL in order to be able to devote much of his time to Test cricket. The upcoming tour of South Africa might be another reason Sachin Tendulkar retired from IPL. There is a possibility that Sachin might retire from Test cricket altogether after or even before the South Africa tour.
Sachin Tendulkar retired from IPL and that too with a shock element in it for us. Sachin is very sure about the age factor and how it affects his game. No doubt, after achieving so much for the country and the countrymen, after living and playing for billions all his life, the little master now wants to have a life of his own.
"I think this is the right time to stop playing the IPL. I am 40. Got to accept it," Tendulkar said after the final at Eden Gardens.
Sachin Tendulkar Retired From IPL- Bottomline
Sachin Tendulkar retired from IPL and gave us a pretty valid reason. Although most of us would say no to the little master's 'excuse' and question again as to why Sachin Tendulkar retired from IPL? Fans turned into worshipers as the little man walked out to bat. For how long will we be able to see him walking out swinging around that thick blade? Will we be denied that right in near future? Sachin Tendulkar retired from IPL, but will he retire from Test cricket this year itself?  Or maybe perhaps this month itself? Sachin Tendulkar retired from IPL and left us all with a lot of questions in our head.