The world's fastest bowler -An Indian. And it's official now. Introducing a mean machine in the form of a bowler, who is here to prove himself and wishes to do so without even having a proper cricketing record. The Indian fans were waiting for their own Lee, Shoaib and Bond… and here he is. Who is this guy? And where did he come from? We bring you the world's fastest bowler – an Indian.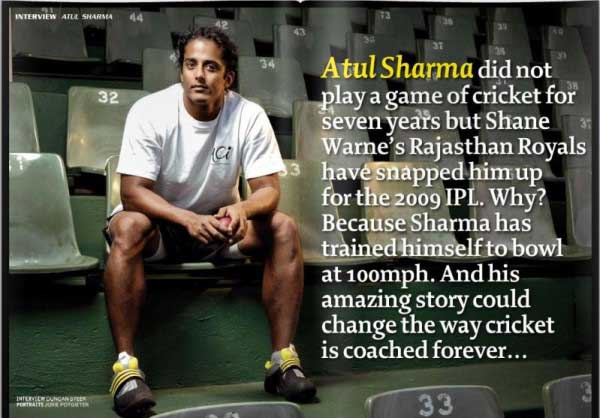 WORLD'S FASTEST BOWLER- AN INDIAN
Steaming pace collaborating with some deadly conviction with a no remorse look on his face is how one can introduce the world's fastest bowler- an Indian. Years of training and hard work never seen or heard of. The man looks like a weightlifter, a professional wrestler or a muscle man who can choke you to death with his bare hands. The muscles are carved out on his body and the broad chest bulges out as he runs towards the pitch to deliver the canon ball in his hands. People- meet ATUL *SUPERSONIC* SHARMA, the fastest bowler in the world. He is the world's fastest bowler- an Indian.
Atul Sharma spent his time training himself to reach high speeds of 90mph and even 100mph. He maintains a good line and length and yet pushes the speedometer up to the 90mph mark without an effort. Atul Sharma can reach the 100mph mark as well and can even go beyond that, but not at the expense of line and length.
WORLD'S FASTEST BOWLER – An Indian INTRODUCTION
Born in Varanasi, Uttar Pradesh, the man is 23 years of age and is a right hand batsman and a ferociously lethal right arm fast bowler. Talking about his journey, Atul Sharma in an interview to DreamCricket said:
" It's been a hectic few years. I spent six months at IMG in Florida, then University of North Carolina, back across to MCI training camp in the UK, out to Potchefstroom, home to Mumbai and then out to the AIS (Australian Institute of Sport) in Brisbane. My goal was to improve my ability to bowl fast and achieve Olympic level fitness."
WORLD'S FASTEST BOWLER – His Training
How does an average cricketer train? The usual exercises starting with the warm ups and other exercises leading up to games and some light workout right? But that's human, we're talking superhuman here.  Atul Sharma, in whatever videos are available on the internet, can be seen training in what one can call an unorthodox fashion for a humble cricketer. He can be seen chopping down tree trunks with a heavy axe, flipping truck tyres in a second, tying the same tyres to himself and running like the wind, lifting weights and bench presses are a daily routine for the world's fastest bowler who is an Indian.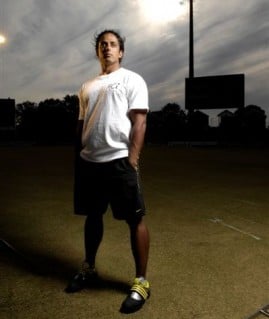 Atul Sharma has trained with US Javelin Olympians and throws an open challenge to the general belief that 'speed cannot be taught to someone'. He's out there to change this perception and change the game as well. The man possesses deadly accuracy along with his life-threatening speed with the cricket ball. He has also trained under English bowling Coach Ian Pont.
The biggest surprise in the package is that the man has never played cricket before except for a few stints here and there. He has never been to any bowling academy either or any other cricket academy. After seven years of intensive training in America, Atul Sharma is rock solid and has shaped himself to serve as a deadly super-fast bowler. Atul Sharma was included in the Rajasthan Royals squad but there has been no sign of him being included in the playing eleven. The world's fastest bowler- an Indian was glad to be a part of IPL and that too without any statistical record to his name. The credit goes to Shane Warne who was bent on including him in the squad. Atul Sharma is suffering from an injury right now and hence is not available for IPL 2013 either.  He wishes to play for India in future just like any other kid growing up in a country where cricket is a religion for real.
The world's fastest bowler- an Indian, is all set to bombard batsmen across the world with some lethal pace and accuracy which is a 100 per cent. The point is when will he actually play for the Rajasthan Royals? Well, in my opinion, Atul Sharma is the secret weapon for World Cup 2015 when India goes to Australia to defend their World Cup title. Hold it everyone, we Indians are back in the pace race. And it seems like we'll beat everyone else by more than a mile.  Atul Sharma- the fastest bowler in the world- an Indian.