Unmukt Chand to replace Rohit Sharma as Brand Ambassador of Maggi
Rohit Sharma is facing serious threat to his business career from rising youngster, Unmukt Chand. Sources reveal that the CEO of Maggi, Mr. Chowmein D'souza has decided to terminate their contract with Rohit Sharma as he had breached their contract numerous times and most recently in the IPL match against Delhi Daredevils.
Our correspondent tried to contact the CEO but could not reach him as he was busy in learning how to eat Maggi with chopsticks from some Chinese Delegates. Our correspondent did manage to talk with the HR Manager of the company, Mr. D.K Bose on this issue. On inquiring, Mr D.K Bose told our correspondent that it is true that they are going to terminate their contract with Sir Rohit Sharma and the recruitment of Unmukt Chand in that coveted post is in process.
Mr. Bose said, "We don't want to create a bad name of our company by making someone brand ambassador who lasts for more than 2 minutes in the crease. Rohit Sharma was good until recent times but he has started violating our contract in recent times. He has lost his reputation as Maggi Man by hitting a half century against Delhi DareDevils. We care too much about the reputation of our firm and we don't want any further breach of contract. We want someone who is consistent in getting ducks and at this moment we have no better option than Unmukt Chand who symbolizes our motto perfectly."
Mr. D.K Bose further added, "People keep complaining about Maggi never getting ready to eat in 2 minutes but now atleast our new Brand Ambassador will live up to their expectations."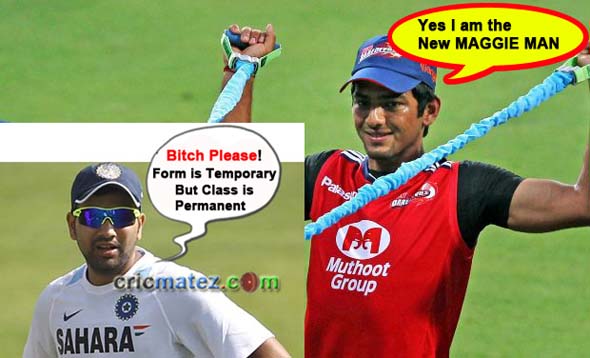 Meanwhile hordes of ardent devotees of Rohit Sharma has gone hostile when they heard the news. Lakhs of Rohit Sharma fans have marched towards Ram Leela maidan to stage a demonstration against this humiliation to their God. One of the demonstrators, Sahil Mittal told our correspondent, "How dare Maggi authority to insult our God Rohit Sharma. We will not stop our demonstration until Maggi authority takes back their decision and begs mercy from our God publicly. Another devotee, Bikram Goel treads one step further saying, "We will go to indefinite hunger strike if our God is not restored at his position".
Rohit gets shout-out from Bollywood too, as many superstars from the film  industry stands for him. Tushar Kapoor, the Megastar of Bollywood writes in his twitter account : "Cheer up mate @ImRo45. Little more practice and you will be consistent like me. Aayaa Eeooo Aaaooo Cutt Cutt Cuttt". The aforesaid tweet got retweeted by over 100k twitter users including Sir Ravindra Jadeja within 30 min.
Another struggling actor, ShahRukh Khan too stands for Rohit Sharma. ShahRukh, in his trademark style, said, "Bade Bade companies mai aise choti choti batein hoti rehti hai. Rohit should not lose heart for this minor issue and he should continue playing his natural game without caring what others think of him like Ram Gopal Verma"
Rohit Sharma however preferred to keep mum on this issue. He said, "No comments. I want to concentrate on my game. My reputation is badly effected in the last match against DareDevils"
On the other side, Unmukt seems to be quite delighted with his association with Maggi. He told our correspondent, "I was a bit disappointed with the two Golden Ducks and everybody in the dressing room was trolling me. Even Viru paaji too came from his home just to troll me. But then I got that surprise call from HR Department of Maggi and I felt like a king".
Unmukt futher added, "I will always remain grateful to Maggi for giving me this great honour at such a young age. On asking how does it feel to be in the same league with Rohit Sharma and Shahid Afridi, the youngster said' "Well I have told you, I will always remain grateful to Maggi for this. It was my dream come true. I still feel like as if I am in a dream. It's a great honour to be placed alongside legends like Shahid Afridi and Rohit bhai. I will always try to live up to the expectations of Maggi fans".
Meanwhile, Bollywood director Sajid Khan has approached Unmukt Chand to sign him for his next movie. A confidential source reveals that the movie will be reportedly named "MaggiWalla" . The source also confirmed that Sajid Khan will not sign actress Tamanna in this movie as he doesn't want to face the MC-BC verbal missiles from Virat Kohli like the last time when he casted Tamanna opposite Ajay Devgan in his last movie.
Warning : This is a work of fiction. No offense intended.