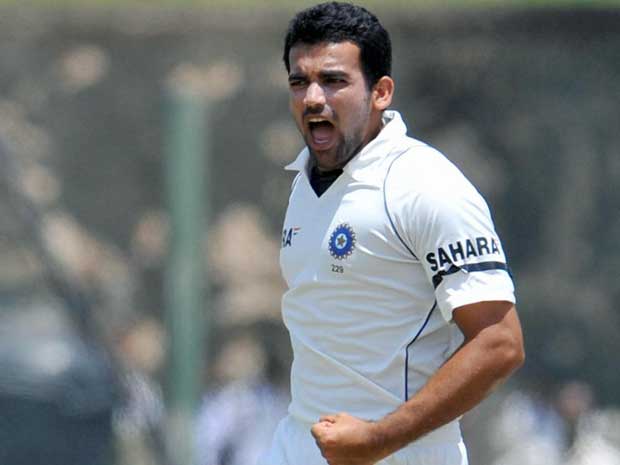 In a short span of time he emerged as India's best hope in major tournaments. When Ganguly took over captaincy after the match fixing crisis from Mohammed Azharuddin, Zaheer Khan evolved into being one of his trusted henchmen. India started the warm-ups for the 2003 World Cup in disaster. But when the tournament kick started, India got off its campaign to a winning start. Sourav Ganguly was quintessential for the team not just as a captain but also as a leader and mentor. In the back os some excellent performances from the batting line-up led by Sachin Tendulkar and pace attack duo of Javagal Srinath and Zaheer Khan. Since Srinath was in the fag end of his career, he had lost most of his pace and had to concentrate on his line and length. But Zaheer Khan fulfilled the role of being the pacy seamer. His performance against New Zealand was noteworthy. It was a complete   bowling performance from team India. Zaheer Khan was the pick of the bowlers with 4 wickets. India faultered in the final, but he ended up as India's top wicket-taker.
Injuries were a major hindrance to his career. When his major career injury happened in the Border-Gavaskar series, what followed was a series of other injuries and started the downfall of a promising fast bowler. He was dropped from the team in 2005. Just when it was thought that his career was over, his determination and the attitude which made him through to the Indian team helped him well enough to earn a comeback into the national side. He figured out the cause and nature of his injury, there was a need to work on his fitness and more importantly reduced his run up. A changed 'Zak' was eager to get back at serving the nation which was in search of someone to lead the attack upfront. He replaced Shoaib Akhtar in Worcestershire for a short stint to give himself some considerable match practice. He took 10 wickets on debut and became the first Worcestershire player in debut to scalp 10 wickets.
He was recalled into the Indian team for the tour against South Africa in 2006, and replaced another left armer Irfan Pathan, who was going through a bad run of form. He made a tremendous return to the side, and he was a treat to watch with the red cherry in his hand. His performances helped India to level the series. Graeme Smith always remembers his duel with 'Zak' and that thought still hinders him in his dream. Zaheer gained his lost fame and vigour with that series. Soon he took charge of the Indian bowling attack once again. Then came the big evolution in Indian cricket, with Dhoni taking over as captain across all the formats. Like he was to Sourav Ganguly, Zaheer was partner in crime to Dhoni as well. Dhoni had a lot of trust in Zaheer Khan. He was Dhoni's go to man in most of the occassions. Dhoni recalls, " Zaheer Khan is the Sachin Tendulkar of Indian bowling. He is the most clever bowler I know".
The reason why Zaheer Khan was mainly due to the fact that he being a thinking bowler. He plays with the batsman's mind. Like the best of the batsmen outthink the bowler, Zaheer had this unique ability to out think the bowler. He was so shrewd and intelligent. Zaheer was good enough to believe in the art of hunting in pairs. Zaheer-Ishant combo was the best team India has had in the recent past. He always bowled with a cool mind, which helped him to bowl well in pressure games.