Quotes on Rohit Sharma
"People say that they wouldn't pay to watch me play, but even I wouldn't pay to watch him play!" – 'Sir' Ravindra Jadeja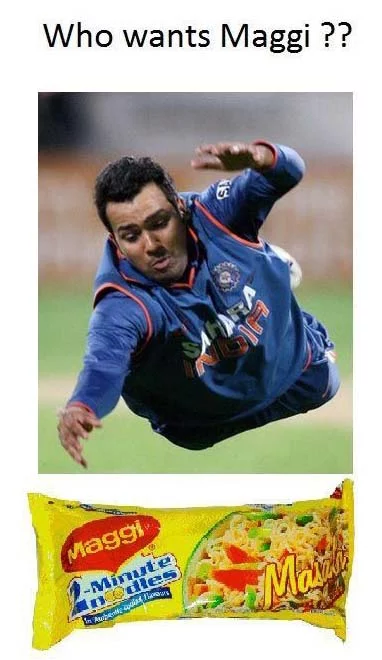 "We are trying to secure him for our next advertisement because he swings the bat so fast!" – Manager, Khaitan fans.
 "Rohit was sent to Earth by Sachin to play cricket. He is still regretting his mistake." – Unknown

 "I have never compared myself to anyone, but it's hard to resist him!!" –  Shahid Afridi
 "Finally I can retire in peace and can rest easy knowing that my 'walking wicket' title has been passed on to an extremely deserving candidate!" – Chris Martin
 "In an over I can bowl six different balls. But then Rohit looks at me with a sort of gentle bemusement down the pitch as if to say 'Do you need more than one?' – Steve Finn
 "I have delayed my shoots a few seconds to watch Rohit bat" – Filmstar Abhishek Bachchan.
 "If you can't get the wicket of Rohit Sharma, you are struggling in life" – Brett Lee
 "Ask him to walk on water for his team and he will ask you 'are u effing kidding me? I can't bat to save my life!! "- Harsha Bhogle
"You might pitch a ball down the leg stump and think you have bowled a poor ball and he walks around and gets it inside edge off to the stumps. His bat looks so light but he just waves it around like a clown" – Brett Lee
"India's fortune will depend on how soon he gets out. There is no doubt Rohit is a funny thing!" – Sunil Gavaskar
 "I'd like to see him go out and bat one day with a stump. I tell you that's what he's been doing all this while" – Greg Chappell
 "He is to batting what Munaf is to fielding!" – Sourav Ganguly
"What we don't need is a Rohit Sharma!" – Hamilton Masakadza, batsman, Zimbabwe
"During our team meetings, we rarely speak about the importance of the first three balls to Rohit Shama. If you can get him, you can thank your stars, otherwise you can get him in the next three balls" – Dale Steyn
"I get bored of umpiring when Rohit is batting"- Simon Taufel
"Don't change the channel when Rohit Sharma walks out to bat, because by the time you change it back, he'd be long gone!!" – Ravi Shastri
"Don't commit your crimes when Rohit is batting, you'd hardly have any time" – Matthew Hayden
"Technically you can't fault Rohit, where is the effing technique anyway?" – Geoffrey Boycott
We did not lose to a team called India, we just picked Rohit's wicket"- Michael Clarke
Disclaimer: These quotes on Rohit Sharma is a work of fiction and should be taken with a pinch of salt.