When it comes to cricket, the role of donning the gloves are as momentous and specialized as the other two arts: Batting and Bowling. To keep the wickets in the scorching heat of the sun for a day or two with the fast bowlers zipping the ball at around 145 Kmph and spinners bowling rank turners is as daunting and mammoth as anything can get. Then to come in front of the wicket with all guns blazing after such a turmoil behind the stumps, indeed requires some special breed of talent. With the advent of modern era, the role of Wicket-keepers has also gone through a tremendous chunk of transformation and evolution. Nowadays, apart from the keeping credentials, appetite for big innings and consistency with the bat, has become a pre-requisite for the success in the career of a glove men.
Cricmatez takes a look at the Top 10 Highest Scores by a Wicket-Keeper in Test Cricket :
10. B.K Kunderan (India) – 192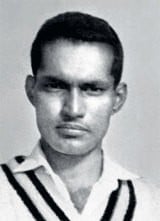 Much before the emergence of the aggressive brand of Indian players like Kris Srikkanth, Virendar Sehwag, and M.S Dhoni , there was an epitome of aggression by the name of B.K Kunderan in the Indian ranks. This Mangalore born daredevil with the bat, was a breath of fresh air to the otherwise sullen looking Indian batting line-up in the eras of 1960. The high point of his career was the brutal knock of 192 against the English side in the 1964 Chennai test. He hammered 31 boundaries all around the park with sheer flamboyance and merciless versatility . He was severe on the premier English bowlers like Barry Knight and David Larter in that very innings. He was a master at hitting the ball square off the wicket with little or no foot movement. In the innings he also showcased his aptness and supremacy in hooking and sweeping the ball. He is ranked 10th on our list.