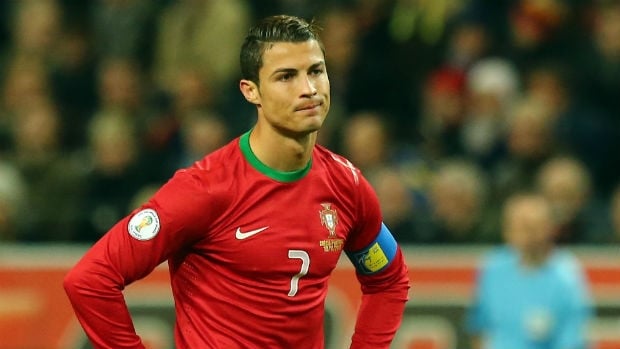 The above list shows the confirmed set of players out of the World Cups. Some of  the players are still doubtful for the prestigious championship. They have just a few days time to recover for the World Cup. Some of the doubtful starters for the World Cup are :
Doubtful Starters of Fifa World Cup 2014
Luis Suarez (Uruguay) : Luis Suarez is the best striker in the English Premier League currently and has been earmarked by many top clubs by Real Madrid. But this striker who made news in the last world cup for the wrong reasons, is one of the main focal points in this tournament. The fans and the player himself is not sure about his availability.
Cristiano Ronaldo (Portugal) : Cristiano Ronaldo is undoubtely one of the best players in the world. Portugal have been tied with Germany. If the Portuguese are to have any chance of qualifying they need this man with them. He can inspire them to glory. After Luis Figo, Ronaldo has carried the hopes of all the fans in Portugal. He has a thigh injury and knee tendonitis. The good news however is that he has started training.
Arturo Vidal (Chile) : Chile has a golden chance this time to recover their lost glory. Arturo Vidal is one of their key players on whom the fans have set their dreams on. Vidal has been absolutely phenomenal for Juventus. He is expected to be fit for the World Cup, they need him in good form and fitness.
Manuel Neuer (Germany) : Manuel Neuer is the world's best goalkeeper at the moment. He has been proving the same with German club Bayern Munich in the Bundesliga. Germany always have had the best of keepers for world cups. Once again their hopes lie on this talented stopper. However, he has been hit by a shoulder injury. Germany hope he will get fit in time.
Diego Costa (Spain) : 2014 was a year where Diego Costa made all the news. Despite being Brazilian born, he opted to play for Spain in the World Cup. Diego Costa was extremely instrumental in his club team Athletico Madrid winning the La Liga and finishing runner-up in the Champions League. He has been carrying a hamstring injury he aggravated playing the UEFA Champions League final. Spain need a fit Costa to give able support to Torres and an ageing Villa.